As the NFL reaches the mid point of this bizarre 2009 season, we are witnessing a huge drop off of good and not as good teams. The long line of teams struggling is not a good thing for the NFL, and this will probably be brought up as the league tries to get a new collective bargaining agreement with the players before the 2010 season begins.
There has been some good news in the league, and most of that has come from excellent play on the gridiron. I decided to have an awards ceremony where no trophies, handshakes, nor pats on the backs will take place.

Most Valuable Player : Peyton Manning, Quarterback, Indianapolis Colts
The main reason the Colts are undefeated after seven games is Manning. Not just from his exceptional play on the field, but also his leadership. The Colts have made a virtually unnoticeable change of head coaches, especially not an easy task when you consider the previous coach led the team to a Super Bowl win not long ago.
The Colts have also struggled to find a running game, as well as deal with several significant injuries. The team has not had a hard schedule yet, but Manning's 15 touchdowns versus four interceptions has carried the team a long way, as has his 109.3 quarterback rating. His molding of the Colts young receivers is more proof of Manning's insatiable drive and dedication to perfection and especially victory.
Least Valuable Player : Jake Delhomme, Quarterback, Carolina Panthers
What are the Panthers getting from their 11th year veteran and his six million dollar a year contract? Five touchdowns against 13 interceptions with a quarterback rating of 59.3. Carolina has run the ball well, which is amazing considering none of their opponents respect their passing game. Delhomme is basically a fat millionaire being paid to hand the ball off all game while praying that will get his team a win. This strategy has gotten two of the teams three wins, because Delhomme completed 16 out of 31 attempts total in those victories. If Carolina had a quarterback, they might be doing better than their 3-4 record.

Rookie of the Year : Michael Oher, Offensive Tackle, Baltimore Ravens
Oher was a man who amazingly fell in the laps of the Ravens laps of the 2009 NFL Draft. On that day, he stated he would make all the teams, who had a chance to get him, regret passing on him. He probably has on quite a few already.
Oher earned the starting job at right tackle immediately, and was standing out as the Ravens won their first three games. When starting left tackle Jared Gaither was injured in a loss to the New England Patriots in the fourth game, Oher slid right over into Gaither's spot to protect quarterback Joe Flacco's blind side.
All Oher did was play two solid weeks after that at one of the toughest positions on the field. His shutting down All-Pro Jared Allen, in the Ravens loss to the Minnesota Vikings, was given notice by many of the leagues pundits. Gaither is back now, so Oher had gone back to the right side to continue his excellent play. He has given up only two sacks all season, which is excellent for any lineman at this point of the season.
If you really want to learn about this man, then see a movie on his life premiering on November 20, 2009 titled
"The Blind Side"
.
NOT

Rookie of the Year : B.J. Raji, Nose Tackle, Green Bay Packers
You could also look at Buffalo Bills
Aaron Maybin
's six tackles thus far, or Cleveland Browns
Alex Mack
's struggles right now, or New Orleans Saints
Malcolm Jenkins
one tackle so far as well.
Raji was the ninth player chosen overall in the 2009 draft, and the second defensive player chosen. His pick was one of necessity, because the Packers had just switched to a 3-4 defense and needed the all important position of nose tackle filled. Raji was considered the type who could dominate the position, which can take a 3-4 defense a very long way.
He did not play in the first two games of the season, and has played sparingly since. Raji has given Green Bay just eight tackles thus far, and this is not what the Packers had hoped for. Raji's purported ability to stop the run is much needed, because the Packers have given up 262 rushing yards in two of their three losses thus far.
Coach of the Year : Josh McDaniels, Head Coach, Denver Broncos
One thing you might imagine is McDaniels whistling the song, "I did it my way". He has. McDaniels walked into Denver just a few months ago and told everyone it was his way or the highway. The first to hit the highway was their star quarterback Jay Cutler. He then announced he only had 30 players on his draft board, and he actually got the guys he wanted in moves that were widely criticized by Broncos fans. It got to the point that several of the fans were calling for his firing before he even stepped onto the field.
Those critics are quieted now by the muzzle of victory. McDaniels has totally turned around the team in every facet almost. The smartest move he may have made was getting Mike Nolan to coach his defense. Denver had one of the lower echelon defenses in the NFL for several previous seasons, but this has not been the case in 2009. This team wins because of defense, and is calling on the ghosts of the "Orange Crush" days. They are the second best team in points allowed so far.
The one part of the team that McDaniels would like to improve is offense, where the team is now 20th in scoring. Many teams tend to struggle in a new offensive philosophy the first season, but Denver's 6-1 record thus far belies that theory. As the team becomes more comfortable with McDaniels play calling, with the defense doing what it has done so far, it is not unfathomable that the Broncos could win the AFC West this year.

Un-Coach of the Year : Jim Zorn, Head Coach, Washington Redskins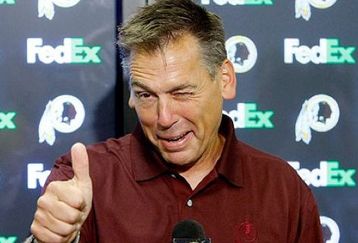 Zorn came into Washington DC last year as a quarterbacks coach with no other experience other than the fact he was a quarterback in the NFL in the 1970's. After a fast start of 6-2 in 2008, with players from the Joe Gibbs Era, the team has gone 4-11 since. One of the main reasons was Zorn's obvious lack of confidence in his play calling and his players.
Now Zorn has been reduced to basically a cheerleader who shakes a clipboard, because the Redskins hired Sherman Lewis from a bingo parlor a few weeks ago to call the plays for the team now. Zorn's abilities as a quarterbacks coach have also come into question, because Jason Campbell has seemed to have regressed under Zorn's tutelage. It seems inevitable that Zorn will be fired at the end of the season, but he actually already has been in a way.

Comeback Player of the Year : Jason Taylor, Linebacker, Miami Dolphins
New England Patriots quarterback
Tom Brady
may get all the love for this award at seasons end, but what Jason Taylor is doing right now is nothing short of amazing.
Taylor is a 35 year old man playing in his 13th season in the NFL who will be in the Pro Football Hall Of Fame one day. The six time Pro Bowler had left the Miami Dolphins after the 2007 season, despite having 11 quarterback sacks that year. He went to the Washington Redskins in 2008, and soon appeared to be yet another of a long line of washed up players that Redskins Vice President for Football Operations Vinny Cerrato had wasted more draft picks on.
Taylor, who had just appeared on the hit television show "Dancing With The Stars", seemed to have an eye on Hollywood and little interest in football. This showed in Washington, where he started in just eight of the 13 games he played, while getting just 3.5 sacks. It was his lowest sack total since 1999, and his best days seemed far behind him on the gridiron. Hollywood seemed inevitable.
He put those ideas on hold, and decided to go back to Miami this season. To make things more difficult for him, the long time defensive end was now being asked to play the linebacker position. Taylor has responded with six sacks in seven games so far. He also has forced two fumbles, and scored his ninth career touchdown after taking a third quarter fumble 48 yards in the Dolphins win over the New York Jets. If he maintains this pace, you may be seeing Taylor make his seventh Pro Bowl at seasons end.
Go Away Player of the Year : Larry Johnson, Running Back, Kansas City Chiefs
Johnson's end was seen a few years ago. He had obviously lost a step from injuries due to being grossly over used. Though he rebounded nicely in 2008 by averaging 4.5 yards a carry, he still missed four games. This season has seen LJ average a dismal 2.7 yards a carry thus far. It isn't all his fault. The blocking has generally been putrid for the Chiefs this year, and a running back is only as good as his offensive line.
He is in the last year of a contract that pays him 3.6 million dollars. It is most likely his last big pay day as a player, and surely his last days with the Chiefs. When he looks for a new team to play with in 2010, he will be offered back up money, because he most likely will be relegated to being such a player until he retires. Johnson doesn't help his cause with his actions off the field either. Such is the life of an NFL running back when they hit the wall, and refuse to fade with class and dignity.
Now on with my picks for week nine :
Last week I went
10-3
, which makes me
70-30
overall.
Washington Redskins @ Atlanta Falcons
The Falcons are desperate after losing to their divisional rival New Orleans Saints last week. They realize they need to keep pace with the ultra hot Saints now, and they will take out their frustrations on a struggling Redskins team that lacks leadership at the top.
The Redskins fans can find two things to be happy about this week. One is that Jim Zorn couldn't get outcoached and lose on a bye week, and the other is that the game is in Atlanta. This way they can take their anti-Snyder and Cerrato signs into a stadium without being thrown out like they would be in D.C.
Falcons
24 Redskins 10
Arizona Cardinals @ Chicago Bears
The battle of the enigmas might best term this meeting. Both teams are inconsistent, unpredictable, talented, and underachieving.
Arizona will be missing star wide receiver Anquan Boldin, and they will need to throw the ball a lot versus a Bears team trying to find their identity on defense Any positive rushing yards they get from Beanie Wells or Tim Hightower will be a bonus
The Bears passing game is still struggling under Jay Cutler. He has been hit or miss all year, and now might be without the services of Devin Hester because of an ankle injury. This is a game Chicago could run Matt Forte to victory, but their offensive line has played poorly so far. Arizona needs this game to prove last season was not a fluke, and they will have favorable weather on their side.
Cardinals
34 Bears 28
Baltimore Ravens @ Cincinnati Bengals
Game Of The Week
Te Bengals just earned a hard fought 17-14 victory over the Ravens a month ago. They did it with a balanced offensive attack, led by running back Cedric Benson's 120 rushing yard, as well as a stingy defense that shut Baltimore down to 270 total yards on offense. The Bengals still needed a 20 yard touchdown pass with 22 seconds left, on a 80 yard drive filled with penalties on the Ravens, to win the game.
Both teams believe in their defenses, as well as a balanced offensive attack. The key to this game is if the Ravens defensive line can dominate the overachieving offensive line of the Bengals. This game has a taste of old school football in it, and it may come down to the last minute once again.
Ravens
23 Bengals 21
Houston Texans @ Indianapolis Colts
The Texans had just appeared to hit their stride when they lost Pro Bowl tight end Owen Daniels last week. The undefeated Colts have also just lost two starters on their defense, including their best cornerback.
This is a game where Texans quarterback Matt Schaub may target star receiver Andre Johnson often, especially with the teams running game having been as inconsistent as it has all year. The Colts have Peyton Manning at quarterback, so they always have a chance.
If the Colts cannot establish a running game against a young Texans defense, then Houston can concentrate on Manning's passing alone. If Houston cannot run the ball with any effectiveness, the Colts can pin their ears back and get after Schaub.
Texans
38 Colts 27
Kansas City Chiefs @ Jacksonville Jaguars
This is a battle of two struggling teams attempting to rebuild on the fly. The Jaguars have a more talented roster, starring running back Maurice Jones-Drew. Expect to see a heavy dose of him both running and catching the ball.
Jaguars
31 Chiefs 21
Miami Dolphins @ New England Patriots
The Dolphins are coming off an exciting victory over the New York Jets, and hope to carry this momentum into the Patriots home field. The Patriots are coming off a bye week after entertaining Old England a few weeks ago. Though Miami is tough on defense, their depleted secondary will get tested often by a veteran New England squad.
Patriots
27 Dolphins 16
Green Bay Packers @ Tampa Bay Buccaneers
Green Bay is coming off a loss in a game they needed to win to keep pace in their division. The Packers will need to keep quarterback Aaron Rodgers upright all game, because the signal caller is hobbled with a foot injury. Tampa Bay is another of many struggling teams in the NFL trying to rebuild as the season moves along.
Packers
30 Buccaneers 17
Carolina Panthers @ New Orleans Saints
The Saints come marching in to a red hot beat created by their own drums. They are clicking in all areas of the game, and even show the talent to overcome injury thus far. The Panthers are a team that needs to run the ball well to win, because their passing attack is amongst the weakest in the league.
Saints
38 Panthers 20
Detroit Lions @ Seattle Seahawks
The Seahawks defense has been very inconsistent this year.They have pitched two shutouts, yet are prone to giving up pints to. Detroit is hoping for the Seattle defense that coughed up 38 points last week.
Seahawks
28 Lions 13
San Diego Chargers @ New York Giants
The Chargers are walking the razors edge right now. They are witnessing the Denver Broncos trying to pull away with the divisional crown, as well as trying to deal with their own struggles. The Giants are coming off two losses where they relied on their quarterback throwing arm too much, instead of having him do what he does best : hand the ball off to running backs. The injuries on defense also appear to have finally caught up to them.
This will be an interesting battle of two squads full of proud and head strong veterans.
Chargers
34 Giants 27
Tennessee Titans @ San Francisco 49ers
The Titans showed the league last week a glimpse of the team that won 13 games in 2008. They controlled the clock, and wore down their opponents. The 49ers took an undefeated Colts team to the edge last week before losing. . This game may not be as run heavy as you'd expect.
49ers
21 Titans 20
Dallas Cowboys @ Philadelphia Eagles
The Cowboys are coming off a week where they needed to establish their identity, which they did with a sound win over Seattle. The shadow of Mike Shanahan faded some with the win, but the Cowboys must continue being impressive if Wade Phillips and Jason Garrett want to be members of the team next year. The Eagles are expecting the return of running back Brian Westbrook to provide a spark for an already explosive offense. Their problems have been in the trenches, and whomever wins this battle should win the game.
Cowboys
27 Eagles 24
Pittsburgh Steelers @ Denver Broncos
The Broncos came out of their bye week undefeated, only to be soundly spanked by the Baltimore Ravens. The Steelers are now coming off their bye week after four straight victories. Pittsburgh is still looking for a consistent running game, and the Denver pass rush will be primed to get after Steelers quarterback Ben Roethlisberger. The Broncos gave up 26 total points in their first four weeks of this season, and their defense is one of the surprising stories of the season. This should be a low scoring game.
Steelers
23 Broncos 13
NFL Power Rankings
1. New Orleans Saints
2. Indianapolis Colts
3. Minnesota Vikings
4. New England Patriots
5. Denver Broncos
6. Cincinnati Bengals
7. Pittsburgh Steelers
8. Baltimore Ravens
9. Philadelphia Eagles
10. Atlanta Falcons
11. New York Giants
12. Houston Texans
13. Dallas Cowboys
14. Green Bay Packers
15. San Diego Chargers
16. Miami Dolphins
17. Chicago Bears
18. New York Jets
19. San Francisco 49ers
20. Arizona Cardinals
21. Seattle Seahawks
22. Jacksonville Jaguars
23. Buffalo Bills
24. Oakland Raiders
25. Carolina Panthers
26. Tennessee Titans
27. Detroit Lions
28. Kansas City Chiefs
29. Washington Redskins
30. Saint Louis Rams
31. Tampa Bay Buccaneers
32. Cleveland Browns