Though Sam Bradford and Jimmy Clausen are the quarterbacks most expect to be first round draft picks in the 2010 NFL Draft, there are other quarterback prospects available in later rounds that could have excellent professional careers. Here are a few to look out for.
Dan LeFevour, Central Michigan
High character player with a decent arm. Though he displayed nice mobility in college, his speed of 4.66 in the 40-yard dash isnot going to blow anyone away. He worked out the shotgun through college, so his ability to work under the center is questioned. His accuracy is erratic. He has a look of an NFL player who will never quit on your team. He may be backup material ultimately, but he brings nothing but positives to the locker room.
Tony Pike, Cincinnati
The tallest quarterback in the draft at 6'6". Pike showed good character battling back from injury his senior season, though some scouts question if his skinny body can withstand much of a beating. Others are not in love with him arm strength, as he mostly threw underneath in college. He can tend to lock on his primary receiver at times. He could thrive in the right system, because he has a good feel for the game.

Daryll Clark, Penn State
He is mobile, a leader, and has a strong arm. He also has a low release point and is erratic in his decision making. He might get picked up by a team to run the "Wildcat formation" on occasion. He will take a lot of work to develop, but his character shows he is a willing student.
Levi Brown, Troy
He has good size and above average arm strength. He is another college quarterback who ran his offense out of a shotgun, so the transition to under the center is questioned. His deep ball accuracy needs work. Not very mobile, so will get sacked a lot unless he speeds up his decision making ability. A project.
Colt McCoy, Texas
Very smart and experienced. A natural leader. He does not have a big arm, so his above average mobility will be needed to buy him time. He needs to improve his low release point, because he is just 6'1" tall. His deep ball accuracy needs a lot of improvement. His high character and smarts may help him find a starting job somewhere in his career.
Tim Hiller, Western Michigan
He has one of the strongest arms in this draft class.He is very smart and experienced. He has also showed a high level of mental toughness, having played in pain often. He is also very immobile, having balky knees that have suffered multiple ACL tears. He will need excellent blocking in front of him to succeed. A sleeper pick who could help a team out down the road.
Zac Robinson, Oklahoma State
Though Robinson started two years in college, he is considered a very raw prospect. He is athletic enough to avoid the pass rush, and has a very good arm. He is also considered a high character player with good mental toughness. He needs to improve his decision making time, and also needs to hit the weight room hard and bulk up. He can improve on all areas of mechanics a lot. Not many teams carry three quarterbacks anymore, but Robinson would be a good candidate to be such a player as he works on his game on the sidelines while the games go on in 2010. He might be three years away from being ready to compete for a starting job.
Max Hall, BYU
Older prospect at 24 years old. Mature player who is married to the sister of BYU all-time receptions leader Dennis Pitna, a tight end prospect in the draft. He has fast and sound decision making qualities, but needs to improve on his release point. While he moves well in a collapsing pocket, he needs to work on his footwork. While he has a decent arm, he needs to be in the right system because he lacks the arm strength to make all the throws at the next level. Tends to float passes by throwing off of his back foot.His intellect might have him make for a good backup down the road.
Jevan Snead, Mississippi
Made a mistake committing to the draft with one more year of eligibility left. Very raw in need of a lot more seasoning. Wild in accuracy, and has a propensity to show bad ball security skills. Needs to improve drastically on his footwork, in his decision making process, and his ability to read defenses. He does show good arm strength when he gets his feet set correctly, and he is considered intelligent. He is the type you keep as a third quarterback and develop in hopes he fulfills his potential down the road.
Tim Tebow, Florida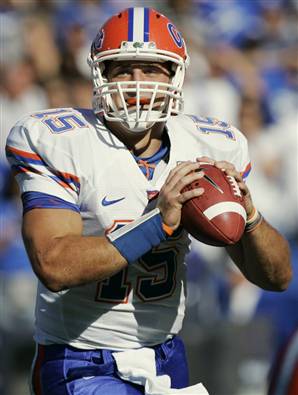 ESPiN LOVES him, as do his fans. Some just for his personal views alone. His hype machine is running so strong, expect to see him in television commercials soon. He has good size, and his drive to be the best he can be is immeasurable and unquestioned. He has good arm strength, and showed a knack for winning at college so excellent that he may be the best college player of this decade. His release point needs major work, and his ability to get rid of the ball takes too much time. He is wild in his accuracy, and there is a huge question if he can make his progressions at the pro level since he was never asked to this in college.
It brings into question if he can read defenses properly. He is a questionable project that will need major amounts of time to develop. Some compare him to Bobby Douglass, an NFL quarterback in the 1970's, while others see him more as a bigger version of 2001 Heisman winner Eric Crouch. Crouch was asked to switch positions, when he was drafted, and has never played a down in the NFL. While it may not be a smart gamble to count Tebow out as an NFL quarterback, it is obvious he has a huge uphill battle to be one.