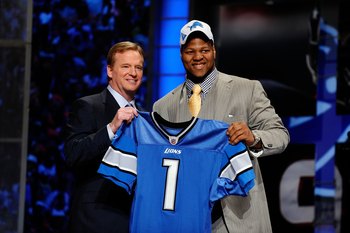 Every draft in the NFL has steals. Guys passed over countless times by every team before finally being selected.
Some steals happen in the sixth round, like future Hall of Fame quarterback Tom Brady. Some steals become solid players for years.
Some steals happen because the players have character issues, while others happen because teams are looking to fill needs in other areas first.
The first picture is of Ndamukong Suh, who might be the biggest steal this year. He has Hall of Fame written all over him, and the Detroit Lions should be sending the Saint Louis Rams a "Thank You" card for passing on him.
Let's look at this year's other potential steals:
Mardy Gilyard
In the fourth round, after 98 other players were chosen, the Saint Louis Rams grabbed Gilyard.
This wide receiver knows what hard work is, having lived out his car while working to pay his college tuition.
The Rams just got themselves an expert return specialist who could easily become a huge part of their passing attack one day.
Bruce Campbell
Many thought the Raiders would draft the most athletic offensive lineman in the draft with their first round selection, but Oakland waited until the fourth round, almost 100 picks later, to get him.
The kid is raw, but huge. Raiders head coach Tom Cable's expertise is the offensive line, so he will have fun coaching this talent up to possibly being the teams starting left tackle for the next decade.
Navorro Bowman
A fringe first round pick fell to the third round before the San Francisco 49ers grabbed him.
Niners head coach Mike Singletary is a no-nonsense Hall of Fame linebacker unconcerned by Bowman's off-field issues.
The kid comes from Linebacker U. under JoePa, so he really lucked into a good situation here. His selection just helps a team that already had an excellent draft.
Ricky Sapp
The Philadelphia Eagles got the chance for a huge steal here. Sapp is projected to be an outside linebacker, a huge need. He is also excellent at getting to the quarterback.
Even if he plays defensive end, the fifth round pick has a very good chance to contribute right away.
Brody Eldridge
It seems every year the Indianapolis Colts draft a tight end. All have been pass-catching types until they snagged Eldridge in the fifth round this year.
His specialty is blocking, and he was the highest-rated player at his position in that area for the entire draft.
Now the Colts can look to run the ball a bit more in the upcoming season.
Colt McCoy
When ESPN was talking to Browns president Mike Holmgren in the first round, Jon Gruden and Steve Young went out their way to ask if McCoy was a prospect. Holmgren told his coaching disciple and former quarterback they knew him too well.
Cleveland then proceeded to gamble deep into the third round that he would be there before pouncing.
McCoy, the winningest quarterback in college football history, fits the system Cleveland runs and is now considered the future.
Amari Spievey
Spievey is a tough guy who loves to hit. Detroit selects him in the third round, and he bolsters a secondary in need of help.
With him and second-year safety Louis Delmas, the Lions look to make opponents pay for catching the ball on them.
Everson Griffen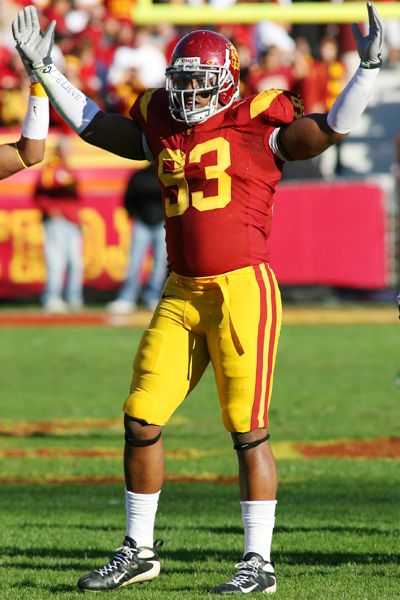 Another first-round prospect who fell to the fourth round because of character concerns.
If he gets his head straightened out under the tutelage of the Williams', the Minnesota Vikings got a guy who will push for playing time immediately.
Jonathan Dwyer
It seems that every year since 1969 the Pittsburgh Steelers grab a great player or two.
After getting their next pass rush demon in Jason Worlids, they get a talented back in the sixth round with Dwyer.
Though he has fullback experience, the kid runs well between the tackles.
He could add solid depth that is needed.
Cam Thomas
The San Diego Chargers desperately needed a nose tackle, and they waited until the fifth round to address this need.
Getting Thomas is a huge steal for the Bolts. He is huge and strong. Occupying multiple blockers is his specialty.
He looks to start right away.