1. St. Louis Rams : Ndamukong Suh, Defensive Tackle
The Rams getting Suh is the absolute right move. Not only is he easily the best player in this years draft, but the team can think of their history as an indicator how important defense is.
The "Fearsome Foursome" carried the franchise for years in the 1960's and 1970's. Suh would be able to join Adam Carriker and Chris Long to give the Rams an exciting and young defensive line, backed by young middle linebacker James Laurinaitis.
The "Fearsome Foursome Jr." is right there to be had, and drafting a quarterback instead could haunt the Rams for years.
The last time the Rams used a first round pick on a quarterback was Bill Munson in 1964 with the seventh overall pick.
This came one year after the Rams drafted Heisman winner Terry Baker, a quarterback, with the first pick in the draft.
Neither Munson nor Baker were with the Rams after 1967.
2. Detroit Lions: Russell Okung, Offensive Tackle
The Lions got their defensive tackle by picking up Corey Williams recently, so getting Gerald McCoy seems unlikely.
Left tackle Jeff Backus is 32 and will get close to $5 million this year, so they can afford to stick Okung on the right side this year. This allows them to move Gosder Cherilus inside at guard, where some think he fits more naturally at right now.
Okung's future is so bright, it is fathomable that it will be Backus moved to the right tackle in 2010.
Detroit did not give quarterback Matt Stafford $60 million to spend most of his season banged up, as was the case last year. Keeping him healthy is paramount, plus the Lions really need to upgrade their offensive lie anyway.

3. Tampa Bay Buccaneers : Gerald McCoy, Defensive Tackle
Tampa Bay might consider players like safety Eric Barry, but they can't go wrong by grabbing McCoy either.
He is a good pass rusher, something the Buccaneers desperately need inside their defensive line.
Though he was not impressive at the combine, it is hard to picture him being passed up here. If he is, the Redskins will be very grateful.

4. Washington Redskins : Jimmy Clausen, Quarterback
The Redskins are in a quandary here. They need a left tackle to replace retired Pro Bowler Chris Samuels, and they need a defensive end because they are dreadfully thin at the position.
The problem is that Okung and McCoy are off the board and no one else is worth taking at this spot.
One possible pick is safety Eric Berry, which would allow Laron Landry to move back to strong safety.
New head coach Mike Shanahan has drafted only one quarterback in the first round in all of his years in the NFL, which was Jay Cutler. He ended up with a losing record and lost his job in Denver.
Some think the team prefers Sam Bradford, so you can flip a coin between him and Clausen. Owner Dan Snyder attended a private workout with Clausen over a month ago, then had him as a guest on his radio station.
Plus Clausen appears to be the better fit in Shanahan's offense.
5. Kansas City Chiefs : Eric Berry, Safety
Though the Chiefs need blockers and receivers, they cannot pass on Berry if he is here.
Berry had a excellent combine, and reaffirmed he is the best defensive back in the draft.
He could give the Chiefs a safety that joins the ranks of Johnny Robinson and Deron Cherry as the best in team history when all is said and done.
6. Seattle Seahawks : Sam Bradford, Quarterback
Now that Seattle got rid of Seneca Wallace, they need a quarterback more than ever. Matt Hasselbeck is 35 and has one year left on his contract. He has also had back problems the last few years.
Bradford will be groomed to be the starter in 2011.

7. Cleveland Browns : Brian Price, Defensive End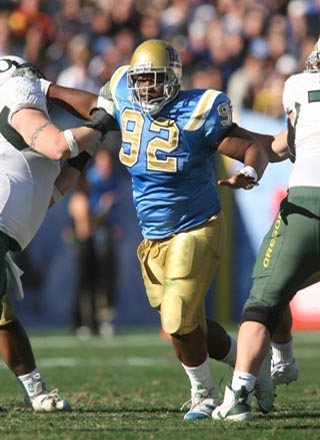 Joe Haden might go here, considering the Browns need help in their secondary, or they could grab wide receiver Dez Bryant to bolster their unimpressive receivers corp.
Cleveland are dreadfully thin at defensive end, having just two guys who are over 30 years old. Price has been shooting up draft boards recently, and has the versatility to play defensive tackle if the Browns employ the 4-3 on passing downs by putting Matt Roth on the end.
Haden's 4.6 40-yard dash at the combine may scare the Browns off here, but it is conceivable they draft him regardless of his showing.
8. Oakland Raiders : Bruce Campbell, Offensive Tackle
It is conceivable the Raiders grab defensive end Jason Pierre-Paul here.
Like Pierre-Paul, Campbell is raw and extremely athletic. Yet Oakland really needs help in the trenches on both sides of the football.
Dez Bryant is one name being mentioned here, but it is hard to fathom the Raiders getting another wide receiver.
Campbell allows the inconsistent Mario Henderson to move to the right side, while representing an upgrade at left tackle.
Raiders fans hope Campbell will have more impact in his rookie year than fellow Maryland Terrapin Darrius Heyward-Bey did last year.

9. Buffalo Bills : Trent Williams, Offensive Tackle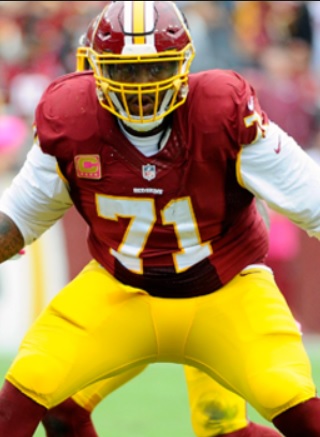 Buffalo needs a right tackle after Brad Butler shocked them by retiring recently.
Williams had an excellent combine, posting the second fastest time at his position. It is possible he is put at left tackle, though some feel he can be a Pro Bowler from the right side.
If Oakland grabs Williams, then they will probably grab Campbell because they need are desperate in need of blockers right now.
10. Jacksonville Jaguars: Dez Bryant, Wide Receiver
Torry Holt was released last month, so someone will have to replace his 51 receptions from 2009.
Mike Sims-Walker and Mike Thomas are two young receivers who were excellent last year, but Thomas works best in the slot. Bryant is a big leaper with very good size.
He will be hard to pass up of he is still on the board here.

11. Denver Broncos: Dan Williams, Nose Tackle
Denver needs an upgrade over Ronald Field, and Williams is just that. The Broncos continue to look to retool their defensive line, recently adding Justin Bannan.
Williams would probably be handed the starting job before he even walks up to the podium if selected.
12. Miami Dolphins : Jason Pierre-Paul, Defensive End
Pierre-Paul is a lifelong Floridian with just two years of football experience and an unknown date of birth.
What is known is he is an amazingly gifted athlete. Though the Dolphins recently grabbed Karlos Dansby, they need an outside linebacker who can get to the quarterback.
This can be a good fit, as Pierre-Paul is brought along slowly to learn his position and used as a pass rush specialist initially.
Bill Parcells has a thing for a linebacker who can get to the ball fast, and this could be his guy. Sergio Kindle and Ricky Sapp may be considered too.
13. San Francisco 49ers : Joe Haden, Cornerback
The Niners need help in the secondary. Their current group of CB's had five interceptions last year, and veteran Nate Clements is entering his ninth season.
Haden was considered a top ten selection before his mediocre showing at the combine, but it is hard to see him dropping too far in the draft.
14. Seattle Seahawks: Bryan Bulaga, Offensive Tackle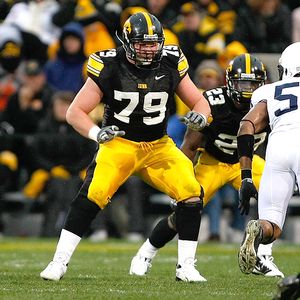 Baluga has size, length, and is well schooled in a zone blocking scheme.
Seattle needs blockers and their new offensive line coach is Alex Gibbs, an expert at teaching zone blocking.
A match made in heaven, and now Seattle has a guy to groom as Walter Jones replacement for 2011.
15. New York Giants : Rolando McClain, Middle Linebacker
The Jints could use a cornerback or a pass rusher here, but they need a middle linebacker most.
Though the 2009 Butkus Award winner has stated he would prefer to play in a 3-4 defensive scheme, the Giants cannot pass up another gifted MLB like they did in last years draft with James Laurinaitis.

16. Tennessee Titans: Derrick Morgan, Defensive End
Many think Morgan would work best as a SLB in a 3-4 scheme, and the Titans run a 4-3.
What Tennessee needs is defensive ends and pass rushers. Morgan is the 2009 ACC Defensive Player of the Year, and has high character.
He is too good to pass up here.

17. San Francisco 49ers : Anthony Davis, Offensive Tackle
Davis had his stock drop after a poor combine, but is has the measurables highly sought after.
He is only 20 years old, so he can be developed at right tackle for now with an eye on the left side for the future.
18. Pittsburgh Steelers : Mike Iupati, Guard
Iupati fills a big need on a Steelers offensive line that was not very good last year. He can play either guard slot and even right tackle.
He brings a nasty streak that Steelers fans want from their blockers, which will help a rushing attack that is uncertain right now.
19. Atlanta Falcons : Golden Tate, Wide Receiver
Now that the Falcons addressed their cornerback woes by dumping a lot of cash into Dunta Robinson, they can get quarterback Matt Ryan more weapons to work with.
Tate is a tough guy for his size, and is a hard worker with a desire to be the best player he can possibly be.
With Michael Jenkins inconsistency and the fact Harry Douglas is coming off an injury to his knee, Tate could push for a starting job right away by providing a deep threat and opening things up underneath.
20. Houston Texans : Earl Thomas, Safety
The Texans absolutely need a free safety right now, and Thomas fills that void. It also doesn't hurt that he attended college at the University of Texas and has some ability to play cornerback.
Though Houston could look at running back, their issue at free safety is too great to ignore right here.
21. Cincinnati Bengals : Jermaine Gresham, Tight End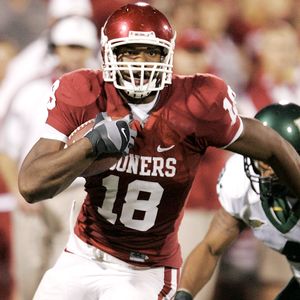 Even if the Bengals do sign wide receiver Terrell Owens, they need more receiving options for quarterback Carson Palmer.
Especially at tight end, where they got little production from in 2009.
Though Cincinnati could look at guard or defensive tackle here, Gresham is easily the best tight end in the draft and may be too tempting to pass up.
22. New England Patriots : Carlos Dunlap, Defensive End
New England has three picks in the second round, and is is almost a certainty they will be wheeling and dealing on draft day like they do yearly.
Dunlap's stock dropped after a DUI arrest, but he was considered a top ten selection before this.
He fills a big need as a pass rushing defensive end, though a guy like Ricky Sapp or Brandon Graham could get selected as well.
23. Green Bay Packers : Kyle Wilson, Cornerback
Wilson has shot up the boards recently. He is a four year starter who never missed a game, and is extremely smart.
He can also return punts.
Considering Charles Woodson is 33 and entering his 12th season, now may be the time to bolster their cornerbacks unit.
24. Philadelphia Eagles : Everson Griffen, Defensive End
Griffen is built for the 4-3 defense, which is what the Eagles run.
Though it may be tempting to grab a running back or linebacker here, their need for a solid defensive end is just too immense for them to pass up an NFL ready player like Griffen.
25. Baltimore Ravens : Patrick Robinson, Cornerback
Now that Baltimore has addressed wide receiver by acquiring Anquan Boldin, they need to pay attention to cornerback.
Fabian Washington and Lardarius Webb are both returning from knee injuries in 2009, and Webb might be best suited at free safety.
Robinson is an experienced player who is probably the best man to man CB in the draft.

26. Arizona Cardinals : Sergio Kindle, Outside Linebacker
The Cardinals need outside linebackers, and especially one who can rush the passer.
Kindle played a lot at defensive end in college, but he is built for the SLB position in the 3-4 defense. He may be more ready to play than Ricky Sapp or Brandon Graham right now, who will also be considered.
27. Dallas Cowboys : Taylor Mays, Safety
I can see Dallas trading this pick for more draft choices.Their roster right now is pretty stacked compared to other teams.
Current starting strong safety Gerald Sensabaugh was mediocre in 2009 with 61 tackles and an interception. Dallas could use an upgrade here.
Mays is a spectacular physical specimen who ran a 4.43 at the combine. It was the best time of all defensive backs and the tenth best overall at the combine.
Dallas may gamble here on him, and would lose little if Mays flops due to their strong roster.

28. San Diego Chargers: Ryan Mathews, Running Back
Matthews had a great showing at the combine, showing excellent hands too.
San Diego needs help in the trenches on both sides of the ball, but they must address running back first now that Ladainian Tomlinson is gone.
Others to be considered are Jonathan Dwyer, C.J. Spiller, and Jahvid Best.
Matthews works best between the tackles of the group, which is what the Bolts need most.
29. New York Jets : Arrelious Benn, Wide Receiver
The Jets could very well grab a cornerback here with Devin McCourty and Kareem Jackson still on the board.
The current receivers corp on the Jets is unimpressive, and an upgrade is needed over the likes of David Clowney as the third receiver.
Benn impresses scouts with his size and hands, so getting young quarterback Mark Sanchez more weapons would go a long ways in New York.
30. Minnesota Vikings : Maurkice Pouncey, Center
Current starter John Sullivan is a smart player and hard worker, but he may be backup material at best. Plus he is undersized, which isn't always best for a team that needs to run the ball well to win.
Pouncey, the 2009 Rimington Award winner, can also play guard. If Sullivan retains his job, Pouncey can be the heir apparent to the aging Steve Hutchinson.
The Vikings will also look at defensive tackle Jared Odrick because Pat Williams has yet to commit to returning next year.
Running backs C.J. Spiller, Jonathan Dwyer, or Jahvid Best will be considered as replacements for the departed Chester Taylor.
31. Indianapolis Colts : Jared Odrick, Defensive Tackle
Offensive tackle Charles Brown could go here. The former tight end specializes in pass blocking, which is something that fits the Colts scheme.
Brandon Graham is a pass rushing defensive end who also fits their love for undersized defensive ends who get to the quarterback. He is certainly obe to consider.
Odrick is excellent at collapsing the pocket, and is a team player who makes his teammates look better by his propensity to do the dirty work.
He is also versatile enough to play defensive end.
32. New Orleans Saints : Brandon Graham, Defensive End
The Saints need defensive ends and a pass rushing linebacker. Graham can do both.
He has a non-stop motor and would challenge for a starting job immediately.
Outside linebacker Sean Witherspoon will also be considered.