Now that the majority of signings have been done in the 2011 NFL free agent pool, let us review what has transpired.
Arizona Cardinals
Arizona was busy during the offseason by shedding former players and adding new ones.
Kevin Kolb
is now the starting quarterback, and many critics think he has a lot of potential to be very good.
Todd Heap
is a savvy tight end who is Pro Bowl worthy when healthy.
Chansi Stuckey
is a veteran receiver who has a chance to add depth to an already quality receivers corp.
Vonnie Holliday
and
Nick Eason
are veteran defensive linemen who add depth.
Floyd Womack
and
Daryn Colledge
are a pair of veteran guards who could start this year.
Jeff King
is a blocking tight end who was an solid signing. Stewart Bradley was an up and coming middle linebacker for the Philadelphia Eagles until injuries derailed his progress. If healthy, he could be a solid signing.
Richard Marshall
is being counted on to replace Dominique Rodgers-Cromartie at cornerback. Rodgers-Cromartie was traded for Kolb.
If Kolb steps in right away firing bullets, Arizona's offense could be as potent as it was under Kurt Warner a few years ago. They upgraded themselves in several areas, so do not be shocked if the Cardinals win the NFC West this year.
Atlanta Falcons
Ray Edwards
was brought in to give the Falcons a pair of good pass rushing defensive ends.
Ken Parrish
appears to be the favorite to win the punting job so far.
It is obvious Atlanta likes their team. It has a good mix of veterans and youngsters who appear primed to duplicate their 2010 successes at the least. They kept the offensive line largely in tact by signing two of the three starters that were free agents.
With the NFC South now stronger than it has been in years. Atlanta will have to stay remarkably healthy to repeat as the champions of their division. The depth is good, making this a possible scenario.
Baltimore Ravens
Ozzie Newsome is one of the best general managers in the NFL, so it is hard to question why the team remained pretty inactive during the free agent frenzy. They lost a ton of players, including many starters, but they decided to stand pat with what they have.
James Hardy
is a wide receiver trying to get his career finally going after a few miserable years in Buffalo.
Hunter Cantwell
is untested, but now the main backup to Joe Flacco at quarterback.
The Ravens are trying to rebuild an aging team while maintaining a squad that can compete in the AFC North. They have a few future Hall of Famers on defense to teach the youngsters, so it may be business as usual for the Ravens when it comes to winning often.
Buffalo Bills
Tyler Thigpen
was brought in to be a backup quarterback.
Brad Smith
is a former college quarterback who can play running back or wide receiver.
Nick Barnett
is expected to start at middle linebacker.
Lionel Dotson
will try to add depth at the defensive line.
Drayton Florence
re-signed and should be back starting at cornerback.
Buffalo is young, but they did lose their starting strong safety and middle linebacker to free agency. While they will try to continue being a balanced team on offense, they lost a lot of tackles this offseason and the defense will now play under a magnifying glass.
Carolina Panthers
Derek Anderson
will be the veteran backup quarterback behind Cam Newton and Jimmy Clausen.
Jeremy Shockey
and
Greg Olson
are a pair of veteran tight ends who aren't great blockers, but are Pro Bowl caliber receivers.
Legedu Naanee
has a good shot at starting at wide receiver. Omar Gaither adds depth at linebacker and
Ron Edwards
does the same at defensive tackle.
Sean Considine
and
Kevin Payne
are veteran defensive backs trying to add depth.
Kendric Burney
was surprisingly undrafted, but the rookie cornerback could be a sleeper player worth watching.
Ben Hartsock
will try to be the blocking tight end the Panthers need.
With a new era with Newton as the top pick, along with a new coaching staff, the Panthers are surrounding their prized rookie with veterans who can help him progress. Since getting a wide receiver to compliment Steve Smith has often been an issue, Olsen and Shockey both might get a lot of balls thrown their way in 2011.
Chicago Bears
Chris Spencer
will be the first Bears starting center since 1998 not named Olin Kruetz.
Amobi Okoye
will try to add depth at defensive tackle,while
Vernon Gholston
tries to shed his label of being a draft bust.
Marion Barber, Roy Williams
, and
Sam Hurd
are all former Dallas Cowboys players. Chicago hopes Barber has enough tread left on his tires to be an effective reserve halfback. Williams and Hurd will try to upgrade the wide receivers unit.
Adam Podlesh
is a strong-legged punter, while
Matt Spaeth
is a blocking tight end hoping to add depth in jumbo packages.
The Bears were a win away from a Super Bowl last year, so they didn't add a lot to an already solid defense. They hope the ex-Cowboys will play well enough for the team to make another strong run at the Super Bowl.
Cincinnati Bengals
Cedric Benson
being re-signed was critical for a team with questions at quarterback. Carson Palmer's reluctance to play with the Bengals has the team wondering what to do next at the position.
Bruce Gradkowsi
was recently signed, and the veteran may start as rookie Andy Dalton sits on the bench and develops as the future starting quarterback.
Trading Chad Ochocinco means the team loses a productive receiver and a drama queen who causes headaches and division amongst their players.
Nate Clements is a veteran cornerback who is expected to start. Linebackers
Manny Lawson, Brandon Johnson
, and
Thomas Howard
will at least add depth.
Donte Whitner
is expected to start at strong safety, while veteran
Gibril Wilson
hopes to back him up.
Max Jean-Gilles
might get a starting job at guard.
The Bengals smartly refuse to let a player hold them hostage, yet Carson's little brother Jordan was brought back to try to win the starting quarterback job. If they can get the older Palmer in uniform, the Bengals will be better off in 2011.
Cleveland Browns
John Greco
is a backup offensive lineman who might help.
Brandon Jackson
is a pass receiving halfback who hopes to help.
Ramzee Robinson
will try to add depth to a secondary that lost one of their starting cornerbacks to free agency.
The Browns are rebuilding through the draft. This youth movement will take time, but positive signs were seen in 2010.
Dallas Cowboys
Abram Elam
is the only free agent Dallas has signed so far. He isn't much of a ball hawk, but he does well in run defense. He is a tough-minded player who has had three of his siblings shot to death.
Dallas decided to shed older players while building through the draft this year. It is a patient approach not seen from owner Jerry Jones in years, so it will be interesting to see what the final results are in 2011.
Denver Broncos
Brodrick Bunkley, Ty Warren, Derrick Harvey
, and
Jeremy Jarmon
are all defensive linemen who were brought in to shore up a suspect run defense. Bunkley and Warren are expected to start.
Dante Rosario
and
Daniel Fells
are good blocking tight ends who have some pass receiving ability. Rosario played last year under new Broncos head coach John Fox.
Willis McGahee
is a veteran halfback expected to provide a key reserve role.
David Anderson
is a sure handed wide receiver who hopes to help.
Denver is under new management and there are many more changes expected. From the quarterback position especially. It might take some time for Fox to right this ship, but the talent is there.
Detroit Lions
Stephen Tulloch
is a tackling machine who will help at linebacker. If
Justin Durant
can stay healthy and play to his abilities, the Lions will be very happy.
Eric Wright
has a ton of ability at cornerback, but his 2010 season was bereft by injury. A fresh start was needed, so Detroit hopes he reverts back to being a solid player.
Eric Coleman
is a veteran safety who adds quality depth.
Rashied Davies
and
Maurice Stovall
are veteran wide receivers who hope they can help.
Detroit are a lot of pundits sleeper team in 2011. If quarterback Matt Stafford can finally stay healthy, they could be a dangerous team. The defense was solid mostly last year, as eight of their losses in 2010 were eights points or less.
Green Bay Packers
The Pack has no free agent acquisitions, choosing to rely on their draft picks and players who helped them win Super Bowl XLV last season.
A.J. Hawk, Mason Crosby, James Jones, John Kuhn, Spencer Havner, Charlie Peprah, and Brett Swain were all re-signed by the team.
Houston Texans
Johnathan Joseph, Danieal Manning
, and
Quintin Demps
were brought in to help a defensive secondary that was lousy in 2010. Wade Phillips, now the defensive coordinator, has long been known for making bad defenses excellent.
T.J. Yates
is an undrafted free agent rookie quarterback who has the ability to supplant
Matt Leinart
as the primary reserve.
Lawrence Vickers
is an excellent blocking fullback, while
Brad Maynard
is a veteran punter now on just his third team since 1997.
Attacking the secondary was needed, so give the Texans credit for doing so. Joseph is the best player of the three signed, but the entire trio should help this year. The signing of Phillips was huge, because he has long been considered one of the best defensive minds in the NFL.
If the defense responds to Phillips system right away, Houston's explosive offense could get this team finally to the playoffs for the first time in franchise history.
Indianapolis Colts
Tommie Harris
and
Jamaal Anderson
are veteran defensive linemen who hope to finally play like many have hoped for. Harris has not been the same since he got injured in 2007, while Anderson has yet to do much in his career.
Ernie Sims
has a lot of ability as a linebacker, but he has not always been stout versus the run.
Al Afalava
is a strong safety with starters experience.
Dan Orlovsky
and
Nate Davis
vie to backup Peyton Manning at quarterback.
Jacksonville Jaguars
v
Jacksonville got busy as soon as the players lockout ended.
Paul Posluzny
was brought in to start at middle linebacker, and the Jags are hoping he can finally stay healthy.
Dawan Landry, Drew Coleman, Courtney Greene, Tyrone Brackenridge, William Middleton
, and
David Jones
are veteran defensive backs who have a good chance of helping the team. The underrated Landry should start at strong safety right away.
Jason Hill
is a veteran wide receiver hoping to replace Mike Sims-Walker.
Matt Turk
is a veteran punter on his ninth team since 1993.
Clint Session
is a veteran linebacker hoping to add depth.
Jason Spitz
is a veteran guard who should add quality depth as well.
Jacksonville head coach Jack Del Rio is a former middle linebacker. He knew the back seven of his defense needed help, so he addressed it head on. Del Rio hopes the unit will be stout enough to allow the Jaguars win the AFC South this year.
Kansas City Chiefs
Steve Breaston
is a solid wide receiver and return specialist.
Leonard Pope
is a tight end who specializes in run blocking.
Le'Ron McClain
is a versatile fullback who can carry the load if asked.
The Chiefs hit on a few key areas this offseason, which also shows how confident they are in their roster. They fully expect to win the AFC West while they continue to rebuild a young team that has a lot of upside.
Miami Dolphins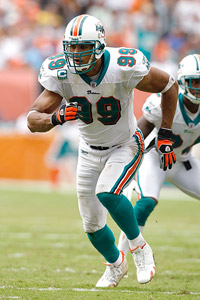 Marc Columbo
is a offensive tackle who should help.
Reggie Bush
is a good receiver and punt returner, but not a halfback who can carry the ball more than a few times per game.
Kevin Burnett
and
Jason Taylor
are a pair of veteran linebackers hoping to add depth. Taylor returns to a Dolphins franchise where he was named to six Pro Bowls as a defensive end, as well as the 2006 NFL Defensive Player of the Year Award and two AFC Defensive Player of the Year awards.
Matt Moore, Kevin O'Connell
, and
Pat Devlin
will try to backup Chad Henne at quarterback.
Miami is now without Bill Parcells calling the shots, so the direction of the team has yet to be seen. It appears rookie halfback Daniel Thomas will now be the cowbell, with Ronnie Brown and possibly Ricky Williams gone.
The defense might have to carry the team this year, especially if Henne plays as poorly as he did in 2010.
Minnesota Vikings
Charlie Johnson
should now start at left offensive tackle.
Michael Jenkins
could start at wide receiver after the Vikings lost Sidney Rice to free agency.
Donovan McNabb
is expected to start at quarterback. Despite a terrible 2010 season, McNabb has stated he is years away from thinking of retiring.
If he can play like the five-time Pro Bowler he once was, the Vikings have enough explosive players on the roster to compete for a NFC North title.
New England Patriots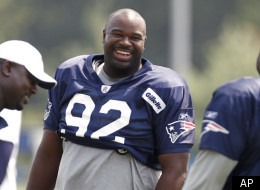 The Pats wisely brought back Pro Bowl offensive linemen
Matt Light
and
Logan Mankins
after Stephen Neal retired.
They gambled on defensive tackle
Albert Haynesworth
and wide receiver
Chad Ochocinco
. Haynesworth is known as the guy who called himself a slave after signing a $100 million contract.
Ochocinco is a blowhard who craves attention. Office pools are being drawn up to bet on how soon he gets on Tom Brady's nerves with his antics.
If the two malignants play to their abilities, the rich in talent Patriots will be even more wealthy. Many pundits had already picked them to win their division before these signing. Signings that possibly get them to a Super Bowl.
New York Giants
Rocky Bernard
is expected to add quality depth at defensive tackle, let alone possibly start. Veteran
Stacey Andrews
was brought back to provide a quality backup for an aging offensive line.
Michael Clayton
will try to help a group of young and exciting wide receivers.
Ben Patrick
is a good receiver who should add depth at tight end.
The team is slowly sprucing off their aging parts while remaining competitive. General manager Jerry Reese is one of the best in the NFL, so the Jints winning ways should continue this year.
New York Jets
Plaxico Burress
is a huge gamble. The Jets are hoping he has lost nothing after a two-year stint in jail. If he does, the Jets brass will look like geniuses. If he fails, with many critics questioning his staying in New York, it could be a debacle.
DuJuan Morgan
and
Ellis Lankster
will try to add depth in the secondary. The Jets may not be done signing defensive players after having lost a few to free agency.
The last two years have seen the Jets a game away from reaching the Super Bowl. That is the dream the team obviously feels it can realize by keeping so many players from last seasons roster.
New Orleans Saints
Olin Kruetz
is a veteran center who adds depth.
George Foster
and
Alex Barron
are offensive tackles a former first-round picks trying to revive their careers.
Trumaine McBride
and
Fabian Washington
are veteran cornerbacks who add depth.
Kory Hall
should get some starts at fullback.
Will Herring
adds veteran depth at linebacker.
Aubrayo Franklin, Turk McBride
and
Shaun Rogers
are defensive tackles who will try to help the defensive line rotation.
Darren Sproles
replaces Reggie Bush as the third-down running back. Sproles also may get plugged in as a return specialist on special teams, an area he has experience in.
The Saints didn't have to add much to their potent offense, but they smartly attacked the weaknesses on defense. Now better prepared to stop the run, New Orleans has high hopes of returning to the Super Bowl.
Oakland Raiders
Kevin Boss
was brought in to fill the hole at tight end.
Justin Smiley, Stephon Heyer, Seth Wand,
and
Roy Schuening
will try to help the Raiders much maligned offensive line.
Darryl Blacktock
, is trying to revive a once promising career, something the Raiders have often had success in doing.
Trent Edwards
has started in his career, so he adds quality depth at quarterback.
Oakland can run the ball well, and they hope the influx of new blockers will allow them to mash their opponents. Their young receivers need to step up this year to add balance, but their drams of winning the AFC West this year may rest on a defense that lost the best cornerback in football to free agency.
Phladelphia Eagles
Nnamdi Asomugha
and
Dominique Rodgers-Cromartie
will team up with Asante Samuel to give the Eagles the best cornerback unit in that franchises long history. Asomugha, the top free agent of 2011, is the jewel signing for the team.
Jason Babin, Anthony Hargrove, Derek Landri
, and
Cullen Jenkins
were all brought in to shore up the run defense, an area that has been a shortcoming of the Eagles for years. If Jenkins can stay healthy, and Babin plays like last year, the Eagles pass rush could create havoc all year.
Johnnie Lee Higgins
, who is very good on special teams, and
Donald Lee
are veterans who will try to make an explosive Philadelphia passing attack a little deadlier.
Vince Young
is expected to spend this year on the bench watching and learning.
Ronnie Brown
is a oft-injured halfback who the Eagles hope can stay healthy enough to handle a few carries as a reserve. Veteran
Jarrad Page
will try to win the starting job at strong safety.
The Eagles had the best offseason in the NFL, one that could propel the franchise in winning their first title since 1960. Not only did they attack their weaknesses, they made strong areas even better and have good depth as well. Expectations should be high for this team in 2011.
Pittsburgh Steelers
The Steelers have eschewed signing players in the free agent market, preferring to sign their own guys. Lamarr Woodley, fresh off a six-year deal worth $61.5 million , Johnathan Scott, Willie Colon, Ike Taylor, and Shaun Suisham were all brought back.
Saint Louis Rams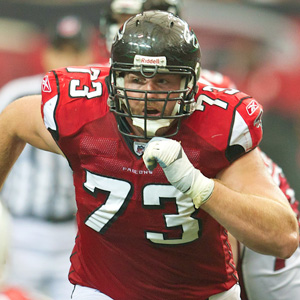 Mike Sims-Walker
was an excellent signing who should enjoy instantly becoming the top receiver of the Rams.
Harvey Diehl
is a Pro Bowl guard whose nasty streak now gives Saint Louis one of the best offensive lines in the NFC.
Al Harris
and
Quintin Mikell
are veteran defensive backs who will add depth at the least.
Brady Poppinga
could find himself starting at outside linebacker this season, while
Justin Bannan
will add depth at defensive tackle.
Cadillac Williams
and
Jerious Norwood
will back up Steven Jackson. Both are excellent receivers, but Williams should get more carries because Norwood has had a problem staying healthy.
This team has been growing up fast as they rebuild with excellent drafts. Head coach Steve Spagnuolo added many quality pieces to a team that almost won their division last year and could be a sleeper team in 2011
San Diego Chargers
Laurent Robinson
will try to help add depth.
Frank Summers
is a fullback who is best at blocking and receiving.
Takeo Spikes, Travis LeBoy
, and
Bob Sanders
are veterans hoping to help a defense that was very good in 2010.
If Sanders can finally stay healthy and play like he once did, the Chargers have the capability of having one of the best secondaries in football. LeBoy is there to tr to bring a pass rush off the edge the team hasn't consistently had in a few years.
The Bolts did not splurge heavily in the 2011 free agent pool, but that is because they had one of the top offenses and defenses of the NFL last year. They are getting long in the tooth, so now is the time for them to win it all.
San Francisco 49ers
Braylon Edwards
needs to show he is a top receiver now, because he has yet to consistently reach his potential. If he does, he could help Vernon Davis and Michael Crabtree become a formidable unit.
David Akers
was an excellent signing and has been a steady kicker most of his career.
Carlos Rogers
and
Madieu Williams
are veterans that could start at cornerback and free safety respectively.
Blake Costanzo
and
Antwan Applewhite
are veteran linebackers who add depth and excel on special teams.
Quarterback is still the primary puzzle for the Niners, but new head coach Jim Harbaugh seems to be ready to go with a promising rookie in Colin Kaepernick and 2005 first-round pick Alex Smith. This is despite the fact Smith has done little in his career thus far.
Seattle Seahawks
Kelly Jennings
is needed to provide cornerback depth.
Zach Miller
and John Carlson gives Seattle one of the best tight end duos in the NFL. Veteran kicker
Jeff Reed
had a rough 2010, but Seattle hopes he reverts to his old form.
Jimmy Wilkerson, Jay Alford
, and
Alan Branch
will add depth to the defensive line rotation.
Tavaris Jackson
might start at quarterback and have a familiar face to throw to in
Sidney Rice
.
Robert Gallery
is a solid guard that helps a Seahawks team that lost a few starters to free agency.
While a young team still, Seattle smartly added many solid veterans to their 2011 roster. They expect to win their division again with these additions.
Tampa Bay Buccaneers
Michael Koenin
signed a six-year deal worth $19.5 million, a whopping amount for a average punter. Yet what Koenin does do well is kick the ball off.
He has 106 touchbacks in the last six seasons, which is a tremendous help to any defense. With the kickoff moving back to the 35-yard line, the Bucs expect Koenen to sail a large amount of kickoffs through the opponents endzones.
Tennessee Titans
Matt Hasselbeck
might start in 2011 as rookie Jake Locker learns.
Daniel Graham
is a veteran tight end who is excellent run blocking.
Barrett Ruud
was a needed signing to help at middle linebacker.
Shaun Smith
will try to add depth at defensive line.
Frank Walker
and
Jordan Babineaux
are veteran defensive backs who add quality depth.
With a new coaching staff, the Titans are in flux. They are a good running team with an excellent offensive line, but the franchise is on the cusp of rebuilding behind Locker in the years ahead.
Washington Redskins
Redskins fans are undoubtedly happy to have a real general manager after the dismal Vinny Cerrato Era. Bruce Allen is building through the draft, yet adding good pieces to the roster without asking owner Dan Snyder to overpay.
Donte` Stallworth
and
Jabar Gaffney
are veteran receivers the team hopes add depth to a team that plans to throw often.
Kellen Clemens
is a quarterback with starters experience, but he may spend this year at third string if John Beck plays as head coach Mike Shanahan hopes.
Josh Wilson
and
Oshiomogho Atogwe
are expected to start at cornerback and free safety respectively.
Tim Hightower
has a very good chance at starting at halfback because he is a solid receiver and excels in the power running game.
Barry Cofield
and
Stephen Bowen
are being counted on helping Washington shore up a porous run defense.
Allen could still get middle linebacker help, because 2010 starter Rocky McIntosh is still unsigned. Even with Jammal Brown re-signed, the Redskins still might bring in a few blockers to camp.