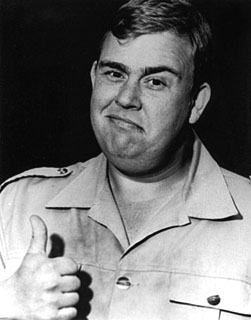 I have occasionally blended other arts into the art of sports by paying tribute to legends in other fields. A thespian often touches on sports via the silver screen, while a very few expand their horizons into the actual venue.
This is a tribute to comedian, actor, pro football owner, husband and father
JOHN CANDY
.
John was born in Canada in the year 1950, and would fall in love with football enough to play until he graduated from high school. He soon found himself on the silver screen in 1973 in the opening scenes of "Class Of '44", the sequel to the popular "Summer Of '42".
By 1976, he had collaborated with Rick Moranis on a televised talk show for several episodes. The pair had previously met through acquaintances from the Second City troupe based in Toronto, Canada. Many members of this troupe, which included Dan Aykroyd, Gilda Radner, Eugene Levy, Dave Thomas, Martin Short, Catherine O'Hara, Harold Ramis, Andrea Martin, and Joe Flaherty, went on to be huge stars in their own right. It was over this time Candy would meet his wife.
Saturday Night Live was basically comprised of talent from the Second City troupe based in Chicago, Illinois. They put on a show, starting in 1975, was maybe the top rated on the NBC television network at the time. This influence then has them take a chance and put on the Toronto based group for 90 minutes every second week on Fridays. The show, called SCTV, was an immediate success, and was shown through syndication.
NBC picked up the show, now in its fourth season, as a mid-season replacement in 1981. It stayed on the air before moving to the Cinemax channel in 1983 for their sixth and final season until 1984.
Candy became a headliner on the show, showing an amazing talent for mimicry and creating several characters that would be ingrained into viewers minds for a very long time. Characters like Johnny LaRue, Dr. Tongue, and Yosh Shmenge were just a few of his most popular creations. The Shmenge character was one half of a fictitious brother duo that lead a polka band called the Happy Wanderers. Teamed with Levy as his brother Stan, they did a mockumentary called "The Last Polska".
While doing SCTV in the 1970's, Candy appeared in seven more movies. The most famous one was "1941", where he appeared with SNL veterans Aykroyd and John Belushi. This partnership continued in 1980 in "The Blues Brothers", which became a blockbuster movie that year and still airs often to this day.
He left SCTV in a full time capacity in 1983, but still made frequent appearances. He was in so many movies, he did not have enough time to devote to the live sketch comedy show every week. He was able to make a movie with several of his SCTV friends called "Going Berserk".
Now a huge star, it seemed everything Candy touched turned to gold. Though he turned down a role written for him in the hit movie "Ghostbusters", a role Moranis would end up playing, the movie he was signed up to, "Splash", was also a huge success. There was little Candy could do wrong, and his popularity allowed him to star in his own Saturday morning cartoon show called "Camp Candy", which morphed into a comic book as well. He provided his voice to the show, as did his two children.
His success allowed him to delve further into his love for the game of football. He bought a big stake in the ownership of the Toronto Argonauts, of the Canadian Football League, with hockey legend Wayne Gretzky and partner Bruce McNall in 1991. He attended many functions and games, mingled with fans, and helped a team that had been losing for several years become very popular.
The team was also able to procure talented players such as Raghib "Rocket" Ismail with their wealthy owners. The Argos would end up going to the championship, called the Grey Cup, in 1991 as quarterback Matt Dunigan played with a broken collarbone. In minus-17 degrees Celsius weather, Toronto was dominated by the Calgary Stampeders most of the game.
The Stampeders had 21 more first downs and 232 more total yards that day, but it was not enough to stop the Argonauts from victory. Ismail set a Grey Cup record with a 87 yard touchdown off a kickoff, which helped him win the MVP award for the game, as Toronto won their first championship since 1983 with a 36-21 victory. McNall would soon mismanage some funds and the team would start to lose again, forcing them to be sold to new owners before the 1994 season.
Shortly after the sale, Candy went to Mexico to star in a Western movie after just having completed "Canadian Bacon" shortly before. It was the 48th movie for the 43 year old star, and unfortunately his last. He would pass away in his sleep because of a heart attack.
The legacy of John Candy is as strong today as is was when he departed. Many of his movies are played on television with regularity, and SCTV has also been released in a DVD box set with all of the episodes. Trying to pinpoint his popularity is very easy for most who were lucky enough to see him perform.
One could just tell that Candy was genuine. He was funny, brilliant, and complex, but he was a man for all people of all cultural backgrounds. He could not be pigeon-holed into one character because he had a wealth of genius to draw from as he created more characters as time went on.
Though he was a large man, no one ever saw him as just a plus sized comic. His talents allowed him to play the clown and the creep, as seen in his serious turn as a seedy southern lawyer in the movie "JFK". He also starred as a romantic lead in other movies, showing there was nothing he couldn't do as a thespian.
He was a man everyone felt that was their friend in some way, and that he was approachable. His goodhearted nature shone through the camera, and the respect he has from his peers is easily seen even 16 years after his death.
Here is a list of my favorite John Candy movies, which I highly recommend you seeing as soon as possible.
GOING BERSERK
This movie, directed by David Steinberg, was released in 1983, and Levy, Flaherty, Pat Hingle, Alley Mills, Dixie Carter, Kurtwood Smith, and Ernie Hudson were also in the film.
Candy plays John Bourgignon, a part time drummer who is trying to get a limousine business off the ground. He is engaged to a congressman's daughter, and becomes the target of a cult trying to brainwash him into assassinating the congressman.
Candy's scene with Hudson is one of his very best on film, and shows his talents in physical comedy.
ONLY THE LONELY
This movie, directed by Chris Columbus, was released in 1991 and also stars Maureen O'Hara, Anthony Quinn, Jim Belushi, and Ally Sheedy.
Candy plays Chicago police officer Danny Muldoon, who lives with and looks after his widowed mother. When he meets the girl of his dreams, the mothers personality jeopardizes the relationship.
This is a very funny movie that is full of great artists. O'Hara is brilliant in every way, and the bond she shares with Candy is obvious. He plays the romantic lead sweetly, yet he adds a sadness and hilarity to the character. It may be his best as an actor, which is saying a lot. A must see.
UNCLE BUCK
This movie was released in 1989. It was written and directed by John Hughes, who worked with Candy on several projects. Amy Madigan, Macaulay Culkin, and Laurie Metcalf are also in the film.
Buck is the last person called by his brother, after his sister-in-law's dad is hospitalized, to watch their children. Candy's character is a confirmed bachelor, gambler, and boozer set in his ways and is unemployed. The oldest child is a rebellious teen upset that the family recently moved and has also stuck her and her siblings with Buck at last second notice.
Watching the characters grow and evolve in this story allows for sweet moments, as does Candy with moments of trying to care for kids, a dog, his brothers house, and his upset girlfriend. It is a movie that was a huge hit, but remains as fresh and pertinent today as it did when it was made.
PLANES, TRAINS, & AUTOMOBILES
This movie was released in 1987. It was written and directed by John Hughes. Steve Martin, Michael McKean, Kevin Bacon, and Edie McClurg also starred.
Candy plays Del Griffith, a shower curtain salesman. Though his character is kind, he talks too much and creates several accidents throughout the movie. Through all the hilarity that ensues, it turns out that Del is a sad and lonely widower. It is a movie where Candy is allowed to let loose his comic flair, and also display his affable and sweet side that all his fans adore.
SUMMER RENTAL
This movie was released in 1985, and is directed by Carl Reiner. Richard Crenna, Rip Torn, John Larroquette, and Karen Austin also star.
This is a family movie where Candy plays an air traffic controller forced to take a vacation with his family by his boss. Nothing goes right in the beginning, as he settles into the wrong rented house at first then later clashes a real estate developer. He challenges the developer to a boat race, using a floating restaurant as his vehicle. A sweet movie that shows Candy's range of being tolerable to being revengeful.
WHO'S HARRY CRUMB?
This was released in 1989, and was directed by Paul Flaherty, the brother of SCTV's Joe Flaherty. Jeffrey Jones, Annie Potts, Barry Corbin, and Tim Thomerson also star.
Candy is Harry Crumb, who is the last descendant of a long line of great detectives who founded a highly respected detective agency. Harry, however, is clueless and bumbling. Yet he gets involved in a kidnapping plot that is traced back to the chief detective of his agency.
This is a well written movie that gets enhanced immensely by the talents of Candy. His character is a mix of likable, not so likable, and maddeningly frustrating. He has you cheering for both the heroes and villains in this one.
ARMED AND DANGEROUS
This movie was released in 1986, directed by Mark L. Lester, and also stars Meg Ryan, Robert Loggia, Brion James, Kenneth McMillan, Larry Jenkins, Steve Railsback, Tiny Lister, Don Stroud, and Eugene Levy.
Candy plays an ostracized police officer, and Levy plays a failed defense attorney. They work together as armored car drivers and get caught up in a nefarious embezzlement scheme. Candy plays a gung-ho man on a rampage, which is highlighted when he jumps into a tractor trailer carrying rocket fuel. It is a truly inventive scene that Candy carries into new heights of comedy, especially the scenes leading up to his getting into the truck.
TEARS ARE NOT ENOUGH
This is a documentary released in 1985 to call attention to famine in Ethiopia. Several great musicians such as Neil Young, Joni Mitchell, Geddy Lee, Paul Anka, Bryan Adams, Mike Reno, Gordon Lightfoot, Tom Cochrane, and Paul Shaffer are all on the soundtrack.
Candy, along with SCTV friends Levy and Cathrine O'Hara, are members of the choir who sing. Candy displayed a talent and love for music throughout his life, and this was one of the last appearances of The Shmenge Brothers singing together. The duo would perform for the last time at Comic Relief later in the year, playing their hit song "Cabbage Rolls and Coffee Polka".
There are more movies to list, as certainly all of his fans could easily do as well. This small list is just a small token of appreciation for a king who always wore his crown with grace and graciousness.
Thanking John Candy for helping us smile is not enough, for all should also be thanking God for blessing us with his presence. It is a gift that will always keep souls floating on cloud nine.