The Washington Redskins have fallen on hard times as a franchise. They are now the perennial cellar dwellers, in the NFC East.
The team is so desperate in need of repair that owner Dan Snyder cleaned house by hiring a new general manager and head coach.
Bruce Allen, the general manager, and Mike Shanahan, the head coach, have not gotten off to a roaring start just yet.
They have hired two aging running backs, Willie Parker and Larry Johnson, most pundits considered washed up, along with several other underachievers, Phillip Buchanon and Artis Hicks.
The big noise the team has made this offseason was trading a pair of draft picks to the Philadelphia Eagles for quarterback Donovan McNabb.
Though his contract expires at the end of the season, with a players strikes looming in the shadows, the team is gambling this move does not end up being a one year rental of the five-time Pro Bowler, who may now be at the apex of his peak.
The Redskins will be working with just four draft picks in the 2010 NFL Draft, and they need help on both sides of the line in the trenches, as well as the defensive secondary, and linebacker corps.
They could also stand to take a chance on getting a quarterback to groom in case McNabb bolts at seasons end.
There are more holes than draft picks, and although the Redskins will probably try to trade 2009 starting quarterback Jason Campbell for more selections, it still will not be enough for an aging team trying to rebuild on the fly and crawl out of last place at the same time.
ROUND ONE
With the fourth overall pick of the draft, the Redskins should use it on Oklahoma State University's Russell Okung.
With the retirement of left tackle Chris Samuels, a replacements is needed immediately. This especially needs to happen on a team that has spent most years neglecting this unit to the point where it may be the worst in the league.
ROUND FOUR
Unless the Redskins procure a draft choice between here and the first round for Jason Campbell, they will have to wait for 99 other players to be chosen before they pick again.
Javier Arenas of Alabama University may not be on the board by now, but it is possible due his diminutive size.
He is reminiscent of Redskins Hall of Fame cornerback Darrell Green, in that he has excellent speed and is a dangerous return man on special teams. He also wore Green's No. 28 in college.
With the departure of veteran Fred Smoot, the Redskins need another cornerback. Even if he is a project such as Arenas is.
ROUND FIVE
32 picks later, the Redskins are back to try to fill another of several holes with a lower tier talent.
Here it's time to stock the defensive line and Torrell Troup of Central Florida should be there.
He is 6′3″, 314 pounds, and is coming off a standout performance at the East-West Shrine game.
He specializes at stopping the run, something the Redskins need, and has good instincts and push. He has work to do, but could be a serviceable big body in the trenches.
ROUND SEVEN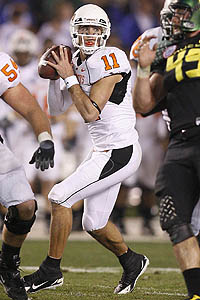 This is the time you take a gamble. Sometimes you get a seventh round pick who can turn out like Matt Cassell, Patrick Crayton, Derrick Ward, and Bobby McCray.
Many other times you get a guy who won't even make the team.
Zac Robinson needs a lot of work and is extremely raw, but is athletic enough to avoid the pass rush, and has a very good arm.
He is also considered a high character player with good mental toughness. He needs to improve his decision making time, and also needs to hit the weight room hard and bulk up. He can improve on all areas of mechanics a lot.
Robinson would be a good candidate to be such a player to develop as he works on his game on the sidelines while the games go on in 2010. He might be three years away from being ready to compete for a starting job, but could be worth the gamble here.