Pittsburgh Steelers @ Baltimore Ravens
Game of the Week
These two teams dislike each other, and this is the best rivalry in the NFL today. The Steelers are 18-12 in this series, and five of the last six were decided by three points or less.
I like the Ravens, but I think it will take a few more weeks until they hit their stride. The Steelers know each other right now, so familiarity will win.
Steelers
19 Ravens 17
Atlanta Falcons @ Chicago Bears
The Falcons balance on both sides of the ball will be hard to handle for their opponents this season. The Bears defense is excellent, but it remains to be seen if the offense has improved for their sub par 2010 performance.
Bears quarterback Jay Cutler has chucked 79 interceptions in 68 career games. It is the highest total in the NFL over that time. If Cutler continues to make errors, it will make it easier for Atlanta to win.
Falcons
23 Bears 17
Cincinnati Bengals @ Cleveland Browns
The snoozer of week one of the NFL to some. Cincinnati has a chance at being the worst team in the AFC North this year, while the improving Browns really need a strong start to show their improvements.
Browns
31 Bengals 14
Indianapolis Colts @ Houston Texans
No Peyton Manning means no hope for the Colts. This is the Houston Texans time to win the AFC South, and they should use their running attack to destroy the Colts porous run defense.
Texans
37 Colts 20
Tennessee Titans @ Jacksonville Jaguars
These teams mirror each other in several ways. Both have new starting quarterbacks, though the Titans Matt Hasselbeck holds the edge here.
Running the ball well should decide this. Jacksonville's Maurice Jones-Drew is ready to go after a full training camp under his belt, while Tennessee's Chris Johnson has only been at it about a week.
Jaguars
21 Titans 17
Buffalo Bills @ Kansas City Chiefs
It seems the only way Buffalo wins here is by an excellent defensive effort and halfback Fred Jackson running wild. While the Bills defense should be improved from last year, the Chiefs plan to run the ball down their throats.
Chiefs
23 Bills 13
Philadelphia Eagles @ Saint Louis Rams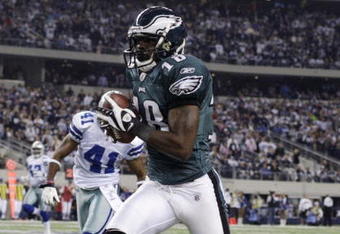 Philly needs to show why owner Jeff Lurie plunked down over $200 million this year. The Rams are a promising team who can run the ball well with a Pro Bowl halfback and one of the best offensive lines in football.
The Eagles defensive weakness is stopping the run, so this area will be exploited by the Rams. Yet Philadelphia gets wide receivers Jeremy Maclin and Steve Smith back this week, and the Rams secondary is the weakness of the Saint Louis team.
Eagles
34 Rams 24
Detroit Lions @ Tampa Bay Buccaneers
If you love to watch young defensive lines with the ability to dominate, tune into this game. Both teams feature trench play from pretty deep defensive units, led by Detroit's Ndamukong Suh.
It comes down to the young quarterbacks on both teams. Matt Stafford may have Calvin Johnson to throw to, but the Lions quarterback has been brittle so far in his career. The Buccaneers Josh Freeman does not make many mistakes, and this could be the difference this week.
Buccaneers
14 Lions 10
Carolina Panthers @ Arizona Cardinals
Two new quarterbacks start here, but the Cardinals hold the edge. Kevin Kolb will enjoy throwing the football to Larry Fitzgerald and Todd Heap this season, something that should be seen in week one.
Cardinals
31 Panthers 17
Minnesota Vikings @ San Diego Chargers
Minnesota changed head coaches last year, but the Chargers hung onto theirs for some reason. That reason needs to be shown immediately.
While Minnesota's back seven in their defense is pretty good, they have questions along the defensive line. The Chargers offense is explosive, so a fast start is needed by them in order to show they are Super Bowl contenders.
Chargers
28 Vikings 24
Seattle Seahawks @ San Francisco 49ers
Both teams have pretty lousy quarterbacks, so the run game will be big here. Both teams have nice receiving trios, but no one to get them the ball.
While special teams may decide things, this could be the week Frank Gore reminds fans of just how good he can be.
49ers
20 Seattle 17
New York Giants @ Washington Redskins

It is fitting New York will be represented in the nation's capitol on the tenth anniversary 9-11. Washington will need to run the ball and eat up the clock to keep the Giants excellent offense on the sideline.
The Giants severely depleted secondary will be tested soon, but it is doubtful this will come from Redskins quarterback Rex Grossman. His penchant for mistakes will probably make the difference.
Giants
27 Redskins 24
Dallas Cowboys @ New York Jets
This could get ugly fast, as Dallas can't stop the run and probably will not be able to run against the excellent Jets defense. Tony Romo may end up chucking over 50 passes in this one.
Jets
27 Cowboys 14
New England Patriots @ Miami Dolphins
Miami fully expects to have a better offense compared to last year as young quarterback Chad Henne matures into the player they hope for. But their rushing attack is still in question.
The Patriots, considered by some to be the best team in the AFC, only have to question of how many games they will win this year.
Patriots
23 Dolphins 16
Oakland Raiders @ Denver Broncos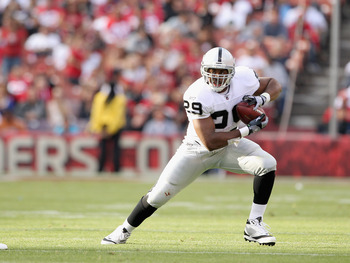 Oakland loves to run the football, as they should with Darren McFadden and Michael Bush taking carries. But their defensive secondary in an unknown commodity when extra defensive backs are needed, and the run defense on both teams is nothing special.
Kyle Orton could light up the Raiders secondary for over 300 yards, but the amount of offensive plays the Broncos could have may be limited due to the Raiders ground game controlling the clock.
Raiders
20 Broncos 17