Carmelo Anthony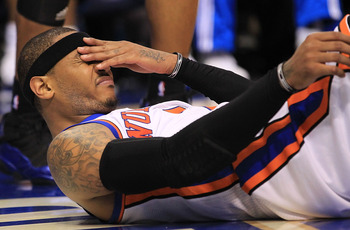 When the Knicks replaced Isiah Thomas with Walsh, Dolan never parted ways with Thomas. He reassigned him under the ideology that Thomas would be was banned from having contact with any Knicks' players under the rationale that he could willingly or unwillingly undermine general manager Donnie Walsh and head coach Mike D'Antoni.
It looked good on paper at least.
Anthony had already said he was wanting to be a Knick well before the big trade that acquired him. He had been a Denver Nugget since he came into the NBA in 2003, but the four-time All-Star grew up in Baltimore, Maryland and has family in New York City.
Another reeason for his interest in the Knicks is the realty television show "La La's Full Court Wedding", since his wife, La La, is a television personality based in New York City. Putting his needs ahead of his team is nothing new for Anthony, known as a player who did little more than shoot the ball while in Denver.
The Knicks had a young team with promise before the trade. Amar'e Stoudemire was the unquestioned leader already, despite being barely halfway into his first year with the team, and an assortment of role players were complementing him. Point guard Raymond Felton was having the best year of his young career, looking like a brilliant signing by Walsh.
While Anthony spent much of his time in Denver politicking for getting traded to the Knicks, word was Walsh and D'Antoni were not interested in giving up what it would require to attain his services. Then rumors of Thomas getting back into Dolan's ear grew louder and louder as the trade deadline approached.
Then, in a move many say Walsh was not in full agreement with, the Knicks pulled off a blockbuster deal to get Anthony and a pair of very old point guards named Chauncey Billups and Anthony Carter. Denver got four young players, a first-round pick, a pair of second-round picks, and $3 million in cash.
"I'm glad it is over." is what Nuggets head coach George Karl said.
Since the trade, New York has gone 6-10. Anthony's need to toss up 10-20 shots a game has taken away from D'Antoni's system and Stoudemire's game. Factor in his unwillingness to pass, rebound, or play defense, the trade looks like a bigger mistake with each day that passes.
He has recently been seen sulking, hiding from the media, and sniping at teammates for not passing him the ball. Where Stoudemire took on the bright New York lights head on to reinvent himself, Anthony appears to be wilting already.
"He has a career worth of bad habits. They weren't going to change in a month." said one NBA coach.
This move has appeared toxic to the Knicks so far, and it appears to have evolved from Thomas. A man whose whole Knicks career can be termed as toxic.
Anthony is where he wanted to be. He is not the only NBA player right now who maybe should have been careful in what he wished for.
Dwyane Wade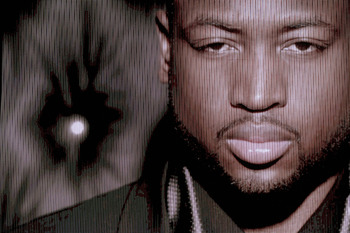 When Wade became a free agent at the end of last season, he said he would stay with the Miami Heat if they showed a commitment to winning a championship. The owner of the Heat heard him loud and clear.
On the day Miami re-signed Wade, they also signed free agent Chris Bosh. The next day saw LeBron James sucker ESPN into broadcasting his announcement that he was taking his talent to the Heat.
While the season has been filled with various results, the Heat have already won more games than they did last year. Yet it hasn't been the 82-0 record many ran off at the mouth predicting the days of the signings.
Wade still scores at about the same rate as he always has. All of his stats seem the same, except he is rebounding the ball a little more. James has his lowest scoring average since his 2004 rookie year, but the rest of his game is accumulating about the same statistics. Bosh is having his worst season statistically since his 2004 rookie season, but is still putting up more than respectable numbers.
Yet with all the offensive output, something appears to be missing with the Heat at times. That something is any semblance of a post game. While the Heat's big three is great crashing towards the basket off the wing, they have no players who can just sit in the paint while rebounding and blocking shots. If they had this now, they might be even more unstoppable than they are already.
Wade had a chance to go home to Chicago, where he could have paired up with Derrick Rose in the Bulls backcourt while guys like Carlos Boozer and Joakim Noah provided the paint work. He chose to stay with the team where his NBA career started in 2004. A team he has already won one championship with.
Though money bought some of his loyalty, Wade should be commended for staying in South Beach. Heat owner Micky Arison deserves a major pat on the back for opening his wallet and gambling that overpaying his three stars will get the team more championships.
It is a move that does not always work out. Some brought back memories of Ted Stepien, the Cleveland Cavaliers owner who made similar gamble that destroyed the team when the moves failed to work, when Miami signed their three stars. While Arison's gamble has not tumbled yet, the trio will be responsible for a lot more than winning a few regular season games.
The playoffs usually slow the game down to the point a post game becomes a necessity. If Miami can overcome their hole in the middle and win it all, Wade's plea to Arison will have been just what was needed.
LeBron James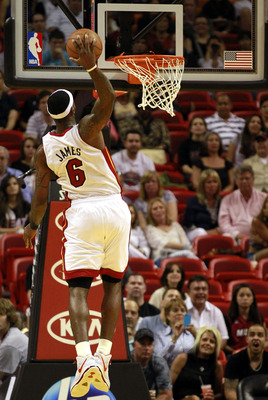 No one questioned the talents of LeBron James. His ego and IQ? That is debatable.
When the Miami Heat coaxed James to leave the state of Ohio for sand and surf, as well as playing next to All-Stars Dwyane Wade and Chris Bosh.
He went to a posh neighborhood in Connecticut, set up by ESPN, and took part in an overblown ceremony to pamper his ego which made his look more asinine that ever before with the opening sentence, "In this fall, this is very tough, in this fall I'm going to take my talents to South Beach and join the Miami Heat."
It really should have come as no surprise from a guy who once belittled Stephon Marbury for selling shoes and clothing at an affordable price, saying he would "never have a discount line".
The move to Miami may give him the rings he seeks, but it has ended his chances of a legendary legacy reserved for few NBA stars. His image has been sullied to the point that the stuff he hocks has lost market value in big portions.
NBA legends were unhappy with his move, but it is a move James will have to live with. Yet he was so embarrassed at one point that he tried to play the race card. This move was met with resounding criticism. So the excuses are now out of the way.
Now he approaches the playoffs and anything less than winning the title will get him ridiculed. While he brought all of this upon himself, these next few weeks may interest more than just LeBron James.
Kendrick Perkins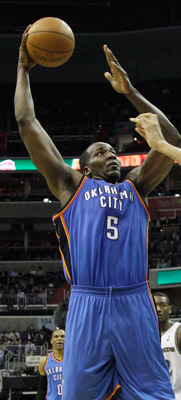 Perhaps the most underrated trade at the deadline this year is when the Oklahoma City Thunder got their hands on Kendrick Perkins. The one thing the young team had been missing was a post presence. Perkins provides it.
While he is still recovering from an injury suffered before the trade, the Thunder are bringing him along slowly. He has averaged about 23 minutes in his four games, but Perkins is pulling down almost nine rebounds per contest.
Giving up Jeff Green wasn't easy for Oklahoma City wasn't easy, but the prospects of securing the post was too tempting. James Harden has also stepped up his game since the trade.
With the driving force of point guard Russell Westbrook and the nearly unstoppable scoring ability of small forward Kevin Durant, a healthy Perkins could all the Thunder needs to make a serious run at the title.
Amar'e Stoudemire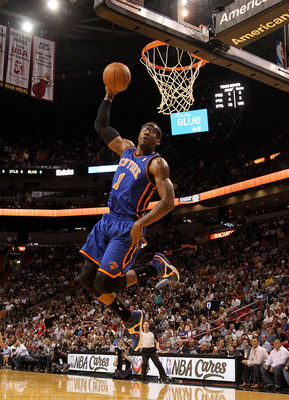 Stoudemire came out of the 2010-11 blocks as a front runner for the MVP Award. The Knicks were well above .500 and he was an All-Star setting team records.
He went nine straight games with scoring 30 or more points, as well as nine consecutive games of shooting 50 percent or better.
He had come to the Knicks with questions about his leadership and defense. Stoudemire quickly quieted his critics, and is scoring the most he had since the 2005 season. After he hurt his leg in 2006, having to have a then-experimental micro fracture surgery, no one thought he could do this again.
Now he will have to change his approach to the game with the addition of Carmelo Anthony. Where he was once the first scoring option, his looks will lessen drastically by the always ready to shoot 'Melo.
Addition By Subtraction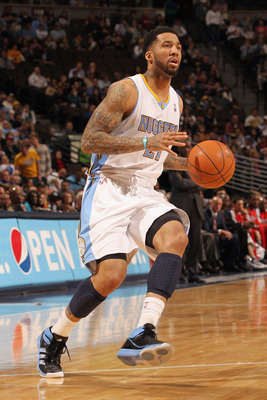 Ever since the Denver Nuggets dumped Carmelo Anthony, they have been on fire.
Where before the strategy was give it to 'Melo and watch him shoot, Denver is now pass crazy. Nuggets are making sure everybody in a Denver uniform touches the ball and contributes to the team. The four newcomers they got in exchange for Anthony gives Denver 43 points, 14 rebounds, 9.4 assists, and two blocks per game.
Since the trade, the Nuggets have gone 10-4. All losses have come by six or less points, meaning they have been competitive each contest. They are also now playing the type of basketball head coach George Karl always wanted from the Nuggets.
Where they go in the playoffs will be fun to watch because they are a versatile bunch. They have a large group of players who can handle the ball and shoot jumpers from anywhere. They also still have enough in the paint to where they are not pushovers at the post.
If there ever is a darkhorse who could shock the NBA universe in the playoffs, it is the Denver Nuggets.
If they actually do go out and win their first ever title this year, flowers of thanks must be sent to Isiah Thomas.
Stay Cool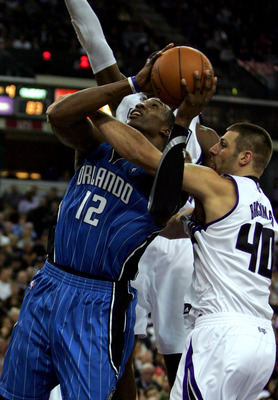 Wilt Chamberlain and Shaquille O'Neal played much of their careers getting hacked as the games were nearing their end, especially if the opponent was trying to catch up on the scoreboard. It worked at times because neither big man was great at the charity stripe.
Now Dwight Howard, of the Orlando Magic, is not nearly as big as Chamberlain or O'Neal. He is more of a power forward than center, but there are less than a handful of centers in the game today so he can dominate at the position. One thing he does have in common with Wilt and Shaq is that he struggles with free throws.
Come playoff time, we will see the old time tested strategy. Howard, who already has been reprimanded by the league for losing his temper over these extra hard fouls, will need to keep his composure. The deeper in the playoffs Orlando advances, the harder the hits will come.
Orlando retooled their team at the trade deadline, so they are hoping everything gels by playoff time. They won't match their 59 victories of each of the last two seasons, but they have won seven of their last 11 games and are a team no one wants to face.
Howard has expressed his dislike for the hacking. One way to solve it is to hire a Calvin Murphy or Rick Barry this summer and shoot free throws daily the entire time the NBA is off.
Gil Shoots Himself To Save Nick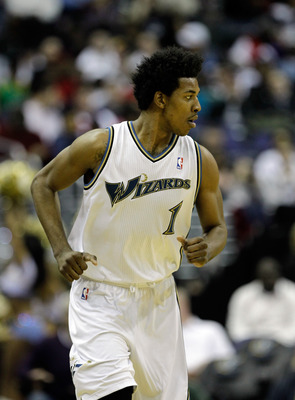 Since being a first-round draft pick of the Washington Wizards in 2007, Nick Young spent most of his first three seasons riding the bench. He had 30 career starts, with 23 coming in the third year. It was easy to see the 6'6" shooting guard could score, he just spent most of the time buried on the depth chart.
Gilbert Arenas knew he had worn out his welcome with the Wizards before the start of this year, especially with longtime owner Abe Pollin having passed away last season. He had a huge contract the Wizards didn't want to pay him and no other teams wanted to touch. He was coming off micro fracture surgery that limited him to 47 games over the last three years.
During a summer league game, before the start of this season, Arenas told the team he was hurt when he was not. He then told the media of his actions, explaining he wanted Young to get more minutes on the floor. After averaging over 17 points in his first 21 games, Washington got the Orlando Magic to accept a trade for him.
In order for the trade to happen, Arenas would have to give up a ton of money because the Magic didn't want to pay it. He accepted the paycut for a chance at a title, something he had little chance at winning in Washington this season.
That opened the door for Young again, though coach Flip Saunders initially hesitated initially. Finally given a chance, Young has taken hold of the opportunity and shined. He is first in the team in points scored and second in minutes played. His 17.7 points per game average also leads the team. He has scored over 30 points eight times and over 20 points 30 times with a high of 43 points.
Still just 25-years old on a young team, he could be an important cornerstone on a rebuilding team. At least the Wizards finally found out all he can do, even if it did take Gilbert Arenas faking an injury so they could find out.
A New Star Is Born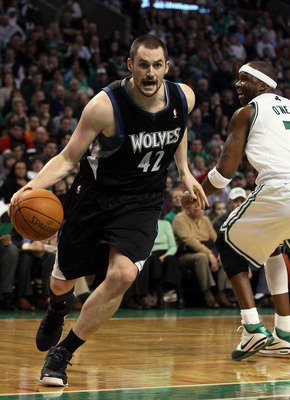 Kevin Love was drafted in the first round of the 2008 draft by the Memphis Grizzlies, he soon found out Memphis preferred O.J. Mayo. The problem was that Mayo was selected by the Minnesota Timberwolves two picks earlier. Yet the Grizzlies were so intent on Mayo, they orchestrated an eight-player trade that subsequently swapped the rookies.
The move has turned out to benefit Minnesota much more than Memphis so far. Mayo is now coming off the bench and Love is the leader of a young Timberwolves team that could be on the verge of winning soon with a few extra players.
Love was first a backup to Al Jefferson, but stepped in when Jefferson got hurt and was named Rookie of the Month in February. This play eventually allowed the Timberwolves to trade Jefferson to the Utah Jazz for two first-round draft picks before that start of the season.
Love had already played steady, averaging a double-double in points and rebounds, in his first two years. With Jefferson now gone, his game has exploded on the league. Love currently leads the NBA with 15.4 rebounds per game and is also scoring a career best 20.3 points each contest.
He went on a historical run this year where he had 53 consecutive double-doubles. It was the longest streak since Elvin Hayes had 55 for the Washington Bullets, then known as the Capitol Bullets, in 1974 and the longest streak since the NBA merged with the ABA in 1976.
One of the key ingredients in the surge in Love's play is the work he does with assistant coach Bill Laimbeer. Laimbeer is just about the same size of Love and played a similar game that led to two championships and four All-Star games as a player.
Like Love, he had an excellent outside game. He led the league in rebounds twice and averaged a double-double in six seasons. Yet Love has more range to his jumper. Laimbeer made 202 three-pointers in his career, with a season best shooting percentage of .361. Love has already drained 125 three-pointers and is shooting an impressive .423 percent this year.
If having Laimbeer, a WNBA Coach of the Year Award winner who won three titles, wasn't enough, Love has Kurt Rambis as his head coach. Rambis was a hustling overachiever who won four titles with the Los Angeles Lakers as their tough power forward.
Before him, Love had Kevin McHale as a coach. McHale won three titles as a power forward for the Boston Celtics and is listed as one of the 50 Greatest Players in NBA History. Then there is his own father teaching him.
Stan Love was a first-round draft pick of the Baltimore Bullets in 1971. It was no surprise to some that his son's outlet passes have drawn comparison to Wes Unseld, one of only two men to ever be named NBA MVP and Rookie of the Year in the same season, because he played next to Unseld for two years.
Ironically, he also played with Elvin Hayes. After leaving the Bullets, he played with such legends like Jerry West and George Gervin as a member of the Lakers and San Antonio Spurs. When he retired, he had a wealth of knowledge to pass on to his son.
With all of these legendary mentors in his corner, Kevin Love could be on the verge of a career that ends up in the Hall of Fame. He has a support system not many people in the history of the game can claim, and one can only guess his game will get even better.
Flushing The Dunk Contest
One of the worst moments of the 2010-11 NBA season was watching the fans hand media darling Blake Griffin the All-Star Dunk Trophy. It helped Griffin that he plays in Los Angeles, is loved by the press, and is a spectacular athlete.
But he did not win the contest.
After the first three rounds were scored by real dunking experts like Julius Erving and others, the NBA decided to let the morons watching at home text in on the final round to decide a winner. All it proved it that the viewers have a short attention span and an even shorter memory.
Griffin won by jumping over the roof of a toy car that was as tall as a child's tricycle. Sadly, it was probably the best dunk he had in the entire contest. Most of the event droned on, because fans only were familiar of Griffin.
Yet JaVale McGee pulled off dunks never seen before. Dunks that maybe the greatest dunkers in the game could not have duplicated in their primes because McGee stands near seven-foot tall and has a wingspan that gets him close to 7'5".
After dunking with two balls in two baskets at the same time, the trophy should have been given to McGee then. Yet he wasn't done. On a dunk that, in retrospect, he should have saved for his final attempt, his mom helped.
Pam McGee is one of the greatest women basketball players ever, a fact that probably escaped most of those viewing on television. She gave her son, already holding two balls, a special ABA-style ball. JaVale then proceeded to dunk three balls at one time, a feat never attempted before.
But there was one more round. The one that involved the "fans". The round that undeservedly handed the trophy to Griffin for jumping two feet in the air over a car most grown men could not fit comfortably into.
The NBA Dunk Contest is in trouble. It already was looking iffy when Nate Robinson won it or Dwight Howard wore a cape and won without actually dunking the ball. Why the league wastes the time of legends like Dr. J when his work will get ruined by the television viewer makes no sense.
The NBA MUST let the experts judge the ENTIRE event and leave the television viewer where they belong. Plopped on a couch watching the event on television.
The NBA only needs to look at the NFL to see where the event is headed. The Pro Bowl was once an event players wanted to play in. Those honored wore it like a badge and played as hard as they could. Players and coaches, the ones who best knew who was worthy of the honor, were the ones who did the voting.
Then the NFL made the mistake of letting the "fan" get involved in the voting process.
Pretty soon you saw guys going because they ran their mouths, perpetrated clownish antics like signing balls or placing phone calls during the games, or just shooting commercials. Soon guys were piling up Pro Bowls in huge amounts too because the fans had no idea who was the best. Positions along the line of scrimmage certainly saw this spike.
Now the game is ruined. No one plays hard in it. No one wants to go or even get honored. The game has become such a disgusting joke that it is played before the Super Bowl, which means the best are not represented in this game and it is not a Pro Bowl anymore.
The NBA needs to make a choice. Kill this event or let those who know decide. Otherwise it becomes just a popularity contest based on commercial image. Just as it was this year.