Christian Ponder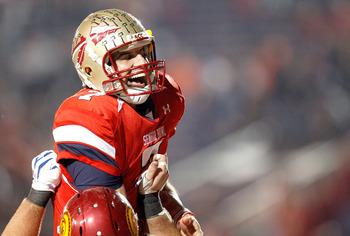 He has been schooled well, but is not as athletic as some were once led to believe.
Though he throws a decent short ball, going deep is an issue. He has a tendency to force passes and gets flustered easily.
He works hard and has leadership abilities, but Ponder has durability concerns. Gets compared often to Chad Pennington, so he could be a starter somewhere in his career.
While some see him an early selection in the second round, he could last into the third.
Ricky Stanzi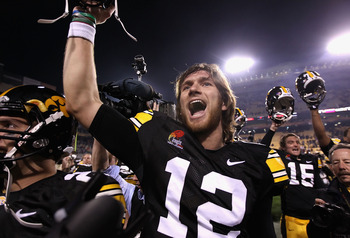 Scouts like Stanzi's experience, size, athleticism, toughness and maturity.
He also has an acceptable arm for the game today. What scares some is his decision making and deep ball.
Stanzi has the makings of a long-time backup in this league. He has leadership qualities and is a hard worker, so it isn't smart to count him out as a starter.
He could go as early as the second round, even ahead of Ryan Mallett, but it seems he is bound for the third round.
Colin Kaepernick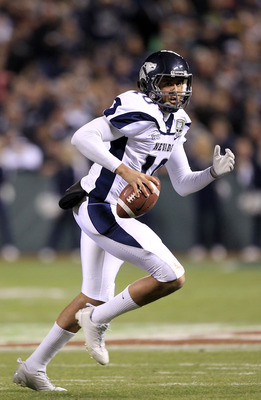 He is big, athletic and has a gun for an arm.
He has been shooting up some draft boards, passing Ryan Mallett on a few.
While experienced, he might have to learn another position because he has no history in a pro-set offense and is a project. Besides footwork, his long delivery will need work. This issues could drop him to the fourth round.
His size could make for an intriguing wide receiver prospect, but the team that does draft him will need to be patient no matter what position they put him at.
Andy Dalton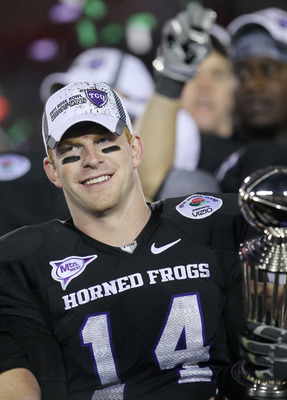 Dalton is very smart, a hard worker and has adequate bulk, arm strength and experience. He is a tough guy capable of placing the ball in the right spots.
He isn't very tall or terribly athletic, and he needs work on his mechanics as well. Some wonder how he will do in a pro-style set.
He has the makings of a solid backup, because he understands game management. He would work best in a West Coast system where the dink/dunk pass is king. A probable third or fourth round selection.
Pat Devlin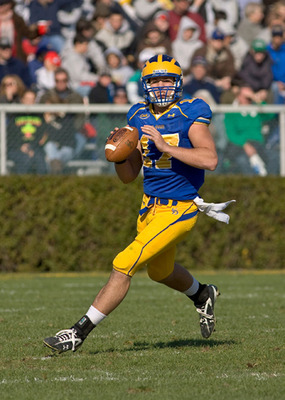 Devlin is trying to go the Joe Flacco route. Flacco, the Baltimore Ravens starting quarterback, earned his job as soon as he was drafted in the first round of the 2008 draft.
Devlin might go in the third round, but some think he is a fifth-rounder. He has the arm, but needs work on his accuracy, foot placement and is inexperienced. He needs a lot of work in the film room, and has a tendency to gamble.
Though it is possible he can start one day, he looks like an NFL backup right now.
Scott Tolzien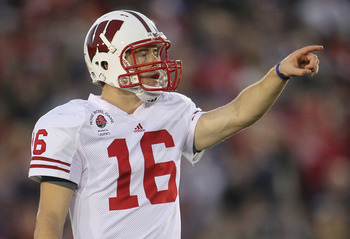 His strength is his accuracy and sound decision making. Tolzien does not have a big arm, but it is passable by the NFL standards of today.
Though he has decent mobility, Tolzien is not a great athlete. One thing he did often in college was win, losing just five times in 26 contests.
At 24 years old, he's older than most rookies. He needs to hit the weight room as well.
There is a chance he gets drafted as high as the sixth round, but it appears he will be, at best, a backup if he makes a team.
Taylor Potts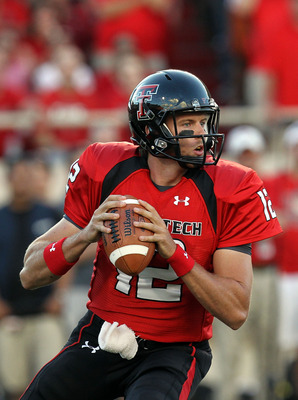 Destined to be drafted late, Potts has a strong arm and above average accuracy. He needs work on learning the pro-set, and his footwork needs refinement. Potts needs to get stronger.
He will get looked at late in the draft and is a project worth developing for a few years. It is possible he finds himself starting one day in the league, but he can be a serviceable reserve at the least.
Greg McElroy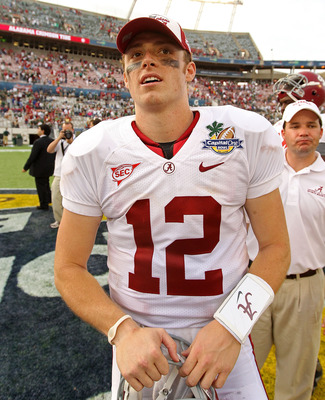 He will not blow you away in physical measurables, but he balances his short comings there with supreme intellect and a winner's touch. He waited his turn in college, but started winning right away when called on.
He does not have a big arm, but he has great touch and accuracy. He will work as hard as he can to max out his potential, but there is a chance he goes undrafted.
His dad works for the Dallas Cowboys, ask the Garretts how that works, who are in the market for a youngster to eventually replace primary backup Jon Kitna. He might remind Jason Garrett of himself as a player.
Yet do not bet against this kid. He could make a roster and have an impact one day.
T.J. Yates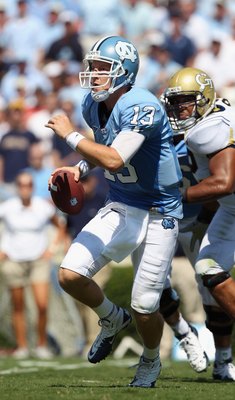 He is a good leader who had the benefit of being coached by men with NFL experience while in college. He makes good decisions and has good size.
Yates does not have a very strong arm, but he is accurate. Though he has durability concerns, he earned a starting job as a sophomore and has experience. His team's blocking wasn't always stout, so Yates learned early how to stand tall in a crumbling pocket with defenders in his face.
While he isn't a great athlete, he can be a sound backup for years and could get drafted as early as the fifth round.
Josh Portis
Portis has been in the college football system since 2005, went to Maryland University after transferring from Florida University.
After rarely throwing the ball for the Terps, used for his running ability, he left for California of Pennsylvania in 2009 and performed well.
He is the cousin of NFL running back Clinton Portis. He runs well, but is bereft with character issues.
A project who most likely will not get drafted and may have to make a team playing another position.
Others To Consider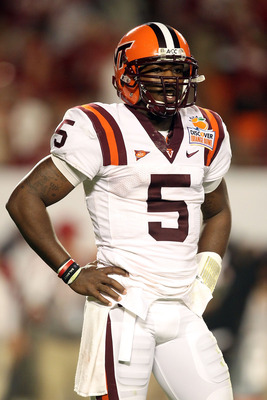 Tyrod Taylor
He works very hard at his game and is a terrific leader with an excellent throwing arm.
Taylor is also mobile, able to make plays with both his arm and legs. Yet he is just 6'1", considered too short to play NFL quarterback. He needs major work on fundamentals and tends to lock onto his primary receiver, leaving Taylor often prone to mental errors.
He may get drafted in the last round, but a position switch appears likely.
Mitch Mustain
Mustain might get drafted late, despite sitting on the bench most of his collegiate career.
After going to Arkansas University as a highly touted player, he got off to a good start before clashing with the coaches and heading to USC.
He is not big, but his arm strength is above average and he showed promising skills as a freshman. Some scouts think he is the next Matt Cassell.
Chris Dieker
Missed five games in his senior year due to a broken collarbone. Three-year starter who showed improvement before his injury. He has good size, arm strength and experience, starting three years.
He tends to force passes, which led to him being benched at times. His footwork and release needs work and he is considered a project. Though it is doubtful that Dieker gets drafted, his combination of size and arm strength will warrant a tryout.
Jeff Van Camp
He is a good athlete but needs a ton of work on all of his mechanics. Most likely goes undrafted and gets invited to a training camp somewhere.
Nate Enderle
He started as a freshman and some scouts like his size as well.
He needs work on mechanics, but has shown the ability to stand tall in a collapsing pocket. He performed poorly at the combine, but was good at the East-West Shrine Game.
He was a victim of a ton of dropped passes in college so his numbers aren't a true indication. Enderle looks like he could be a solid reserve, yet perhaps more in the right system.
Jerrod Johnson
He has the size and is mobile. Needs work on his release and footwork, and appears to have a fragile ego. Will quit fast on a play and himself. Lost his starting job in his senior year.
Johnson will get a roster camp invite if undrafted. A project.
Ryan Colburn
Learned under guru Pat Hill. He has good leadership qualities but has been erratic with his accuracy. Didn't throw a lot of interceptions in college, but has questionable arm strength.
Would probably work best in a West Coast system. Probably will go undrafted and get invited to a camp.