Defensive Tackle : Houston Antwine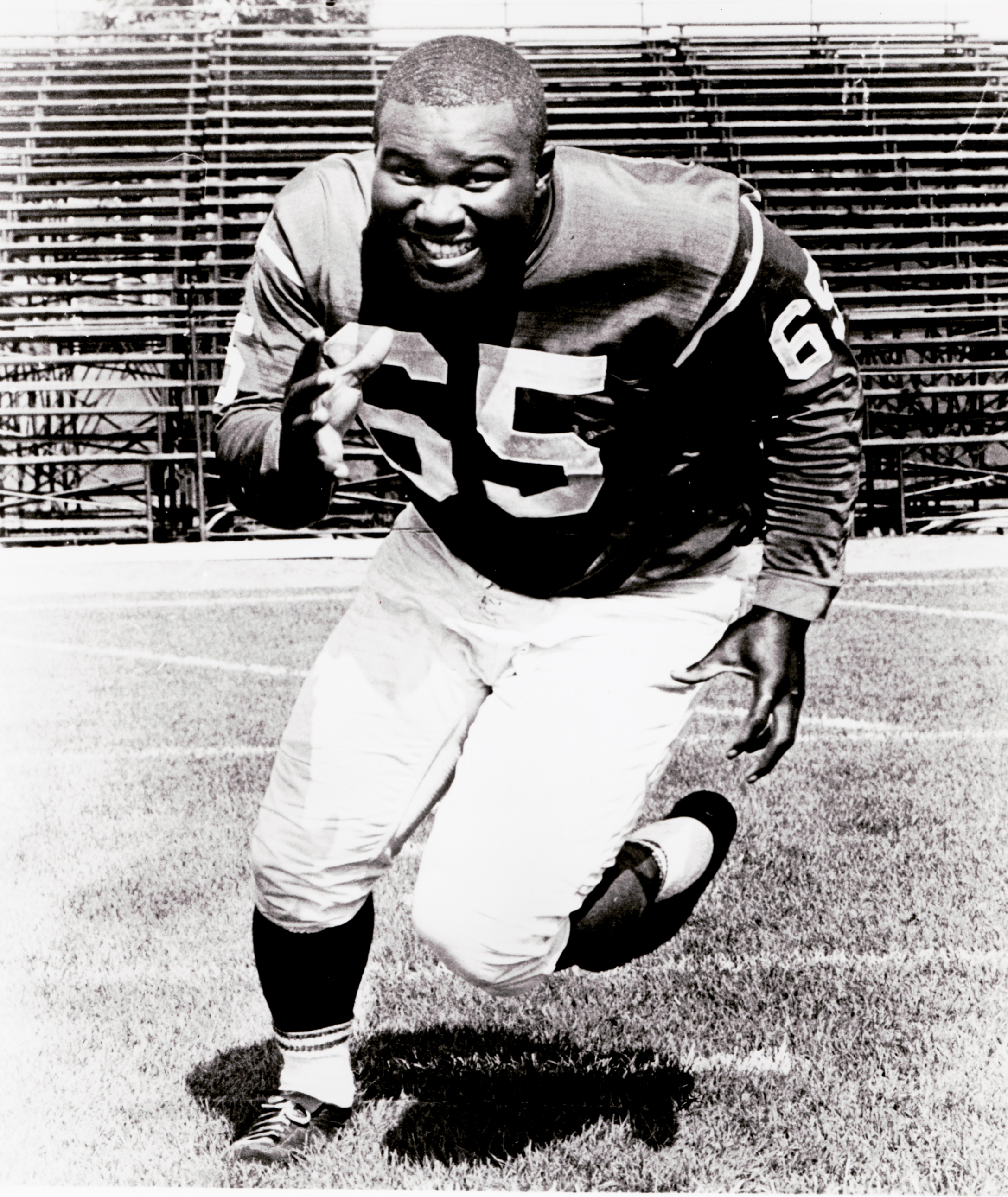 6' 270
Defensive Tackle
New England Patriots
1961 - 1972
12 Seasons
156 Games Played
6 Pro Bowls
AFL All-Time Team
Antwine was a third round draft choice by the Detroit Lions in the 1961 NFL Draft, the 38th player picked overall, and an eight round draft pick of the Houston Oilers in the AFL Draft.
When the Oilers traded his rights to the Boston Patriots, Antwine joined the the team.
Though Antwine was still recovering from an injury he suffered at the College All-Star Game, the Patriots first put him at offensive guard. They eventually switched him to defensive tackle during his rookie season. It turned out to be a smart move.
Antwine would be named to an AFL All-Star from 1963 to 1968. He garnered these honors despite having to face multiple blockers on virtually every play. His force enabled fellow Patriot defensive linemen Larry Eisenhauer, Bob Dee, and Jim Hunt become Pro Bowlers multiple times themselves.
He was named to The Sporting News All-AFL First Team in 1969, as well as the Associated Press All-AFL Second Team. Despite having probably the best defensive line in Patriots history, the team became a perennial loser after 1964.
They made the playoffs just one in Antwine's career. The 1963 season saw them reach the AFL Championship Game before losing to the San Diego Chargers. They has the second best defense in the AFL that year, and shut down the Buffalo Bills to reach the title game. Buffalo would go on to win the next two titles.
After his six-year steak of Pro Bowls ended after 1968, Antwine continued to be a powerhouse in the middle of the Patriots defense despite the fact the team could never quite find a home, ending up having to play on four different fields in the Boston area during their AFL days.
Antwine had an injury plagued 1971 season, and was only able to play three games.
He joined the Philadelphia Eagles the next year, then retired at the conclusion of the season. His 39 career sacks are tied with Richard Seymour as the most ever in franchise history.
Antwine was a wrestling champion in college, and his expertise on leverage and technique made him a dominating force. He was also a team leader, and was the Patriots captain and player representative throughout most of his career.
He is a member of the All-Time All-AFL First Team, but is somehow not in Canton. This is confusing, since Buck Buchanan of the Kansas City Chiefs is and Buchanan is on the second team.
Another confusing factor is how the Patriots have yet to retire his jersey, and especially the fact he has not been inducted into the Patriots Hall of Fame thus far.
His six Pro Bowls is tied with Hall of Fame cornerback Mike Haynes as the most ever by a Patriot defender, and it is the third most behind Hall of Fame guard John Hannah and center Jon Morris.
Houston Antwine is easily the best defensive tackle in Patriots history. He would have made an equally dominating nose tackle if the 3-4 defense had been invented in his era. His knowledge of wrestling and leverage, as well as having a squatty body that was impossible to move, is reminiscent of Curley Culp, the greatest nose tackle in NFL history.
Despite being ahead of Buchanan on the All-Time AFL Team, is seems unlikely Canton will give "Twine" his respect. Not only because the Patriots did not win very often in the AFL, but also it appears the voters have mostly turned up their noses at the great players from the league.
Billy Shaw played guard for the Bills and is the only AFL player inducted with no NFL experience. He often pointed out Antwine's exceptional abilities and athleticism. An ability echoed by other AFL greats.
Though lesser defensive tackles have been enshrined into Canton since his retirement, it is a position often overlooked by the voters. It took until 1990 for Buchanan to get in, and he is the only AFL defensive lineman inducted. Antwine is amongst several AFL greats certainly worthy of having a place in Canton.
Defensive Tackle : Keith Millard
6'6 260
Defensive Tackle
Minnesota Vikings
1985 - 1993
8 Seasons
93 Games Played
2 Pro Bowls
1989 Defensive Player of the Year
NFL 1980's All-Decade Team
All-Time USFL Team
Millard was a first round draft pick of the Vikings in 1984, but he decided to sign with the Arizona Wranglers of the United States Football League instead. The Wranglers traded him to the Jacksonville Bulls. The USFL folded in 1985, so he joined the Vikings.
Minnesota had the 6'6" Millard play backup nose tackle as a rookie, which is extremely rare for a player of that height. The rookie started five games and led Minnesota with 11 sacks, which plated in the top-ten in the league. Counting the USFL, Millard had 23 sacks in 1985.
The Vikings switched to a 4-3 defense in 1986, moving Millard to defensive tackle on the right side. After getting 22 sacks over three years, including the strike-shortened 1987 season, Millard was set to have one of the greatest seasons ever by a defensive tackle.
The 1989 season saw him get 18 sacks, the most ever by a defensive tackle in the NFL and only 15 players have ever gotten more. His teammate, Chris Doleman, led the league with 21 that season thanks to lining up next to Millard. Even Al Noga and Henry Thomas were extremely effective. Noga had a career best 11.5 sacks, while the nine Thomas had was the second best total of his career.
Millard also picked off a pass, rumbling for 47 yards, and took a fumble 31 yards for a touchdown. He was given his second and last Pro Bowl and First Team All-Pro honors, while becoming the second, and so far last, Viking named NFL Defensive Player of the Year. Hall of Famer Alan Page was the first NFL player to ever win it in 1971 while with the Vikings.
He was also named the UPI NFC Defensive Player of the Year, an award only Page and Doleman also won while with Minnesota. Page was the first defensive player ever to have won that award, which went defunct after the 1996 season.
Suffering a major knee injury in the fourth game on the 1990 season, he did not suit up again until 1992 as a member of the Seattle Seahawks. Despite a sack in two games played, Seattle released him and the Green Bay Packers had him on their roster for two games.
Millard joined the Philadelphia Eagles in 1993, appearing in 14 games and starting five. He had four sacks, then retired. His 53 sacks with the Vikings still ranks fourth best on the NFL list for the franchise, but Hall of Famers Page and Carl Eller had 108.5 and 130.5 "unofficially with Minnesota, and Jim Marshall, who should be in Canton, had 127 himself.
Though injuries shortened a career that appeared destined for Canton, Millard was ranked 21st of the 50 Greatest Vikings Team put together in 2010. Minnesota has two defensive tackles enshrined in Canton with Page and John Randle, but Keith Millard was surely on their level for a short time before his injury.
Cortez Kennedy, Tom Sestak, Alex Karras
, and
Tom Keating
deserve mention.
Defensive End : Harvey Martin
6'5" 260
Defensive End
Dallas Cowboys
1973 - 1983
11 Seasons
158 Games Played
114 Sacks
4 Pro Bowls
Super Bowl XII MVP
1977 NFL Defensive Player of the Year
NFL 1970's All-Decade Team
Martin was drafted by the Cowboys in the third round of the 1973 draft by the Cowboys, and was the 53rd player chosen overall. He was a reserve his first two seasons, yet it did not stop him from setting a still-standing franchise record of eight sacks for a Cowboys rookie.
Martin continued to be a pass rushing extraordinaire, helping the Cowboys form one of the better defenses in the NFL. He was named a starter in 1975, opposite of long time bookend "Too Tall" Jones, who was entering his first season as a starter. Dallas would reach the Super Bowl that year.
The 1976 season was the first of four consecutive years Martin would be named to the Pro Bowl, and he also had his first career interception. He had a Dallas record 20 sacks in 1977, and was named NFL Defensive Player of the Year.
His 1977 season helped the Cowboys go on to win Super Bowl XII. In that game, Martin and Randy White shared the Super Bowl MVP honors. They are the only defensive linemen to have ever done this.
Martin then had 14 sacks in 1978, along with the last interception of his career. He had nine sacks the next year, and recorded a safety, followed by 12 sacks in 1980. He retired after the 1983 season with an total of 114 sacks. It is unofficially the most in Cowboys history. His two career safeties is tied as the most in Cowboys history.
Dallas had a defensive line that was dominating in the 1970's. Led by Hall of Fame defensive tackle "Manster" White, Martin, Jones, and Jethro Pugh often took over games. White had 111 sacks and Jones had 106. Teammates called Martin "The Beautiful" or "Too Mean" to bookend "Too Tall".
He is also a member of the NFL 1970s All-Decade Team. Though his entry into Canton seems unlikely, given all of the great defensive ends still waiting on induction, I expect Harvey Martin to one day find his rightful place in the Cowboy's Ring Of Honor. It is absolutely stunning that the Cowboys, a team who claims to honor their history, has neglected to do so yet.
Defensive End : Rich "Tombstone" Jackson
6'3" 255
Defensive End
Denver Broncos
1966 - 1972
Seven Seasons
82 Games Played
3 Pro Bowls
AFL All-Time Team
Jackson was signed by the Oakland Raiders as a free agent in 1966. His athleticism was so astounding that Oakland had him wearing the number 32 on his jersey and taking reps as a running back, tight end, and defensive end. He played in 5 games as a rookie before joining the Broncos the following year.
"Tombstone" played as a reserve that year at defensive end, and recorded a safety, Jackson earned the starting job in 1968. He would be named an AFL All-Star that year, then the next two seasons.
Jackson suffered a knee injury in the seventh game of 1970, and was out the rest of the year. After playing in 4 games in 1971, the Broncos traded him to the Cleveland Browns. He retired at the end of that year because of his knee woes.
"Tombstone" was a fierce pass rusher with a wide variety of moves. His favorites were the "head slap" and the "halo spinner". He once broke an opponents helmet with a head slap.
He was also ferocious and strong. Notorious tough guy Lyle Alzado, a Raiders and Broncos legendary defensive end, said that Jackson was the toughest man that he had ever met. Though he left the Broncos over 40 years ago, Jackson is still a respected legend to this day.
He is a member of the Broncos Ring of Honor and their 50th Anniversary Team. Jackson is in the Colorado Sports Hall Of Fame. He is also on the AFL's All Time Team.
Some think Rich Jackson was the best defensive end to have ever played the game. Paul Zimmerman, a long-time writer for Sports Illustrated, has often called "Tombstone" the best pass rusher he has ever seen play.
Many people missed his exploits because the Broncos were a small-market team that no one paid much attention to due to the fact they lost so much in the AFL. Yet Jackson did rack up 31 of his 43 career sacks over three seasons and he is probably the best the Broncos have ever had.
He certainly was headed for induction into the Pro Football Hall of Fame until his injury, but it appears unlikely he will ever get in now. Yet the legend on "Tombstone" still looms large in the Rockies.
L.C. Greenwood, Chris Doleman, Neil Smith, Jerry Mays, Gerry Philbin, Ron McDole
, and
Ed Sprinkle
deserve mention.
Outside Linebacker : Robert Brazile
6'4" 244
Linebacker
Houston Oilers
1975 - 1984
10 Seasons
147 Games Played
13 Interceptions
7 Pro Bowls
NFL 1970's All-Decade Team
Brazile was a first round pick by the Houston Oilers in 1975. He was the sixth player picked overall. Brazile was part a deal former Oilers coach Sid Gillman had made at the end of 1973.
The Oilers acquired Kansas City's 1975 first round selection, along with nose tackle Curley Culp, for defensive end John Matuszak. New head coach/general manager Bum Phillips switched Houston's base defense from the from a 4-3 to a 3-4.
Brazile is credited by many to be most important in making the 3-4 popular by his ability to rush the quarterback from his outside linebacking position. Brazile was the NFL's Defensive Rookie of the Year award in 1975. He was named to the Pro Bowl in each of his first seven seasons.
He was a key member of Oilers teams that went to back-to-back AFC Championship games in 1978 and 1979. In 1984, Brazile's wife died in a car wreck. He retired immediately from the NFL.
Brazil was chosen on the 1970's NFL All-Decade Team. He is the only linebacker from that team not in Canton. Many may remember his moniker in the NFL. Brazile was nicknamed "Dr. Doom" by his team mates after being tossed out of a game in his rookie year for hitting Washington Redskin quarterback Billy Kilmer in the head.
Some may recall the time he bulldogged Dallas Cowboys Hall of Fame running back Tony Dorsett by the face mask. Brazile was a vicious hitter. He was equally excellent is pass coverage and run support as he was rushing the passer.
He didn't always play on good teams, so he wasn't given the nation wide notice, during that era, he deserved. Since the NFL did not record sacks as a statistic until 1982, his impact on the game may not be fully realized by newer fans.
Those who saw Brazile play knew he was always one of the better defensive players in the NFL in his era year in and year out. Robert Brazile deserves to be inducted into the Pro Football Hall of Fame. Ask his peers.
Middle Linebacker : Tommy Nobis
6'2" 240
Linebacker
Atlanta Falcons
1966 - 1976
11 Seasons
133 Games Played
5 Pro Bowls
1966 NFL Rookie of the Year
NFL 1960's All-Decade Team
Nobis was the first draft pick ever by the expansion Atlanta Falcons in the 1966 NFL draft. He was also the first player chosen overall. Nobis started right away for the Falcons, and was very busy on a new team that struggled to a 3-11 record.
He set a Falcons record, that still stands today, when he amassed 294 tackles. It may be an NFL record, but that stat is unofficial and kept by individual teams. He was named to his first Pro Bowl, and was the 1966 NFL Rookie of the Year. He intercepted the first three passes of his career the next season, and returned one for a touchdown. He was also selected to his second Pro Bowl and only First Team All-Pro honor.
In 1968, he was named to his third Pro Bowl, as the struggling Falcons went through a coaching change by hiring Hall of Famer Norm Van Brocklin after the third week of the season. Nobis was injured in the fifth game of the following year, and missed the rest of the season.
Nobis came back in 1970 and was named to the Pro Bowl. He then was injured in the fourth game of the following season, and missed the rest of the year. Nobis would only miss two games for the rest of his career.
He made his last Pro Bowl in 1972, and also scored the last touchdown of his career. The
1973 season would be the best record the Falcons had during Nobis' career. They went 9-5. Atlanta won 50 games in his eleven seasons.
His number 60 the first number retired by the team, and he is a member of the Falcons' Ring of Honor, Georgia Sports Hall of Fame, and the Atlanta Sports Hall of Fame.
He has also been named the NFL Man of the Year (Dodge and Vitalis), and Joseph P. Kennedy, Jr. award, due to his work with the Special Olympics as a member of the Falcons front office, and in his own foundation. Nobis is on the NFL's All-1960s team, which is quite an accomplishment if you consider he didn't even play half of the decade.
It is
TRULY
astounding that 'Mr. Falcon' still has yet to be inducted into Canton. Sure, he played on many lousy Falcons teams, but he was outstanding. The team got little publicity during his time, but the voters
CANNOT
use this as an excuse.
These voters are supposed to represent the whole NFL, not just the media driven franchises. They are supposed to be experts, or at least this is what their positions as voters implies. The exclusion of Nobis for all of these years belies that thought.
Tommy Nobis epitomizes what a Hall of Fame football player is supposed to symbolize. Both on and off the field. It is truly disgraceful, and disrespectful, that Nobis is not in Canton.
Levon Kirkland, Hardy Nickerson
, and
Dan Conners
deserve mention.
Outside Linebacker : Kevin Greene
6'3 247
Linebacker
Los Angeles Rams
1985 - 1999
15 Seasons
228 Games Played
160 Sacks
3 Safeties
5 Pro Bowls
1996 NEA Defensive Player of the Year
NFL 1990's All-Decade Team
Greene was a fifth round draft pick of the Los Angeles Rams in 1985. After spending his rookie year as a special teams player, the Rams used him as a pass rush specialist the next two years.
Besides scoring a touchdown off an interception, he compiled 13.5 sacks over that time. Fritz Shurmur, the Rams legendary defensive coordinator and innovator of the nickel defense, then decided to get Greene out of a three-point stance and start him at outside linebacker.
Greene got 16.5 sacks in each of the next two year, the second bringing him a Pro Bowl berth. After 13 sacks and a career best four forced fumbles in 1990, the Rams hired Jeff Fisher as defensive coordinator. Fisher switched the Rams to a 3-4 defense, having Greene line up often at defensive end.
After getting a safety and just three sacks in 1991, Fisher was fired and Greene went back to linebacker. He responded by piling up a career best 87 tackles along with 10 sacks and the third and final safety of his career.
Now a free agent, the usually frugal Pittsburgh Steelers signed him to a big contact. He lasted three years with them, getting named First Team All-Pro in 1994 after leading the league in sacks. Despite going to the Pro Bowl twice in his three seasons, and helping them reach Super Bowl XXX, Pittsburgh allowed him to sign with the Carolina Panthers in 1996.
He made the Pro Bowl in his one year with Carolina, as well as his final First Team All-Pro honor. The Touchdown Club named him NFC Player of the Year, and the Associated Press and NFL Alumni both named him NFL Linebacker of the Year. He also won the very last UPI NFC Defensive Player of the Year Award as well as the NEA Defensive Player of the Year Award after the Panthers reached the NFC Championship Game.
After having maybe his best season, Greene decided to try his hand in professional wrestling. The Panthers were unhappy, so they released him. The San Francisco 49ers quickly signed Greene, using him strictly as a pass rush specialist on third down. His 10.5 sacks that year allowed him to break Hall of Famer Lawrence Taylor's sacks record for a linebacker.
The 49ers released him after the 1997 season, so Greene went back to the Panthers and was named NFC Linebacker of the Year by the NFLPA after getting15 sacks and making the final Pro Bowl of his career. At 37-years old, and in his 15th season, Greene got 12 sacks in 1999 then retired.
His 160 career sacks still rank as the third most by any player in NFL history since the league began recording the statistic in 1982. His three safeties is tied with several other players as the second most in NFL history.
The 72.5 sacks he had with the Rams still ranks second best all-time on the official list, even if Hall of Famers Deacon Jones and Merlin Olsen had more "unofficial" sacks that are not recognized by the NFL. Greene's three safeties with the Rams is a team record.
Greene also ranks third on the Panthers sack list and eighth on the Steelers sacks list despite playing only three years with both clubs. While Greene was obviously a great pass rusher, his pass coverage skills were underrated. His hard work to becoming a well rounded player under Shurmer and Dom Capers was a big reason he lasted 15 seasons in the NFL.
Capers employed Greene while coaching the Steelers and Panthers. When Capers became defensive coordinator of the Green Bay Packers in 2009, he made Greene his outside linebackers coach. Greene's work with Clay Matthews III helped the Packers win Super Bowl XLV.
He has been a semi-finalist for induction into the Pro Football Hall of Fame three times already, a good sign considering so many fantastic outside linebackers have been awaiting induction for decades. Men like Maxie Baughan, Chuck Howley, Robert Brazile, to name just a few. It seems inevitable that Kevin Greene will one day find himself an inductee.
Cornelius Bennett, Carl Banks, John Anderson, Larry Morris, Dave Robinson, George Webster, Larry Grantham, Mike Stratton
, and
Joe Fortunato
deserve mention.
Strong Safety : Johnny Robinson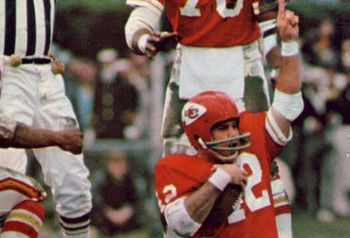 6'1" 205 Strong Safety/ Running Back
Kansas City Chiefs
1960 - 1971
12 Seasons
164 Games Played
57 Interceptions
77 Receptions
1, 886 Total Yards Offense
18 Total Touchdowns
8 Pro Bowls
AFL All-Time Team
Robinson was a first round pick of the Detroit Lions in 1960. He was the third player picked overall. He opted to go to the fledgling American Football League, where he was a territorial pick of the Dallas Texans.
Under Hall of Fame coach Hank Stram, Robinson started his pro football career as a running back. He rushed for 458 yards in his rookie year at an average of 4.7 yards per carry. He also caught 41 passes for 611 yards, accruing an impressive 14.9 yards per catch average.
Robinson also returned 14 punts for 207 yards at an outstanding 14.8 yards per return average, and returned three kickoffs for 54 yards. He scored four touchdowns rushing, four touchdowns receiving, and returned a punt for a score. He threw the only pass of his pro career that year too, but it was intercepted.
Robinson rushed the ball less in 1961. He had 52 carries for 200 yards and scored twice via the run. He did catch 35 passes for 601 yards, which is an exceptional yards per catch average of 17.2. He caught five touchdowns that year as well. He only returned two punts that year, and would only be asked to return four more his entire career.
In 1962, Robinson was moved to strong safety on defense by Stram. It turned out to be a great move for the Texans. Though he did catch the last pass of his career on offense for 16 yards, he also picked off four passes.
The Texans moved to Kansas City after that season and were renamed the Chiefs. In 1965, Robinson picked off five passes and returned them for 99 yards. The 1966 season was one of Robinson's best years.
He set a career high in interceptions with 10, and returned them for 136 yards, while scoring the only defensive touchdown of his career via an interception. He helped lead the Chiefs to the first Super Bowl ever against the Green Bay Packers. Robinson followed that with five interceptions in 1967. In 1968, he picked off six passes.
In 1969, Robinson set a career high with 158 yards off of eight interceptions. The Chiefs would go on to beat the Minnesota Vikings in Super Bowl IV. Robinson would intercept a pass and recover a fumble that game while playing with broken ribs, which helped keep the Vikings from scoring more than seven points.
He then had a great year in 1970, when the AFL merged with the NFL. He tied his career high with 10 interceptions. He also had 155 interception return yards. He took a fumble 46 yards for the last touchdown of his professional career.
In 1971, Robinson had four interceptions. His last game came on Christmas Day, when the Chiefs and Miami Dolphins played the the longest game in NFL history. It was also the Chiefs' last game in Municipal Stadium. Robinson retired during the off season.
Robinson hold the Chiefs franchise record for a safety with 57 interceptions for his career. He ranks second overall in interceptions behind Hall of Fame cornerback Emmitt Thomas in Chiefs history.
He is still ranked 11th all-time in NFL history in career interceptions, tied with four other players. His 43 interceptions in the AFL ranks third all-time in the leagues history. He led his team in interceptions five times in his career.
No other strong safety in pro football history has more interceptions than him, and only three safeties have had more. His six First Team All-Pro honors is tied with Jim Tyrer and Bobby Bell as the most in team history, and his seven Pro Bowls are the most by a defensive back in Chiefs history.
Robinson is a member of the AFL All-Time Team and one of only twenty players who were in the AFL for its entire ten-year existence. Robinson was a six-time All-American Football League selection and is credited by many to have redefined the role of the strong safety in professional football.
His career was more than spectacular. He was the consummate team player who did whatever it took to help his team win, whether it was on offense, defense, or special teams. His stats do not lie, and his impact on the game is immeasurable.
Maybe the voters have yet to induct him due to the inductions of Buck Buchanan, Emmitt Thomas, Willie Lanier, and Bobby Bell? It certainly took the voters way too long to induct Thomas. Much as they are taking much too long in Robinson's case.
Many fans today don't know much about the AFL. Some may think I am referring to Arena football? It is up to the NFL Seniors Committee to call this to mind while they still can, and while the players are still alive. The Seniors Committee must be woken up and nudged.
Carnell Lake, LeRoy Butler, Joey Browner, Ken Easley, Kenny Graham
, and
Dick Anderson
deserve mention.
Free Safety : Cliff Harris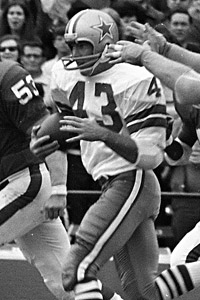 6' 188
Free Safety
Dallas Cowboys
1970 - 1979
10 Seasons
141 Games
29 Interceptions
18 Fumbles Recovered
1 Touchdown
6 Pro Bowls
NFL 1970's All-Decade Team
Harris was not chosen in the 1970 NFL Draft. He started immediately at free safety in his rookie year. He intercepted two passes, returning one for 60 yards, and also recovered three fumbles.
Although military obligations caused him to miss the second half of the season, he returned in time for the Cowboys' Super Bowl VI win. Harris also returned punts and kickoffs for the Cowboys from his second season until his fifth season. His best season returning kickoffs was in his second year.
Harris returned 29 kicks for 823 yards at an excellent 28.3 average. All of these stats are his career highs. He took one kick 77 yards for the longest return of his career. He also averaged a career best 7.6 yards per punt return on 17 punts. Harris picked off two passes that year and recovered three fumbles as well.
He ended up with 63 kick returns at a very impressive 25.7 average for his career. He also returned 66 punts in his career. Harris was steady. He intercepted two or more passes every year of his entire career. His career high was five in 1977, when the Cowboys won Super Bowl XII.
In 1975, Harris took an interception 27 yards for the only touchdown of his NFL career. Harris was named to his first Pro Bowl in 1974, and would be named to the Pro Bowl each year for the rest of his career.
Harris earned the nickname "Captain Crash" during his career. He was a starter his entire NFL career, and was fearless versus the run. Harris was a notoriously hard hitter who would make opposing wide receivers get alligator arms when coming across the middle.
He was on five Dallas Super Bowl teams during his career. Harris wore the pads of place kickers in order to keep his speed and quickness up throughout his career, making his hitting prowess even more impressive.
Harris announced his retirement following the 1979 to concentrate on his business ventures, where he runs a company with former Cowboys strong safety Charlie Waters. They also wrote a memoirs about their time together with the Cowboys. Sports Illustrated named him to their Dream Team at free safety. "Captain Crash" was named to the Dallas Cowboys Ring of Honor in 2004.
Harris changed the way the free safety position was played. His run support is legendary in Texas, and his intelligence was a big part of his game. Harris teamed with his best friend, Waters, to form one of the better safety duos in the NFL throughout the 70's.
Waters made three Pro Bowls from 1976 to 1978, the same stretch of time Harris was named First Team All-Pro. Harris was noted for always being around the ball. He got the ball back for the Cowboys 47 times in his 10 year career. He has been a finalist for the Pro Football Hall of Fame.
I don't know what the voters are waiting for. He should have been in already. With his being so close in 2004, there is little doubt in my mind that Cliff Harris will one day be in Canton. Hopefully sooner than later.
Steve Atwater, Nolan Cromwell, Deron Cherry, Eddie Meador, George Saimes
, and
Goose Gonsoulin
deserve mention.
Cornerback : Louis Wright
6'2" 200
Cornerback
Denver Broncos
1975 - 1986
12 Seasons
166 Games Played
26 Interceptions
11 Fumble Recoveries
512 Return Yards
4 Touchdowns
5 Pro Bowls
NFL 1970's All-Decade Team
Wright was drafted in the first round of the 1975 draft by the Denver Broncos. He was the 17th player picked overall. He started all 11 games that he played in his rookie year. He intercepted two passes and recovered one fumble.
In 1977, he had three interceptions for 128 yards. He also scored the first touchdown of his career. Wright was a key member of the "Orange Crush" defense that went to Super Bowl XII. Wright would garner his first Pro Bowl nod that year as well.
Wright would make the Pro Bowl in each of the next two seasons as well. In 1979, he took a fumble 82 yards for a touchdown. He ended up missing half on 1981 due to an injury, but still was named to the UPI All-Conference Second Team.
Wright came back at full health for 1982 with two interceptions. He snared a career high six interceptions in 1983, and was named to the Pro Bowl team.
In 1984, Wright would return a fumble for a touchdown and was named to The Sporting News All-NFL First Team, Pro Football Weekly All-NFL First Team, Pro Football Weekly All-Conference First Team, UPI All-Conference Second Team, and Newspaper Ent. Association All-Conference Second Team.
The 1985 season saw him intercept five passes, and score the last touchdown of his career. Wright also made his last Pro Bowl team that year as well.
Wright played his last season in 1986. He picked off three balls, and helped lead the Broncos to Super Bowl XXI. Wright is a member of the Denver Broncos Ring of Fame. His five Pro Bowls and two First Team All-Pro nods were the most ever by a Broncos cornerback ever until Champ Bailey passed him by one each recently.
Wright was a shutdown cornerback the day he walked onto an NFL field. Teams would hardly throw the ball to his side of the field. He was also a hard hitter, and was one of best run supporting cornerbacks of his era.
He was vital to the "Orange Crush" defense. Hall of Famer Stan Jones coached a line that featured Lyle Alzado and Rubin Carter. Tom Jackson and Randy Gradishar were top notch linebackers. Strong safety Billy Thompson was also great. The Broncos were first in the NFL against the run in 1977.
Wright was consistently excellent. His 163 starts rank seventh all-time in Broncos history. Opponents feared him. He is the greatest defensive back in the history of the Denver Broncos. Many of his contemporaries feel he was the best cornerback in the AFC, if not the entire NFL, during his career. He was big, and fast.
He wasn't one to blow his own horn, and has flown under the radar of the Hall of Fame voters since he has retired. Recreational football fans may look at his stats and not be impressed, but tackles were not a recorded statistic throughout much of Wrights career.
He was always amongst the teams leaders in tackles, which is impressive when you consider how much teams tried to avoid him. If you were blessed enough to have seen Louis Wright play, then you would agree he deserves induction into Canton.
Cornerback : Jack Butler
6'1" 200
Cornerback
Pittsburgh Steelers
1951 - 1959
9 Seasons
103 Games Played
52 Interceptions
827 Yards
10 Fumble Recoveries
9 Touchdowns
5 Pro Bowls
NFL 1950's All-Decade Team
Butler was signed as an undrafted free agent by the Steelers in 1951. He started right away and had five interceptions for 142 yards and a touchdown in his rookie year, and followed that up with seven interceptions for a career high 168 yards the next year. He also caught three passes for two touchdowns.
In 1953, he caught two passes for a touchdown and had nine interceptions for 147 yards and another touchdown. He also had a career high three fumble recoveries.
Butler led the NFL in 1954 with two touchdowns off of his four interceptions. Butler was named to his first Pro Bowl in 1955, despite it being the only season of his career where he did not record an interception. He would be named to the Pro Bowl until 1958.
He recorded six interceptions for 113 yards in 1956, and returned a fumble for the last defensive touchdown of his career. He also caught the last pass of his career, a 10-yard touchdown reception. It was also the last touchdown of his career.
Butler led the NFL with 10 interception in 1957. He followed that up with nine picks the next season. Though he only managed to play seven games due to a knee injury in 1959, he still had two interceptions. He was named First Team All-Pro in each of his last three seasons in the NFL.
He retired after that season because of the injury. His 52 interceptions in nine seasons were second most in NFL history when his career abruptly ended in 1959 and still rank second in the Steelers history.
Butler was named to the NFL's Team of the Decade for the 1950s, and was selected as one of the top 300 players to play in the NFL at that time. In October 2008, Butler was named as one of the 33 greatest Pittsburgh Steelers of all time.
The Steelers named those players to this team as part of their 75th anniversary season celebration. He is also a member of the Steelers 50th Anniversary All Time Team. When he retired from playing, Butler became an NFL scout. He was the director of BLESTO for over 40 years until he retired at 80 years old in 2007.
If you know the game, you realize how important BLESTO is to the NFL. Butler has helped start the career of innumerous scouts, player personnel directors, and general managers in the NFL.
There is only two reasons I can see how the voters in Canton have overlooked Butler as a player. Winning and lack of knowledge when it comes to professional football. The Steelers didn't do a whole lot of winning until the 1970's, and I have long said in this series that the majority of voters are incompetent. Many do not know a thing about football, and get their insights from headlines...and maybe even kickbacks.
Butler was one of the hardest hitting cornerbacks to have ever played the game. Yet, he also had shut down ability, which is shown with his 52 thefts. Those 52 interceptions were tied for second All-Time in NFL history when he retired.
Personally, I think Butler's contributions off the field make him worthy two different ways. But, sticking to just his play on the gridiron, there is no question that is is truly a disgrace that Jack Butler has not yet been inducted into the Pro Football Hall Of Fame.
Aeneas Williams, Frank Minnifield, Lester Hayes, Bobby Boyd, Dave Grayson, Butch Beard
, and
Miller Farr
deserve mention.
Punter : Ray Guy
6'3" 195
Punter
Oakland Raiders
1973 - 1986
14 Seasons
207 Games Played
1049 Punts
44,493 Yards
42.4 Yard Average Per Punt
7 Pro Bowls
NFL 75th Anniversary All-Time Team
NFL 1970's All-Decade Team
Guy was a first round draft pick of the Oakland Raiders in the 1973 draft. He was the 23rd player picked overall. He is considered the greatest punter to have ever played college football, and has a trophy named after him. The Ray Guy Award is given annually to the best collegiate punter in the nation.
Guy is the first punter to ever be drafted in the first round by the NFL. His impact was immediate. He was named to the Pro Bowl as a rookie, when he averaged 45.3 yards per punt. Guy would be named the Pro Bowl Punter every year up until 1978.
At the 1976 Pro Bowl, Ray Guy became the first punter to hit the Louisiana Superdome video screen. In 1979, he was named to the UPI All Conference Second Team, and the Newspaper Ent. Association All-NFL Second Team.
He was named to his final Pro Bowl in 1980 after averaging 43.6 yards per punt. He also booted a career long punt of 77 yards that year. For some unknown reason, he was not named to the 1981 Pro Bowl, despite punting a career high 96 times and having a 43.7 average. He was named to the UPI All Conference Second Team.
Guy booted the ball over 70 yards in four of his seasons, and kicked five over 60 yards in one season alone. His shortest season long was 57, in the strike shortened 1982 season. That season also was the only season of his career when he did not average over 40 yards per punt, finishing with a 39.1 average.
He ended the last three years of his career averaging 90 punts per season, when he retired after the 1986 season. Guy did more than just punt for the Raiders. He threw three career passes, completing two for 54 yards. His first career pass was intercepted. Guy also rushed for 43 yards on 11 attempts.
In 1976, Guy was asked to kick an extra point, but missed. He only had three punts blocked in his entire career, and never had a punt returned for a touchdown. He led the NFL in punting three times also. He also kicked off for aging kicker George Blanda, a Hall of Famer, for several years.
Guy was an integral part of the Raiders. He also was on three Super Bowl winning teams in Oakland during his career. The highlight of his Super Bowls was in 1983. His punt in Super Bowl XVIII pinned the Washington Redskins inside their 12-yard line, which led to a Raiders touchdown via a turnover the next play.
He was also named the punter on the National Football League's 75th Anniversary Team, the Super Bowl Silver Anniversary Team and as a member of the NFL 1970's All-Century team. He was recently inducted into the Bay Area Sports Hall of Fame.
If you saw Guy play, you must be scratching your head right now as to why he isn't yet in Canton. His punts were legendary. Other teams would test the balls that he punted for helium, due to the heights his punts attained.
I had thought, after seeing kicker Jan Stenerud inducted in 1991, that the voters were
FINALLY
recognizing the importance of special teams. In 1994, Guy was the first punter to be nominated, but he still has not been elected.
I find myself often questioning the football knowledge of the voters. Some claim to be "purists", saying that specialist do not belong because they only get on the field for a few plays each game. Still, isn't Cantons reason for existence based upon what players do once on the field?
There is
NO DOUBT
that Guy helped the Raiders win many games. Even if you disregard his statistics, you cannot look past his impact on football at all levels. Wake up the voter in the media that represents your area. Ray Guy deserves his place in the Pro Football Hall of Fame right now!
Jerrell Wilson, Darren Bennett, Reggie Roby, Don Chandler
, and
Bob Scarpitto
deserve mention.