During my Crazy Canton Cuts series, I have come across several outstanding drafts to review. Whether its coming across a Hall of Fame player drafted early or late in drafts, it is fun to see.
The 1975 draft caught my eye especially for defensive lineman. Rams and Chargers fans may remember this year as being one of the best overall drafts in their teams histories, as both found seven starters each. San Diego drafted five starters on defense alone.
Here is a review of how excellent that draft that was for linemen especially.
San Diego Chargers :
All they did was draft two multiple Pro Bowl defensive tackles in Gary "Big Hands" Johnson and Louie Kelcher. Then they drafted Hall of Fame defensive end Fred Dean. They also drafted cornerback Mike Williams and safety Mike Fuller. They even added offensive tackle Billy Shields and running back Rickey Young.
Young would later be traded to Minnesota for legendary guard Ed White, where he once caught 88 passes. That was an NFL record for running backs for many years.
After dominating for the Bolts, Johnson, Kelcher, and Dean would go on to help the 49ers win a Super Bowl together.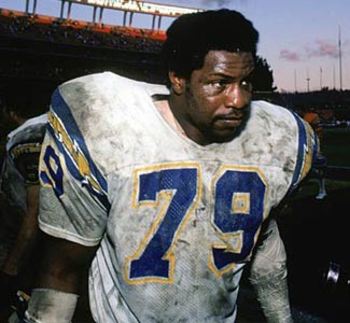 Los Angeles Rams:
The got guard Dennis Harrah, a Crazy Canton Cut profilee, and offensive tackle Doug France for their offensive line. Both were multiple Pro Bowlers.
They also got two serviceable defensive linemen in defensive tackle Mike Fanning and defensive end Leroy Jones. The Rams drafted Pro Bowl quarterback Pat Haden, and Pro Bowl cornerbacks Monte Jackson and Rod Perry as well.
Dallas Cowboys :
You COULD only say they drafted Hall of Fame defensive tackle Randy White. Leaving it at the Manster would work.
Yet, they also drafted three starting linebackers in Thomas "Hollywood" Henderson, Mike Hegman, and Bob Bruenig.
They also drafted two multiple Pro Bowlers for the offensive line in guard Herbert Scott, and offensive tackle Pat Donovan. They even added special teams gunner Scott Laidlaw, who helped at running back too.
San Francisco 49ers :
They drafted two starting defensive tackles in Jimmy Webb and Cleveland Elam. Elam lasted just four full years in the NFL, but made two Pro Bowls in his injury riddled career. Pro Bowl guard Ed White said Hall of Fame defensive tackle Bob Lilly was the best player he ever faced, but said Elam was just as good when he was healthy.
Remember, White faced Hall of Famers Alan Page and Fred Dean, as well as Gary Johnson and Louie Kelcher, in practice every day for years. This is high praise for a man who knows greatness first hand.
Webb also battled injuries in his six NFL seasons, but was solid. Another guy drafted that year was wide receiver Freddie Soloman, but by Miami. 49er fans surely remember him.
Cleveland Elam
Denver Broncos :
The Broncs got two key members of their famous Orange Crush defense that year. cornerback Louis Wright, a Crazy Canton Cut profilee, and defensive tackle Rubin Carter. They also drafted wide receiver Rick Upchurch, a great punt returner, and safety Steve Foley. They could have drafted linebacker Robert Brazile too, but they had traded that pick to Houston.
Detroit Lions:
They drafted multiple Pro Bowl Defensive Tackle Doug English. They also added Running Back Horace King, and Wide Receiver Leonard Thompson.
There were some good defensive ends drafted that year. Here's a few :
Chicago Bears :
Not only did they get defensive end Mike Hartenstine, but they drafted a few running backs you may have heard of. Hall of Famer Walter Payton and Roland Harper. They added strong safety Doug Plank, quarterback Bob Avellini, and guard Revie Sorey too. Hartenstine laid one of the most brutal hits I ever witnessed on a quarterback. It was on Ron Jaworski. Of course, it knocked him out of the game.
Jaws was back the next week though to set the record for consecutive starts by a quarterback eventually. If this hit took place today, the NFL might have banned Hartenstine for life.
Ahhhh, when MEN played FOOTBALL!
WISH I could show you, but the No Fun League took the clip off of youtube
The New York Giants drafted George Martin. He scored five touchdowns in his 14 year career with the Big Blue. Many know what a great player George was, but I'd like to mention what a great man he is. George recently walked across the ENTIRE United States for a 9/11 charity. He raised money and awareness, but most importantly, he raised the spirits of many!
Bless you George Martin
!!
In summary, you see a few Hall of Famers in Randy White and Fred Dean. Two guys are on the Canton fringe in Gary Johnson and Doug English. Carter and Kelcher were fantastic as well. Elam was one of the best in his short time, and guys like Webb and Fanning were very solid.
What do you think? If you know of a better class of DT's in one draft : tell me