Just for today, put the "What have you done for me lately" and "It's about now" in your back pocket. After seeing my Redskins stomped a second straight game, my only thoughts are of yesteryear right now.
Not quitting on today, just appreciating the past.
Some of which my dad wasn't even around to see.
Sammy Baugh
Slingin' Sammy is probably to most important figure in NFL history to usher in the forward pass. The team had just moved from Boston in 1937. They were known as the Boston Braves, and had lost to the Packers in the NFL Championship game. They changed their name to the Redskins, and signed Sammy out of TCU. All Sammy did was lead the Redskins to a win in the 1937 NFL Championship over the Bears. The Bears got more than revenge on Sammy and the 'Skins in the 1940 Championship game. They walloped Washington 73-0, the most lopsided score in Championship history. Sammy took the loss with style. When asked if the game would have been different if a Redskins receiver hadn't dropped a certain touchdown early in the game, Sammy said, "It sure would have! It would have made the final score 73-7."
Sammy got another NFL Championship win in 1942, when they spoiled the Bears perfect record. The Bears then evened up the Championship series in 1943. Washington went on to one more Championship game in 1945, but lost that to the Cleveland Rams. Sammy and the 'Skins never got back to the big game, but they are not forgotten for their achievements.
Sammy was the NFL's first big star on and off the field. He set records as a punter which still stand, led the league in interceptions one season, and set virtually every passing record kept when he retired. In fact, from that era, only Sammy and Chicago Bears Sid Luckmans statistics apply to todays quarterback ratings system. Sammy was also a movie star during his playing days, doing a few serial Westerns. When Sammy retired, so did the Redskins winning ways for a few decades.
Then, under the coaching of NFL Hall of Famer Otto Graham, the Redskins somehow got the Eagles to trade them :
SONNY JURGENSEN
Sonny stepped in firing right away. He had a pair of Hall of Fame Wide Receivers in Charley Taylor and Bobby Mitchell. He also had Tight End Jerry Smith to throw to. The Skins put up points, but gave up more. It wasn't until the hiring of Hall of Fame coach Vince Lombardi, that things began to change. Vince only lasted one season before dying of cancer, but his impact stayed in Washington for years. He noticed a rookie named Larry Brown was a step slow on each snap. Vince liked Browns style of play, so he investigated. He found that Brown was almost totally deaf in one ear. Brown then got a hearing aid, and inked his name into several places in the Redskins record books. To replace Lombardi, the Redskins hired Hall of Fame coach George Allen. Thus, the "Over The Hill Gang" was born. Allen had a disdain for rookies, so he would trade draft picks for guys nearing the end of their careers. The strategy worked well enough to get the Redskins to Super Bowl VII. The Allen era also brought about the rivalry with the Dallas Cowboys. After catching a few Cowboys scouts spying on Redskins practices, Allen hired a security guard and demanded that his players must beat Dallas. Allen continued to not like rookies. He would have 3rd string QB Joe Theismann return punts and bust wedges on kick coverages.
In 1980, the Redskins hired Hall of Fame coach
Joe Gibbs
.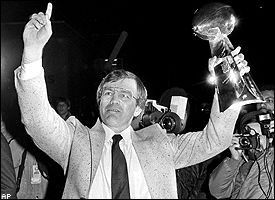 Joe Gibbs is the only coach in NFL history to have won 3 Super Bowls with 3 different Quarterbacks.
He won the first one, Super Bowl XVII, with
Joe Theismann
.
Most remember that win because of the run by Hall of Famer
John Riggins
Then
Doug Williams
took over towards the end of the 1987 season. In Super Bowl XXII, Williams and the Redskins exploded. They set many Super Bowl records that still stand today. Doug Williams was named Super Bowl MVP, and became the first black Quarterback to play in and win a Super Bowl. Williams accomplished this despite not sleeping well for several days, and having root canal surgery the day before the Super Bowl.
In 1992,
Mark Rypien
led the Redskins into Super Bowl XXVI. This team is considered one of the most complete teams in recent history, finishing with a 17-2 record. Rypien became the first Canadien born NFL player to win a Super Bowl, and was named MVP of the game. Joe Gibbs, and the Redskins franchise, both became the 3rd coach and team to win 3 Super Bowls.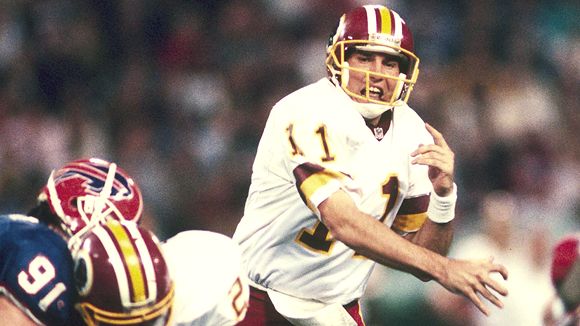 Joe Gibbs retired after that year until 2004. He got the Redskins back into the playoffs again after a long drought. The team had only made the playoffs once, in 1999, since he had retired in 1993. Gibbs then retired after 2006 for personal reasons related to his family.
So, forgive me for looking back today. I don't fear looking forward, but I wanted to remember some pleasant moments in Washington Redskins history.