CHARLES "HUMPS" COWAN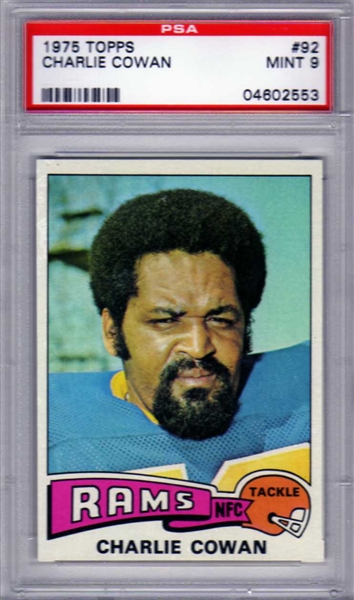 Charles was drafted in the 4th round of the 1961 draft by the Los Angeles Rams. He was the 45th player chosen overall. He was moved to Left Guard as a rookie and started right away. He played there until 1964, then was moved to Right Tackle. In 1967, the Rams won their first division title in 18 years. Cowan made his first Pro Bowl Team in 1968. He was moved to Left Tackle the next year, and would be named to the Pro Bowl team the next two seasons as well. In 1971, "Humps" was named to the Sporting News All Conference First Team. He was then named to the All NFL Second Team by both the Associated Press and Pro Football Writers Association, as well as the Second Team All Conference by the UPI. Charles was a mainstay at LT until after the 1975 season, when he retired. The Rams have had many great players in their illustrious history, and Charles "Humps" Cowan is one of their very best.
REGGIE ROBY
Reggie was drafted by the Miami Dolphins in the 6th round of the 1983 draft, and was the 167th player chosen overall. He produced immediately, averaging 43.1 yards on 74 punts. He also had the first of just five career punts blocked. Roby went to his first Pro Bowl the next year, when he averaged 44.7 yards on 51 punts. He would be named an All Pro every year from there until 1987. Known for his strong leg and incredible hang time, Roby led the NFL in 1986 and 1987 with the longest punts of the year of 73 and 77 yards. He led the NFL with a net average of 38.7 yards per ount in 1986. Reggie returned to the Pro Bowl in 1989 after 42.4 yards on 58 attempts. He then led the NFL with a 45.7 yards average in 1991, on 54 attempts. He was named an All Pro again. Reggie then joined the Washington Redskins in 1993, and went to his final Pro Bowl the next year. He averaged 44.4 yards on a career high 82 punts. It was also the final time he would be named an All Pro. Roby then joined the Tampa Bay Buccaneers for 1995, and averaged 42.8 yards on 77 attempts. He also attempted his only career pass that year, which went for 48 yards. 1996 saw Roby in a Houston Oilers uniform, and he had a career best 38 yards net that year. He stayed with the team as they moved to Tennessee the next year, and then joined the San Francisco 49ers for 14 games in 1998, and averaged 41.9 yards on 60 punts. He then retired from the game with a career average of 43.3 yards per punt on 992 attempts. Reggie Roby was one of a kind. He was known for his quick two step delivery, which many have tried to emulate since. He also wore a watch many games so he could time his punts in the air. The NFL only started recording net punting average in 1991, as well as virtually every other type of punting statistic. Roby's career average is probably better than the recorded one of just over 36 yards. He was a great directional punter and put an incredible amount of air under his punts. Twice he had opponents fair catch his punts 23 times over the 8 years that stat was kept. He still holds several NFL and team records. His 77 yard punt in the longest in Miami Dolphin history, as is his 58.5 yards per punt single game average. His ten punts in the 1985 Pro Bowl is a record, and he ranks second in Dolphins history in punt attempts and yardage. Reggie Roby is a member of the NFL 1980's All Decade Team, and should never be forgotten.
JOHN GILLIAM
John was the second round draft choice of the expansion New Orleans Saints draft in 1967. He was the 52nd player chosen overall. He got the Saints off to a big bang by returning the opening kickoff of the first game in franchise history for a 94 yard touchdown. He ended up averaging 30.1 yards a return on 16 kickoffs that year, as well as catching 22 balls and another score. John then had 24 catches the next year, then was traded to the Saint Louis Cardinals for the 1969 season. Gilliam responded by snaring a career best 52 receptions for 997 yards and a career high 9 touchdowns. He took one pass a career long 84 yards, and also scored the last kickoff return of his career after taking one 100 yards. 1970 saw John grab 45 passes for 952 yards and 5 scores. He also took one of his five rishing attempts 48 yards for a touchdown. After having 42 receptions for 837 yards the next year, Gilliam went to the Minnesota Vikings in 1972 and made his first Pro Bowl Team. He led the NFL with 22 yards a catch, and had a career best 1,035 yards on 47 receptions and 7 scores. He went back to the Pro Bowl the next year after having 42 catches for 902 yards and 8 touchdowns. He also scored the last time rushing the ball, by taking one of his five carries 44 yards to paydirt. Gilliam went back to the Pro Bowl in 1974, after having 26 receptions for 578 yards and 5 scores. He then joined numerous NFL stars by jumping to the World Football League for more money. Gilliam joined the Chicago Winds, but the team folded after just five games. He still managed 20 receptions for 390 yards and 2 touchdowns during that time. He then returned to the Vikings and Pro Bowl in 1975. He caught 50 balls for 777 yards and 7 scores. John then joined the Atlanta Falcons for the 1976 season, and caught 21 passes and 2 scores. Gilliam then rejoined the Saints in 1977, and stayed with them for 10 games. He caught 11 passes and a score. He then joined the Chicago Bears for two games, but did not record any statistics. Gilliam then retired from the NFL with 382 receptions for 7,056 yards and 48 scores. He also had 2 rushing and kick off returns for touchdowns. His career average of 18.5 yards is excellent for many reasons. One is the fact that he played in the era of the 10 yard chuck rule, not the modern day 5 yard rule, making it much harder to get open. Another factor is that he had four seasons of averaging 12 yards a catch. Gilliam was a blazing fast player with good hands. He played in two Super Bowls, and went to four Pro Bowls. He was an unforgettable football player.
ANDY FARKAS
Andy was the Washington Redskins first round draft choice in 1938, the ninth player chosen overall. He played Fullback on offense, and Safety on defense. Farkas led the NFL with 6 rushing touchdowns in his rookie year, and took one ball a career best 53 yards for a score. Andy would lead the Redskins in rushing in each of his first two years. In 1939, Farkas led the NFL with 139 carries. He also gained 547 yards, and both totals are his career highs. He also ran for 5 scores. He is best remembered for catching a pass and taking it 99 yards for a touchdown. It is an NFL record that will always stand, and can only be tied. Andy averaged a whopping 27.3 yards per reception that year on 16 catches. His 437 receiving yards was a career best, and his 984 total yards led the NFL. He scored 5 more times receiving the ball, and his 10 total touchdowns led the NFL. Farkas also scored on a trick play on a kickoff return. He would make his first All Pro Team for his efforts. 1940 saw Andy intercept a pass, then get hurt on his only carry in the opening game. He was lost for the season. Farkas returned in 1941 and carried the ball 85 times for 224 yards and 2 scores. Andy also returned 14 punts for 152 yards. He took one punt 59 yards for the only punt return touchdown of his career. Farkas also intercepted a career best 4 passes. The Redskins would win the NFL Championship in 1942, and Farkas was a big reason why. He gained 468 yards on 125 carries, both of which led the team. Andy ran for 3 touchdows, and caught 2 more on 11 receptions. He also returned a kickoff 95 yards for a touchdown, and intercepted 3 passes. Farkas wouldbe named an All Pro for the final time of his career after that season. Andy followed that up by leading the NFL with a kickoff return average of 31 yards in 1943. He took one ball 84 yards. Andy also led the NFL with 15 punt returns, and averaged 11.2 yards per return. Farkas also led the Redskins in rushing, after gaining 327 yards on 110 carries. He ran for 5 scores, and scored 4 more times on a career best 19 receptions. 1944 would be Andy's last as a Redskin. He intercepted 3 passes, ran for 85 yards on 21 carries. Farkas then joined the Detroit Lions for the 1945 season, and carried the ball 31 times for 137 yards. He also caught 9 balls for 132 yards, and scored the last 2 touchdowns of his career. Andy also managed to gain 101 yards on 7 punt returns. Andy Farkas then retired with 587 carries for 2,103 yards, and 80 receptions for 1,086 yards and 13 scores. He also had 11 interceptions, and scored three times via kickoff and punt returns. Andy is also the first player in NFL history to wear eye black. Andy Farkas is a member of the Washington Redskins 70 Greatest Players Team, and will never be forgotten.
BILL KENNEY
Bill was drafted by the Miami Dolphins in the 12th round of the 1978 draft. He was the 333rd player chosen overall, the second from last pick that year. He actually ended up being Mr. Irrelevant for that draft, because the last pick of the draft by Dallas never signed with the team due to injury.. The Dolphins cut him in training camp, then Kenney tried out for the Washington Redskins the next year and was cit again. In 1980, he made the Kansas City Chiefs roster as a backup. Bill ended up starting 3 games that year due to an injury to the Chiefs starter Steve Fuller. He won two games and tossed five TD's. Kenney started 13 games next year, tossing 9 touchdowns and 16 interceptions, and won 8 games. In the strike shortened season of 1982, he tossed 7 scores in the 7 games he played. Kansas City then used their first round draft pick of 1983 on Todd Blackledge, another quarterback. Bill responded by having the best season of his entire career, and set career best marks in most areas. His 603 attempts for 346 completions led the NFL. He also threw for 4,348 yards and 24 touchdowns, as well as rushing for 3 more scores. He was named to the Pro Bowl, and is the only Mr. Irrelevant to have done so. Bill was on his way to matching those totals the next year, but got injured and missed half of the season. He threw for 2,098 yards on 151 completions and 15 touchdowns. 1985 saw Kenney start in ten games and toss 2,536 yards and 17 touchdowns. He started 16 games over the next two years, getting 28 touchdown passes on 4,029 yards. After starting in 5 games in 1988 and not throwing a touchdown, the Chiefs waived Kenney. He then joined the Washington Redskins as a third stringer in 1989, but never saw action. Bill then retired from the NFL. Bill Kenney held the Chiefs record for most passing yards in a season for 11 years and still ranks behind Hall Of Famer Len Dawson and former Pro Bowler Trent Green in most categories in Kansas City Chiefs history. He is certainly one to never forget.