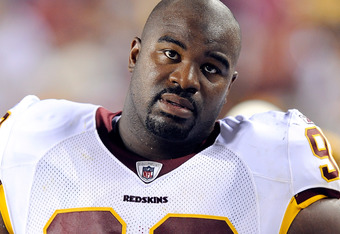 When Albert Haynesworth decides to open his mouth to the media, surreal hilarity ensues. Though he was given $21 million in April, he has tried to ostracize himself from the Washington Redskins since 2009.
The Redskins ran a base 4-3 defense last year, which is preferred by Haynesworth. He was only able to suit up for 12 games and contribute four sacks and 30 tackles. Not what Washington has hoped for from a man they envisioned entering his prime and coming off his second Pro Bowl season the year before.
Now in his ninth season, Washington needs to be concerned about a man who has played a full season only once in his career, his first when used primarily as a reserve. He has already missed one game, and played very little in the other as a reserve.
To say the Redskins aren't getting their moneys worth out of the $100 million contract he signed is a vast understatement. Haynesworth has shown no drive, dedication, nor pride to his craft. Instead he has chosen to bicker and seek excuses.
His stance as a pariah should shock no one, because it has been a prevalent theme of obtuse immaturity throughout his career since being a first round draft pick in 2002. Whether it was stomping on the faces of defenseless opponents or complaining about disrespect, it caused many teams to not show much interest in his free agency despite a strong 2008 season.
Haynesworth complained about the system defensive coordinator Greg Blatche ran last year, even though he defended a career high five passes in it. When the organization went through a massive transformation from the front offices to the coaching staff, he chose to stay away from joining his teammates to work out and learn the newly implanted system and show up late for training camp out of shape.
Blatche was replaced by Jim Haslett, a former player who has been a long time defensive coordinator and two-time head coach. He specializes in the 3-4 base defense, which is something Haynesworth said he wants no parts of. At his size, Washington feels he is best suited to play nose tackle.
Some of the best nose tackles in NFL history were not 6'6" like he is. Curley Culp, considered by many the greatest anyone has ever seen play the position, was four inches shorter and weighed 265 lbs. He was also a champion wrestles and had pride in trying to be the best he could be.
Like Haynesworth, Culp started his career in a 4-3 defense for just over six years and made two Pro Bowls. He then moved to nose tackle for the betterment of his team and went to four more Pro Bowls in the almost seven seasons with the Houston Oilers. He never griped, he just played the game to the best of his abilities.
Washington D.C. heard Haynesworth get on a local radio show proclaiming he had backbone and, ''I mean, I'm not for sale. Yeah, I signed the contract and got paid a lot of money, but that don't mean I'm for sale or a slave or whatever.''
His purported backbone is the same ilk of many of the modern athlete who feels entitled to not have to earn their keep, instead seeking a free ride. His backbone is green from the color of money to some and yellow to the rest who observe his constant fiascos.
He now claims to like the system Haslett has installed, but follows that up with how he was signed to play in a 4-3 and cannot be forced to do things he chooses not to be part of.
For a guy who would rather ''go to Wal-Mart and hang out.'' than play football to the best of his ability in order for his team to win a championship, it seems Haynesworth is content with earning his money in hypocritical double talk.