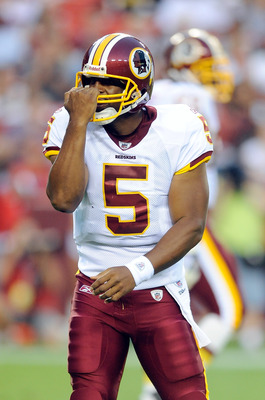 When the Washington Redskins acquired 11-year veteran quarterback Donovan McNabb on April, 4 2010 from the Philadelphia Eagles, for a second round draft pick and a conditional third or fourth-round pick in 2011, historians of both teams could not help but remember that last time the franchise made a similar deal.
If the Redskins had traded for McNabb just three days earlier, it would have been exactly 46 years to the day the Redskins traded starting quarterback Norm Snead and cornerback Claude Crabbe for Eagles starting quarterback Sonny Jurgensen and safety Jimmy Carr.
Jurgensen and Snead were Pro Bowl quarterbacks, though Jurgensen was the more experienced player. He had been drafted in the fourth round of the 1957 draft, earned a championship ring in 1960, and had set an NFL record for passing yards in 1961. Snead was the second overall pick in the 1961 season, and had just come off a year he led the NFL with 27 interceptions thrown.
Snead lasted seven years in Philadelphia, making the Pro Bowl once. Carr and Crabbe were both out of the league in a few seasons. Jurgensen, however, became a Hall of Famer as a member of the Redskins.
He became a Pro Bowler in his first year with them He hit his stride in 1966, leading the NFL in pass completions, attempts, yards, and passing yards per game. He repeated that the next season, while also leading the NFL in quarterback rating and touchdowns thrown as well as breaking his own passing yards record.
Hall of Fame coach Vince Lombardi is on record saying Jurgensen is the best quarterback he ever saw play. Sonny continues his legend currently in Washington D.C. as a long time celebrity and broadcaster of the teams radio network.
Jurgensen's first year saw him get revenge against the Eagles, winning both games. McNabb, whose first victory as a Redskin was against the rival Dallas Cowboys, will get his first shot at Philadelphia in 11 days. He is coming off a game where he threw for 426 yards, the second most of his career.
The only question left is exactly how much of an impact McNabb will have in Washington. His contract expires at seasons end, and no one knows yet if he will be more than a one year rental for the Redskins. Jurgensen went to four of his five Pro Bowls in Washington, while the six-time Pro Bowler McNabb looks to add to his total in his quest to join Jurgensen in Canton.
Time will tell if the Redskins come out ahead on the McNabb trade like they did with Jurgensen. It should also be noted McNabb is three years older and has taken a lot more hits than Jurgensen at the time of the trade, because the Hall of Famer spent his first four seasons as a backup.
One thing Jurgensen did bring the Redskins was victory. Team has struggled since 1945, failing to make the playoffs once. They reached the playoffs four times with him, including Super Bowl XII. He was a 38-year old reserve that year, but came off the bench for injured starter Billy Kilmer and won all four games he started.
While Washington has not struggled that long since McNabb's arrival, they had their worst record last season since 1994. The team was in disarray top to bottom within the organization, and change was desperately needed.
Washington hopes McNabb can bring that change. A change that reminds them more of Sonny Jurgensen. Change led by a Hall of Fame quarterback to frequent victory and respect that has long been forgotten.