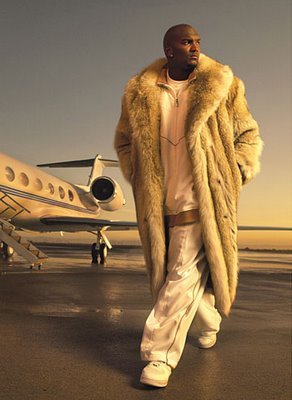 In a modern day society where short-term memories are prevalent, JaMarcus Russell walks around it each day with the label "bust" on him like a permanent tattoo.
"Biggest NFL Bust Ever" is probably used a lot more than even he realizes, even if is a tag unfair and living in the moment too much. History shows there are many men, drafted first overall like Russell was in 2007, who did not nearly have the career many had hoped for.
While Russell carries the term of biggest bust now, relieving Ryan Leaf of that title, it mainly comes from the fact he held out for more money before ever playing a down professionally. He got $61 million with $32 guaranteed, then proceeded to win just seven of 25 career starts.
Those unaware or unconcerned with NFL history fail to realize his seven wins actually exceeds many other former first overall picks in terms of career production. Russell, however, walks around with the label and unemployed.
He was given the label of drug addict too, thanks to a concoction called "Purple Drink". He was caught in possession of the elixir, that contains the narcotic codeine, when the police raided his home over the summer. Though a friend of his took responsibility for making the drink, the damage was done.
Russell is now under the tutelage of former NBA player John Lucas, whose own professional career was derailed by drugs until he sobered up. Lucas has gone on to have success as an NBA coach, yet he still tries to help others kick substance abuse addictions.
While working out under the watch of Lucas, Russell went on record saying he would never play for the Arena Football League or Canadian Football League. Calling Lucas an angel sent by God, he also said,"Guys in the NFL that came back had some things more serious (than his situation). I think that's a minor setback."
Lucas, who was the first pick of the NBA's 1976 draft, played for six teams over 14 seasons. He played with the Houston Rockets, the team that drafted him, three different times over his career for five of those years. He said, "What I saw in him was me 33 years ago when I was out in Golden State. His troubles started there and so did mine after I left the Rockets."
What Russell now expects is a second chance in the NFL, thinking his time with Lucas will serve as his penance. There is a huge pool of unimpressive quarterbacks like him in the NFL today, making is feasible a team will invite him to a training camp in 2011. Russell is confident about his eminent return.
"I know for a fact it's going to happen. I can't say when, but until it happens I am going to stay here in Houston and continue to work out each and every day no matter how long it takes. I need to be there (in the NFL)."
What any NFL general manager can read from Russell's message is he is a man content resting on laurels basted in nonachiement. He seems to feel he is owed a tryout because he was the first overall draft choice in 2007, instead of proving his worth. Men like Steve Howe and Roy Tarpley were given several "second chances", thus making it reasonable he is given his too.
He had a chance to do so immediately after the Oakland Raiders released him a few months ago. The United Football League was right there to be joined, thus showcasing his skills and desire to the many NFL teams in need of an upgrade at quarterback. He decided he was either above the UFL or not ready to play professional football at the moment.
One of the biggest complaints about Russell was that he showed little desire in the NFL, while seeming content on cashing his paychecks and counting his money. He seems oblivious to this complaint, or perhaps there is more truth to that thought than he would lead one to believe.
Though it is admirable of Lucas to try and help another lost soul, this might be a case where the soul is as confused as it was during the days that brought it here to this point. Instead of buckling down, intent on proving the critics wrong and proving to himself that he can be a great NFL quarterback, Russell seems content on finding another team that will give him more paychecks to cash in.
Week Seven Picks :
Cincinnati Bengals @ Atlanta Falcons
The Bengals are one of the more disappointing teams in 2010. Some call it the T.O. effect, as they rarely lean on the ground game that brought them the successes they had last year despite the fact halfback Cedric Benson has been effective when given the ball.
While quarterback Carson Palmer tries to sooth the cancerous egos of drama queens T.O. and Ochocinco, the team heads towards a losing season.
That works for Atlanta, who needs to get back on the winning track after losing to Philadelphia last week. Their secondary might be missing their best player, which bodes well for Cincinnati.
The key to this game is how effective Atlanta's seventh ranked running game does against the 18th ranked run defense of the Bengals, keeping Cincinnati's passing game on the sideline griping and preparing for talk shows.
Atlanta
27 Cincinnati 23
Pittsburgh Steelers @ Miami Dolphins
The big news was that "Big Ben" had returned to be the Steelers quarterback until linebacker James Harrison told a bunch of unathletic reporters how defense was played so they could feign surprise.
Miami loves to run the ball, but this will not be easy against a Pittsburgh defense that gives up just 63 yards on the ground each game. Dolphins quarterback Chad Henne must face a fierce Steelers blitz if his team wants to win this game.
Though Roethlisberger is still rubbing off rust, Pittsburgh might lean on halfback Rashard Mendenhall and the ninth ranked rushing attack against Miami's 16th ranked run defense.
Steelers
24 Dolphins 13
Buffalo Bills @ Baltimore Ravens
Things are ugly for the Bills right now. Not only are they without a win this season, but a former NFL coach claims they couldn't beat a UFL team.
Shades of the AFL, where the Bills came from.
Baltimore is upset from their loss last week. They look to vent their frustrations this weekend.
Ravens
34 Bills 13
Jacksonville Jaguars @ Kansas City Chiefs
Jacksonville might be the most erratic team in the NFL, and that says a lot in a season known for its erraticism from the commissioner to the gridiron.
Kansas City is the Cinderella of 2010, and everything is falling into place for them to possibly win their division behind a sound rushing attack and underrated defense.
Chiefs
24 Jaguars 13
Cleveland Browns @ New Orleans Saints
While Cleveland struggles in every facet of football, New Orleans spent the first five weeks of 2010 battling with struggles of their own.
The Saints played like defending champions last week, and look to keep that momentum.
Saints
31 Browns 16
Washington Redskins @ Chicago Bears
Chicago loves to pass the ball. Perhaps too much, considering star halfback Matt Forte leads the team with just 80 carries after six games. They will pass more this weekend, facing a Redskins defense last in the league in yards allowed and second to last in passing yards allowed.
Washington ran the ball well last week, but not enough times. They rely heavily on quarterback Donovan McNabb, who faces the 18th ranked pass defense this week. Chicago is also very stingy on run defense, ranking 3rd best, so McNabb will have to be perfect this Sunday if Washington wants to win.
Though the Redskins pass rush is wildly inconsistent, they are exceptional in the red zone. What Chicago does inside the 20-yard line will be worth watching extra closely.
Bears
19 Redskins 17
San Francisco 49ers @ Carolina Panthers
Both teams are good against the pass, but inconsistent at passing the ball themselves. Carolina will look to win their first game of the season by running often against the 19th ranked run defense in the league.
San Francisco, fresh off the first win this year, has the 27th ranked rushing attack even after halfback Frank Gore exploded for 149 yards last week. They need to continue riding his back against the 26th ranked run defense this week.
49ers
21 Panthers 17
Saint Louis Rams @ Tampa Bay Buccaneers
Both teams have been pleasant surprises so far, winning three games each. Some thought that would be the win totals for both the entire season.
Neither team is particularly excellent on either side of the ball statistically, though the Rams do give up about 45 yards less per game. That might make difference in this evenly matched mediocrity that has found success.
Rams
23 Buccaneers 21
Philadelphia Eagles @ Tennessee Titans
Game of the Week
Both of these teams run the ball extremely well. Tennessee is fourth best in the NFL, Philadelphia is eighth by averaging just six yards less.
The Eagles passing attack ranks fourth, while Tennessee is fourth from the bottom. With Philadelphia's eighth ranked pass defense, it shouldn't matter if Vince Young or Kerry Collins plays. Both will feed the pill often to Chris Johnson and Javon Ringer against the 22nd ranked run defense.
Even though Kevin Kolb is showing why Andy Reid traded Eagles legend Donovan McNabb in favor of him, some fans eagerly anticipate the return of backup Michael Vick. Kolb will be missing his best receiver in DeSean Jackson, recovering from a clean hit that gave him a concussion off a whiplash effect.
If Kolb can dissect the 23rd ranked pass defense, it may quiet the Vick murmurs more. Tight end Brent Celek is due to bust out a big game and rookie receiver Riley Cooper might help in the red zone.
It comes down to Kolb's arm against Johnson's legs, but the key really is if the Eagles offensive line can keep an aggressive Titans pass rush away from Kolb long enough to fire away.
Eagles
34 Titans 31
Arizona Cardinals @ Seattle Seahawks
Though rookie quarterback Max Hall was statistically unimpressive last week, no one can take away the fact he won in his debut against the defensing champion Saints..
Besides Arizona's second ranked run defense, both teams rank near the NFL bottom in every offensive category, total defense, passing defense and happen to have winning records.
Cardinals running back Tim Hightower holds the key this week, yet he hardly touched the ball last week, Beanie Wells, the oft-injured running back they think has a world of ability, carried the ball 20 times for 35 yards. Hightower leads the team in carries and yards, while averaging almost two yards per carry more than Wells.
Seattle will try to attack Arizona in the air. Mike Williams and John Carlson are quarterback Matt Hasselbeck's favorite targets, but youngsters Deon Butler and Golden Tate can stretch the field so Carlson can work underneath.
Arizona
23 Seattle 17
New England Patriots @ San Diego Chargers
It is utterly amazing Norv Turner is still an NFL head coach. His return this year was maybe a worse move by general manager A.J. Smith than re-signing Vincent Jackson or re-signing Marcus McNeil right away.
The Chargers have been slow starters under Turner, which is somehow acceptable to Smith. Yet no one saw the Bolts at 2-4, as they are right now. Maybe that is why critics call Smith "The Lord of No Rings". It is time for both Smith and Turner to go, as they have wasted talent and produced no championships.
New England is on a roll, as they have shown the past few weeks. They face a Chargers team first in offense and defense, so victory will not be easy against a team so deep in despair.
Patriots
27 Chargers 23
Oakland Raiders @ Denver Broncos
This is a bitter rivalry that stretches back to the AFL, and only holds importance to their fans this year. Both teams are at 2-4 with lots of holes in their games.
Oakland's biggest hole is at head coach, where Tom Cable joins Turner on the list of guys you won't see next year with the same job probably. Cable also has yet to names his quarterback this week, as rumors fly that journeyman third-stringer Kyle Boller might get the nod.
The Raiders need Darren McFadden, but he is not at full health. Denver does not run the ball well, which helps the Raiders because they cannot stop the run well.
This games comes down to the Raiders run game against Denver's passing attack led by Kyle Orton. Orton is quietly having a Pro Bowl season.
Broncos
24 Raiders 18
Minnesota Vikings @ Green Bay Packers
Before the season began, fans thought these two teams would be battling for first place in this game. Yet both are actually struggling right now just to have a shot at winning their division right now.
Green Bay got off to a hot start until injuries began to crumble their roster. Minnesota has struggled since day one with injuries, an over-the-hill quarterback and the drama he brings. Yet a win here keeps both very much alive in their division.
Though Minnesota is best served to lean on running back Adrian Peterson, they also need to test the Packers 17th ranked pass defense. What hurts Green Bay is that their best running back is gone for the year, so they will need to attack a passing defense that is sixth best in the league on the fifth ranked overall defense.
This might be another notch in the Favre Legacy, his returning to Lambeau Field for another win. Peterson might actually have more to do with it, but the media will put the lore on Favre to help distract folks from his issues off the field.
Vikings
31 Packers 23
New York Giants @ Dallas Cowboys
From the 1960 to 1984, there was little going on between these two teams. Since then, it has been quite a fight twice a year. Dallas has won 17 more games in this rivalry, though the 1970's is a big reason why.
Dallas has just one win, and their dreams of hosting a Super Bowl representing the NFC are just about gone. They have a good defense and pass the ball well, but they neglect their running game too much to hold a lead.
Why offensive coordinator Jason Garrett keeps his job is a mystery to some, nepotism is the answer. His dad was a scout for the team for 18 years, until 2004, and his two brothers also work for the Cowboys. One coaches the tight ends, who are vastly underused, while the other is the Director of Pro Scouting.
New York relies on a balanced offensive attack that is led by a veteran offensive line. Their defense is the second best in the NFL right now, echoing the time when the Jints won Super Bowls in the past.
This game might not remind long-time fans of the past, because the Cowboys are not a smash mouth team. Yet New York is expected to try to force their will down the Cowboys throats, starting at the line of scrimmage.
Giants
23 Cowboys 21
Power Rankings
1. Steelers
2. Jets
3. Patriots
4. Giants
5. Ravens
6. Colts
7. Titans
8. Falcons
9. Texans
10. Saints
11. Bears
12. Chiefs
13. Eagles
14. Dolphins
15. Redskins
16. Buccaneers
17. Vikings
18. Packers
19. Chargers
20. Broncos
21. Bengals
22. Jaguars
23. Cowboys
24. Cardinals
25. Raiders
26. Seahawks
27. Rams
28. Lions
29. 49ers
30. Browns
31. Bills
32. Panthers