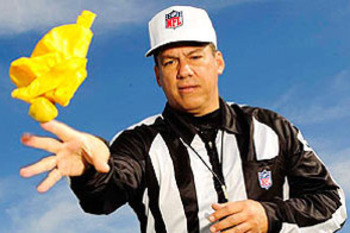 Since 1941, the NFL has changed or added rules over 40 times.
The 2000's decade has been the busiest in the history of the game, manipulating rules in every year. It is the only decade in NFL history this has happened. The 1980's, for example, changed rules just twice in the decade.
The 2000's were led by two NFL commissioners who never played the game of football beyond high school. Paul Tagliabue, who retired in 2006, played basketball and the NFL he oversaw certainly showed that.
Things have continued to disintegrate under the watch of Roger Goodell since. His latest brainchild, the 18-game season, will kill the OTA, fundamentals, and more possibilities of the unknown making a team out of a shortened training camp.
It will also most likely increase injury to the less prepared player.
Here are some famous rule changes in NFL history to remember, in no particular order:
The Lyle Alzado Rule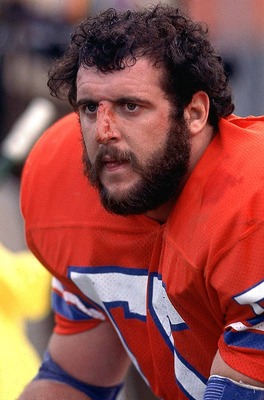 Lyle Alzado was a two-time Pro Bowl defensive end who played a violent game violently.
He was extremely active, racking up over 1,000 tackles and 112.5 sacks for three teams over 15 years.
Alzado was the UPI Defensive Player of the Year in 1977 and the 1982 NFL Comeback Player of the Year. He went to two Super Bowls, winning once.
He also was known for his huge temper, which often flared.
In a 1982 Divisional playoff game, he ripped the helmet off a startled Jets lineman, Chris Ward, and threw it at him, inspiring the rule barring such acts.
The Jack Tatum Effect
In a preseason game in 1978, wide receiver Darryl Stingley ran a short crossing pattern and was met by Pro Bowl safety Jack Tatum of the Oakland Raiders.
Stingley lowered his head into the arriving shoulder of Tatum and ended up a quadriplegic.
Though the hit was legal, the NFL decided in 1979 that wide receivers could no longer be touched after five yards, as opposed to the previous rule of 10 yards.
Girdell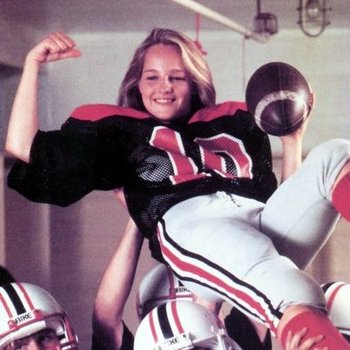 It has been Goodell's mission to have the quarterback no longer be a football player.
No longer can a defender tackle the quarterback too hard, hit him too high or too low, or put all of his weight on him.
The quarterback no longer has to worry about intentional grounding, much less trying to find an actual receiver, when he faces added pressure.
Perhaps the future for the quarterback is a frilly dress with a one-hand touch rule?
It pretty much is that way now.
SUDDEN DEATH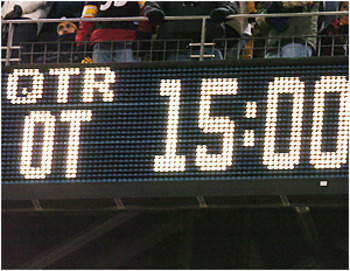 In 1941, the NFL adopted the overtime rule just for playoff games.
It was not actually used until an exhibition game in 1955 between the New York Giants and Los Angeles Rams..
Traditionalist pray Goodell doesn't ruin the NFL more by replacing it with the PC effeminate college overtime rules.
Go For Two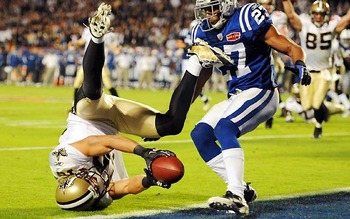 In 1960, the American Football League put in the two point conversion following touchdowns.
The NFL adopted it in 1994.
Basketball Jones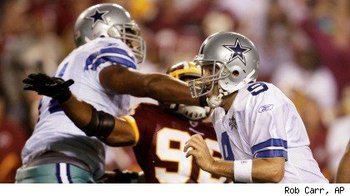 In 1978, the game of football was changed forever.
The biggest rule was allowing blockers to extend their arms and hands, clasping or grabbing onto defenders.
With receivers now running around untouched, opening the doors of the spoiled diva era, timing on pass patterns was greatly increased and defenses castrated.
It was when the NFL started turning into the NBA.
Week 5
Record 36-24
Chicago Bears @ Carolina Panthers
With starting quarterback Jay Cutler out, the Bears need to rely on their run game more than ever this season.
Too bad the blocking has been so bad this year.
They are in prime territory for an upset.
Panthers
20 Bears 10
Tampa Bay Buccaneers @ Cincinnati Bengals
The Bucs shot out the gates at 2-0 before reality set in.
Cincy has been erratic and disappointing.
They need this win bad.
Bengals
27 Buccaneers 17
Denver Broncos @ Baltimore Ravens
The Broncos strength, passing the ball, bodes well against a questionable Ravens secondary.
The key here is if Denver quarterback Kyle Orton gets any time to pass against a ferocious Baltimore pass rush.
Ravens
26 Broncos 21
Kansas City Chiefs @ Indianapolis Colts
Kansas City has a real good chance of staying undefeated. They run the ball well, while the Colts tiny defensive line has problems stopping people. The Chiefs also have an underrated defense.
Colts quarterback Peyton Manning will need to be extra sharp in a game the Colts really need to win.
Colts
24 Chiefs 20
Saint Louis Rams @ Detroit Lions
Detroit was actually favored to win until a few weeks ago, when Rams rookie quarterback Sam Bradford got sharp enough to lead his team to two straight victories.
Detroit is the up and coming team, despite of the fact they have yet to win in 2010.
Lions
31 Rams 30
Green Bay Packers @ Washington Redskins
Washington is two plays away from being without a win this year. Green bay misses running back Ryan Grant, and they have yet to show the NFL why several people consider them a Super Bowl contender.
The Redskins have one x-factor in their pocket. Ryan Torain gets the start at running back after playing his first game in two years last week. If the injury-prone Torain holds up, he has the ability to keep Washington in the game.
Packers
24 Redskins 21
Atlanta Falcons @ Cleveland Browns
Cleveland is better than some realize, yet they unfortunately face a Falcons team just starting to heat up.
Falcons
34 Browns 16
Jacksonville Jaguars @ Buffalo Bills
Which Jags team will show up? I'm guessing the lesser version.
Jaguars
17 Bills 13
New York Giants @ Houston Texans
Houston star running back Arian Foster might be the main focus of the Jints defense, but they better watch tight end Owen Daniels too. He could make it a long Sunday for the mediocre New York linebackers.
Texans
30 Giants 24
New Orleans Saints @ Arizona Cardinals
Things are boding well for the Saints defense lately, as they face their second straight rookie quarterback.
Undrafted free agent Max Hall looked good in camp, and no one can claim they are shocked he gets his first start this year on Sunday.
Saints defensive coordinator Greg Williams will make his debut a nightmare.
Saints
41 Cardinals 7
Tennessee Titans @ Dallas Cowboys
Game of the Week
Titans quarterback Vince Young comes home to Texas. Actually, so do the Titans.
They used to be the Houston Oilers for over three decades.
Dallas has been erratic, yet they had a bye week to straighten things out. We will see if they have.
Cowboys
30 Titans 27
San Diego Chargers @ Oakland
Raiders
In a match up of two awful head coaches, the Bolts are primed for an upset here.
The Raiders know the "Black Hole" is disappointed in them so far this year.
Oakland also runs the ball well, though San Diego's run defense is stout.
If the porous Raiders run defense keeps the Chargers in check, this might come down to who has the ball last.
Chargers
23 Raiders 21
Philadelphia Eagles @ San Francisco 49ers
In a battle of two overrated teams not nearly as good as people thought, this game comes down to a basic fact.
The Niners
M-U-S-T
start running the ball more often.
They rank 28th in the NFL with a paltry 78.8 yards per game.
The Eagles defense ranks 27th best, giving up almost 132 a game.
They need to feed Frank Gore the pill all day or they will go into next week still without a win this year.
Eagles
16 49ers 9
Minnesota Vikings @ New York Jets
MAN! The media
LOVES
the Jets! They are playing their third nationally televised game in five weeks.
Fun fact : Recently acquired wide receiver Randy Moss will face both the Jets and Giants twice each this year.
Vikings quarterback Brett Favre reminds me of Hall of Fame quarterback Y.A. Tittle in his last season, which was with the Giants.
This where his overrated consecutive games streak (Jim Marshall's 282 games as a defensive end is a million times more impressive) may end.
The Vikings only real chance is Adrian Peterson and their defense playing to their abilities.
Jets
21 Vikings 13
Power Rankings
1. Ravens
2. Steelers
3. Packers
4. Patriots
5. Saints
6. Jets
7. Texans
8. Chargers
9. Falcons
10. Colts
11. Titans
12. Bengals
13. Bears
14. Chiefs
15. Dolphins
16. Broncos
17. Redskins
18. Cowboys
19. Eagles
20. Vikings
21. Giants
22. Jaguars
23. Buccaneers
24. Cardinals
25. Rams
26. Seahawks
27. Raiders
28. 49ers
29. Lions
30. Browns
31. Bills
32. Panthers