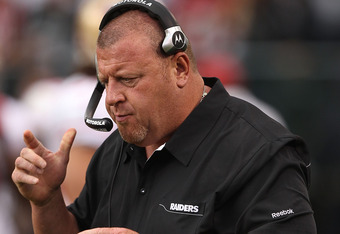 Tom Cable joined the Oakland Raiders as their offensive line coach in 2007 after having one year of NFL experience with the Atlanta Falcons at the same position the year before.
Though he did nothing impressive with his unit, Raiders owner Al Davis unexpectedly promoted him to head coach before the fifth game of the 2008 season. Since that moment, the team has been stuck somewhere between quicksand and an actual black hole, not to confused with the "Black Hole" in Oakland-Alameda County Coliseum.
A few months before the 2009 season, after being accused of punching a coach and a few women, he embarked on his first full season as a head coach after going 4-8 the year before. He improved his win total by just one, and drew the ire of the loyal Raiders fans for good reason.
In 2008, Oakland had the third-worst scoring offense in the NFL. The defense wasn't much better, ranking 24th-worst in points allowed. The next year they had the second-worst scoring offense and the 23rd-worst defense in points allowed. There was no signs of progress. In fact, the team seemed to be getting worse under Cable.
This year has seen Oakland win just once in their first four games after so much was expected in the department of improvement. The offense does rank 17th in points scored, but the defense is 28th in points allowed. This is not what Oakland expected.
Cable is an offensive line coach, but he waited until this year to draft anyone. In 2007, he converted defensive tackle Mario Henderson, a third-round draft pick, into an offensive left tackle. Henderson, who didn't start playing football until his sophomore year in high school, earned five starts in 2008 and has been the starter there since.
The two linemen he picked this year, tackles Bruce Campbell and Jared Veldheer, are projects who have been moved to other positions. Veldheer is now at center, starting once before losing his job, and Campbell is a guard.
One thing Oakland has done is surround Cable with respected offensive coaches. New offensive coordinator Hue Jackson works with passing game coordinator Ted Tollner and quarterbacks coach Paul Hackett. The trio has over 47 years of NFL coaching experience between them.
After quarterback JaMarcus Russell, the first pick of the 2007 draft, did not work out and was cut before this season, Oakland handed the starting job to recently acquired Jason Campbell. Campbell has played in a new offensive system every year since his sophomore year of college, with the exception of two years under Jim Zorn with the Washington Redskins.
Much like he did in Washington, Campbell was running for his life behind a porous offensive line Cable has failed to improve much since 2007. He benched Campbell in favor of journeyman Bruce Gradkowski in the second game of the year.
If Cable is fired and replaced by Jackson, a man often talked about as a future head coach in the NFL, it is uncertain if he, Tollner, and Hackett would reinstall Campbell.
Though Campbell had a higher completion percentage and lower interception percentage than what Gradkowski does, neither have been afforded a chance to succeed with young wide receivers who are inexperienced, and an offensive line that is amongst the worst in the league.
Al Davis took a gamble on Cable, and it is not paying off. He had gambled on Hall of Famer John Madden in 1969, but Madden had been afforded to work under Don Coryell, who should be inducted into Canton, and beside future NFL head coaches Rod Dowhower and Hall of Famer Joe Gibbs.
Madden also worked with Super Bowl-winning offensive coordinator Ernie Zampese and coached Super Bowl-winning offensive coordinator Al Saunders under Coryell.
Cable, on the other hand, was not so lucky. He got a job at his Alma mater, Idaho University, and three years later became the first coach in 22 years to be fired. His NFL coaching tree consists of Jim Mora Jr. and Lane Kiffin, two coaches no longer working in the NFL and were very inexperience when hired.
Like Mora Jr. and Kiffin had, Cables inexperience shows he is overwhelmed at his position. Perhaps he is a good offensive line coach, though he has yet to show it, but he has shown so far he is not a good head coach.
Davis cannot wait any longer. He might see something in Cable others do not, but he needs to remind himself he said the same thing about Russell and that set the franchise back several years. Unlike the case with Russell, Davis has excellent options to fall back on in the Raiders coaching staff.
If he stays with Cable all year, the team may be doomed to repeat what they did in their previous two seasons under him. A road to nowhere that only points towards mediocrity at best.