LaRon Landry, Safety, Washington Redskins
Landry is currently playing the best safety in the NFL.
Almost on pace for 160 tackles this year, he has 39 right now.
But the quantity itself isn't the only impressive part, it is the quality. He is hurting people with bone crunching shots that are a technician's dream because of the beauty he displays each time.
He is called the "Boom King," and for good reason.
He isn't just playing on Pro Bowl level right now, he is playing the best safety the Redskins have seen since Hall of Famer Ken Houston retired.
Brandon Lloyd, Wide Receiver, Denver Broncos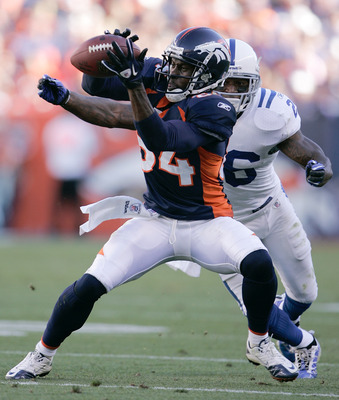 Since he was drafted in the fourth round of the 2003 draft by the San Francisco 49ers, Lloyd's career might best be described as "injury-prone journeyman" or "unlucky."
The Broncos are his fourth team in eight seasons, years spent frustrating his employers with tantalizing talent unfulfilled.
After 105 catches and 13 scores in three years for the Niners, Lloyd had caught 59 balls until this season.
Now he is second in the NFL in yards receiving with 454 on 25 catches.
If he can finally stay healthy an entire season, something he hasn't accomplished since 2005, the NFL Comeback Player of the Year award will have his name engraved on it.
Lawrence Timmons, Linebacker, Pittsburgh Steelers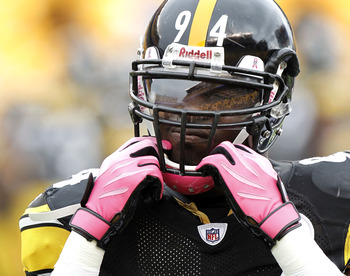 When Pittsburgh drafted Timmons in the first round of the 2007 draft, people envisioned another pass rusher off the edge like Steeler legends Greg Lloyd, Jason Gildon, Mike Merriweather, Joey Porter, Kevin Greene, and many more.
Hall of Famer Dick LeBeau, another of a long line of great Steelers defensive coordinators behind Bud Carson, Woody Widenhofer, George Perles, Tony Dungy, Rod Rust, Dom Capers, and Jim Haslett, had other plans.
After grooming him as a reserve for two years, Timmons was installed into the inside linebacker slot last year, and he came up with 77 tackles and seven sacks in the 14 games he played.
This year he had piled up 47 tackles in the Steelers four games, harkening memories of Steelers great Chad Brown. Brown was a Pro Bowler, who once racked up 119 tackles as an inside linebacker before moving outside, and getting a career high 13 sacks in his last season at Pittsburgh.
Timmons is not a huge player, and probably could be a sack artist if Pittsburgh asked him to be. However, they prefer this tackling machine inside to help one of the leagues very best defenses shut down the run game.
Zach Miller, Tight End, Oakland Raiders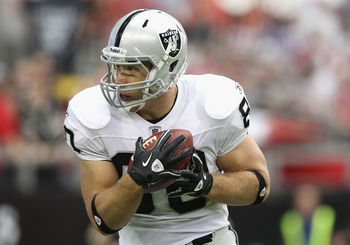 Not to be confused with the Jacksonville Jaguars tight end with the same name, this Zach Miller surprisingly slipped in the 2007 draft into the Raiders' laps during the second round.
He has increased his receptions totals each season played, and is on pace to continue that trend.
After 11 catches last Sunday, he has 22 so far.
Not just a fine receiver, Miller is also an excellent blocker.
People do not talk about him much because he plays in the same conference as Antonio Gates, Dallas Clark, Todd Heap, and others.
Yet this might be the year Miller finally gets a Pro Bowl nod.
Thomas DeCoud, Safety, Atlanta Falcons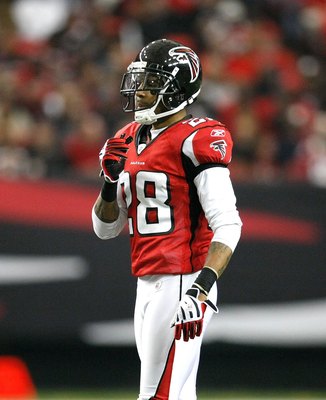 This free safety has quietly become the glue of the Falcons secondary.
With the ability to play either safety slot, this 2008 third-round pick won the starting job last year and racked up 68 tackles, two sacks, three interceptions, forced two fumbles, and defended seven passes.
This year he has a pick and 19 tackles.
With the addition of veteran Dunta Robinson at cornerback through free agency, DeCoud no longer has to attempt to cover so many mistakes of a young secondary like last year.
Keep your eye on him this season.
Danny Amendola, Wide Receiver, Saint Louis Rams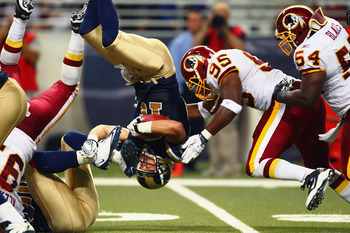 Though he caught 106 passes in his senior year at Texas Tech, and was compared to Tech great and Pro Bowler Wes Welker, no one drafted Amendola in 2008.
He signed with the Dallas Cowboys and spent the year on their practice squad.
In 2009, he started the season on the Philadelphia Eagles practice squad before the Rams grabbed him.
He rewarded St. Louis by leading the NFL in kickoff returns and yards, placing sixth in punt return average, and catching 43 passes.
Still, Rams fans worried quarterback Sam Bradford, the first pick of this year's draft, would not have anyone to throw to that could be effective.
Amendola has quieted those critics somewhat so far with 21 catches, including an absolutely fantastic one-handed catch in last Sunday's victory over Seattle.
He is second on the team in receptions by one to Mark Clayton, Bradford's favorite target. Clayton has been a pleasant surprise himself after being acquired in a trade following five mostly disappointing years with the Baltimore Ravens.
Amendola is not a deep threat, averaging well under 10 yards per catch in his career, but he is ultra quick and runs precise patterns. All he does is catch everything thrown his way.
Ndamukong Suh, Defensive Tackle, Detroit Lions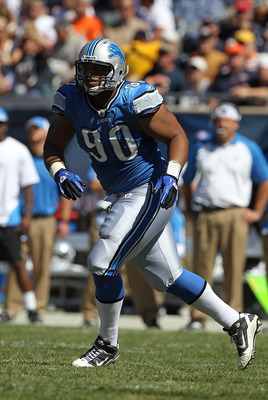 When Suh was drafted by Detroit with the second pick of this year's draft, everyone figured it would be awhile before he was heard from again on a franchise struggling so mightily.
Though the Lions are still searching for a win this year, they are the best win-less team seen in quite awhile and their fans have to be happy with the growth of the young squad.
Even though they lost their starting quarterback to injury in Week 1, they have taken the Bears and Packers to the wire.
Rookies like Jahvid Best have been excellent additions, but none are more important than Suh.
He is fifth on the team in tackles, quite an accomplishment for a defensive tackle, which each opponent keys on weekly.
He also has three sacks, which leads the team and is 14th-best in the NFL. It is also the most by a NFL defensive tackle.
He is putting together a season that might be the beginnings of a Hall of Fame career.