As the NFL lock out continues, no one really knows what to make of free agency for the 2011 season.
This includes the players, coaches, general managers, and owners.
Will those being called restricted free agents right now still be restricted if a collective bargaining agreement is reached? That is one of just a few questions everyone will have to wait for an answer on.
Some teams are heading into the 2011 draft in reverse. Some like to fill their biggest holes with the upper echelon free agents, go draft, then fill the rest of the roster with what is left over in the free agency pool.
Since it appears very likely an agreement won't be reached before the draft, along with the confusion of the 2011 definition of free agency, NFL teams will be in a frenzy, whenever this lock out ends, while scurrying to gobble up the talent available as quickly as possible.
The free agency pool of 2011 is a lot like the 2011 draft pool. There is a lot of mediocrity, especially at certain positions. Safety and middle linebacker has few draft prospects, if any, to get excited about. The free agency market is also thin in those areas.
Like the draft, there are quite a few excellent offensive linemen available. If your favorite team has a defense that is already strong in the middle, then the positions your team seeks to fill could very well be solved with good talent.
That is, of course, if the 2011 free agency market is run like it has been for several seasons.
Nnamdi Asomugha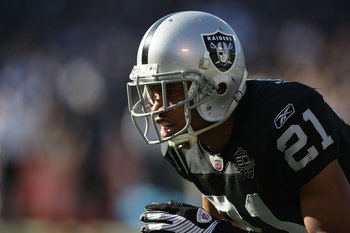 Far and away the top free agent out there this year, if not in many years.
Asomugha appears he could be headed to Canton and truly defines the expression "lock down defender."
He will be 30-years-old when the season starts, but that should not prevent many teams from trying to sign Asomugha to an expensive long-term deal.
Teams like Dallas and Washington are known to spend big on free agents and both need help at the cornerback position. Unless he gets hurt, signing him will be the best value out there because a defense can leave Asomugha alone on an island and worry about other issues at other positions.
Carlos Rogers, Ike Taylor
, and
Chris Carr
are all unrestricted free agents who have started many games.
Carr's 2010 was his first as a full-time starter after having spent much of his five previous seasons as a return specialist.
Taylor has been with the Pittsburgh Steelers since 2003 and has been a starter since 2005. He has earned two Super Bowl rings. Though he wants to stay in Pittsburgh, he will soon be 31-years-old.
Ever since the Washington Redskins drafted Rogers in the first round of the 2005 draft, some fans have spent most of that time lamenting his small amount of interceptions. He has eight in his career and has never had more than two in a single season.
Yet Rogers is solid in run support and has the ability to cover just about anyone in the NFL. Washington is thin at cornerback, so losing Rogers will be a big blow unless they have a replacement in line.
A starter his entire career, Rogers will get offers once the lock out ends. His return to Washington is questionable, but he would immediately upgrade a questionable secondary if he does.
Josh Wilson
is a restricted free agent who is excellent on special teams, even if the Baltimore Ravens rarely used him there after acquiring him in 2010. He did help upgrade the Ravens secondary and quickly became a starter.
Wilson returned an interception for a touchdown in his third straight season. He grew up in Maryland, attending the University of Maryland like his dad did. Wilson has stated he would like to return to the Ravens, but he will get many offers if they choose to not bring him back.
Johnathan Joseph, Brent Grimes
, and
Brandon Carr
are all restricted free agents expected to stay with their current teams.
Jammal Brown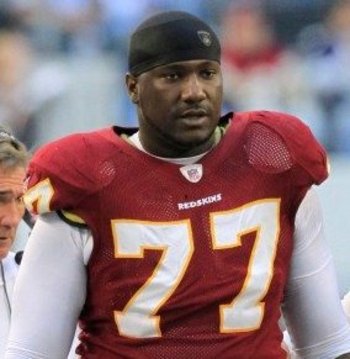 The 2010 season was one of frustration for the two-time Pro Bowler, especially after having missed all of 2009 because of injury. Though Brown started 14 games, he played much of the season dinged up with nagging injuries while playing right tackle for the first time since his rookie year.
The Washington Redskins allowed him to become an unrestricted free agent despite the fact their offensive line needs a lot of help. Brown is just 29-years-old, but 2011 might be a make or break season as far as being a starter.
Though Washington might try to bring him back, Brown's history of excellence will warrant quite a few offers. Offers that the Redskins may fail to match, thus depleting the offensive line even more.
Matt Light
is coming off a Pro Bowl year, his third, for the New England Patriots. He has started at left tackle for the Patriots since 2001, but will be 33-years-old before the 2011 season begins.
Though it seems unlikely he will leave, especially with unrestricted free agent guard
Logan Mankins
certainly going, it is doubtful the unrestricted free agent is offered anything but a short-term deal. If a team offers more years, Light might leave a team he has won three Super Bowls with.
Tyson Clabo
had an amazing journey to becoming a 2010 Pro Bowler. He went undrafted in 2004, then bounced around on practice squads until he signed with the Atlanta Falcons in 2006. He earned a starting job as a guard in his rookie year, then moved to tackle. Clabo plays with a mean streak that teammates like, and he had good size and mobility.
Despite the late start on his career, he will be only 30-years-old in 2011 with little wear and tear on his body in comparison to others his age. An unrestricted free agent, he will get offers but might not want to leave the one organization that gave him a chance to play.
The 2010 season was the first since 2000 where
Alan Faneca
failed to go to the Pro Bowl. He will be 35-years-old this season and the unrestricted free agent is said to be contemplating retirement. The Arizona Cardinals, with whom he played with last year, has stated they want him back.
Faneca is probably headed for induction into the Pro Football Hall of Fame one day, but there is a chance a team entices him with an offer to suit up in 2011. While he might not be the same player he was in his prime, he is still a starter and better than many others.
Davin Joseph
and
Carl Nicks
are a pair of young and excellent guards who are restricted free agents.
Joseph and
Jeremy Trueblood
anchor the right side of the Tampa Bay Buccaneers' offensive line and both are free agents. Losing either one could be devastating to a young team like the Bucs. Both will be 28-years-old in 2011 and were drafted in the first and second round of the 2006 draft to become mainstays.
Joseph has been named to the Pro Bowl once as well. Nicks has just three years under his belt. His 2010 season saw him go to the Pro Bowl. The New Orleans Saints are said to want to re-sign Nicks to a long-term deal.
The Atlanta Falcons could be in trouble in 2011 with the prospects of losing the right side of their offensive line.
Harvey Dahl
, like Clabo, went undrafted. After barely playing for the San Francisco 49ers in 2006, he joined the Falcons in 2007 and earned a starting job the next year.
Dahl is known as maybe the meanest and nastiest offensive lineman in the NFL. He got in a shouting match with 49ers ex-head coach Mike Singletary in 2009. The Hall of Famer purportedly became so enraged that he spit on Dahl.
He is a restricted free agent and it is rumored the Falcons are intent on keeping both him and Clabo. If they cannot, there are always several teams looking for a guy who brings character to the locker room.
Lyle Sendlein
is a restricted free agent, but he is the only center worth mentioning in the free agency pool. The Cardinals would prefer to keep the fourth-year undrafted player who has started the past three seasons.
Yet there are no great centers in the draft or in free agency. Sendlein is far and away the cream of the crop and that might entice a big bid for his services.
Cullen Jenkins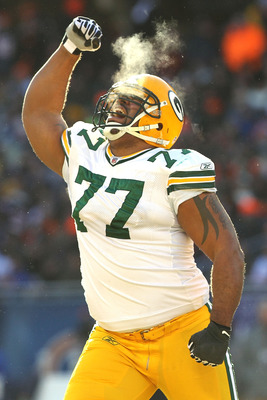 The 29-year-old Jenkins is about to get paid large. In a fairly weak free agency class, the defensive line is deep in mediocrity and sparse in guys who are able to make the big play.
Though the 2011 draft has a few defensive tackles ready to go in the first round, Jenkins might head the free agents list. An unrestricted free agent, he can play anywhere on the defensive line.
Jenkins is average defending the run, but he can get after the quarterback. He played just 11 games, yet still got a career high seven sacks in 2010. His 29 career sacks show a consistent force no matter where he lines up.
The defending champion Green Bay Packers would love to keep Jenkins, especially since the reserves are youngsters C.J. Wilson and Jarius Wynn. Matching the offers he is expected to receive might be an issue.
Jason Babin
is an unrestricted veteran who was looking like a journeyman who flopped as a first round pick until last year. Selected by the Houston Texans in 2004, he had played for four teams before signing with the Tennessee Titans in 2010.
He got 12.5 sacks last year after getting 19.5 in his previous six years. Tennessee has expressed interest in signing him to a long-term contract, but Babin might test the waters as well.
When the Carolina Panthers used a third round pick on defensive end
Charles Johnson
in 2007, then-head coach John Fox brought him along slowly so he could learn behind veterans like Julius Peppers and Mike Rucker.
Johnson was used as a pass rusher his first three years, but was inserted into the 2010 starting lineup after Peppers joined the Chicago Bears. He responded with career best totals of 11.5 sacks and 62 tackles.
Now a restricted free agent, it will be interesting to see the language of the new collective bargain agreement whenever the lock out ends.
If Johnson is set free, Carolina will need to decide if they should sign him to a long-term deal or watch other teams bid for Johnson's services.
Shaun Ellis
will be 34-years-old when the 2011 season starts. He has a lot of mileage on him, but Ellis did earn a Pro Bowl bid in 2009. Though he isn't quite as an effective pass rusher these days, Ellis has always done a decent job against the run. Veterans like him are always welcome on a roster, so the unrestricted free agent won't have to wait long for an offer. His leadership skills just make him more valuable.
Barry Cofield
is a restricted free agent who has started since the New York Giants drafted him in 2006. He has said he will request a trade unless he is offered a long-term deal.
Coming off his best season, Cofield has nose tackle ability as well. If the Giants decide to go in another direction, he should find himself very much sought after.
Paul Soliai
and
Brandon Mebane
are restricted free agents.
Soliai is a nose tackle who excelled in his first year as a starter in 2010. Since there are only a few nose tackle prospects in the draft, he could be highly sought after. The Miami Dolphins put their franchise tag on him, so it appears unlikely he will go anywhere.
Mebane has started since he was a third round pick by the Seattle Seahawks in 2007. While his 10 career sacks show he is an average pass rusher, many teams like Mebane's ability to defend the run.
Kedric Golston
earned a starting job as a rookie for the Washington Redskins in 2006 after being chosen in the sixth round. He was moved to defensive end last year when Washington switched to a 3-4 base defense.
He is a plugger who clogs the lanes and allows his linebackers to clean up the leftover mess. Golston is a high character guy with good strength, so teams looking to upgrade the interior of their defensive line will look hard in his direction.
Plaxico Burress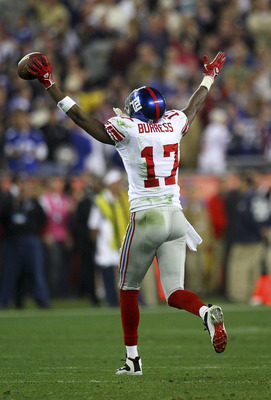 Burress will soon be released from prison after having served 20 months for weapons violations. Despite the fact he will be nearly 34-years-old, teams will look into signing him.
Some look how well Michael Vick played in 2010 after having spent two years in jail. Burress has stated he will play again and has been working out four days a week in preparation.
He is 6'5", so a tall receiver like him will always garner interest. Before his sentencing, his inconsistent hands frustrated many though four of his nine seasons saw him gain over 1,000 yards.
There may be a bidding war for his services, though the thought of teams avoiding him because of his past is certainly fathomable. The question of 34-year-old legs after years on inactivity will certainly bring skeptics.
With older receivers like
Randy Moss, Terrell Owens, Laveranues Coles, Santana Moss, Brandon Stokley, Brian Finneran, T.J. Houshmanzadeh
, and
Dennis Northcutt
out there looking for jobs, taking a chance on Burress seems like a fine decision
Quintin Mikell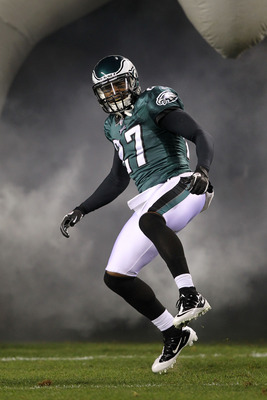 Mikell was a Pro Bowler in 2009 who happened to be even more productive last year. The strong safety is not only very good supporting the run defense, but he has done an excellent job defending the pass.
The Philadelphia Eagles would love to bring him back, but the unrestricted free agent will get a ton of offers. Considering how the Eagles are trying to re-sign quarterback Mike Vick, the scenario of being outbid is certainly possible.
Mikell also has free safety experience, yet he will be 31-years-old whenever the season starts. He spent his first four years on the bench before earning a starting job in 2007. He has 328 tackles and nine interceptions the last four years.
Donte Whitner
is coming off the best season of his five years in the NFL. Some say he has never shown the Buffalo Bills a reason why drafting him in the first round of the 2006 draft was a good idea, but he did get 138 tackles last year.
Buffalo would like him to return, but the unrestricted free agent has started since he came to the NFL and that type of experience makes the 26-year-old desirable.
Dawan Landry
and
Eric Weddle
are restricted free agents. Weddle has already stated he wants to stay with the San Diego Chargers but would "leave the team in a heartbeat" if contract talks do not go well.
The Chargers have three safeties up for free agency, but Weddle is the most important. The free safety has scored a touchdown in each of the last three years while showing solid all-around play.
With the 2011 draft having almost no NFL-caliber safeties, free agents at this position have their importance doubled. Especially Weddle, the best free safety in the pool.
Landry has been the starting strong safety of the Baltimore Ravens ever since they lucked into him during the fifth round of the 2006 draft. He missed most of 2008 from an injury, but Landry has scored a touchdown in three of his other four years.
Coming off a career high 108 tackles in 2010, Landry will be sought after if the restricted free agent tag is removed and he is allowed to sign anywhere. The Ravens would prefer to keep Landry, who is one of their most important players on defense.
Michael Bush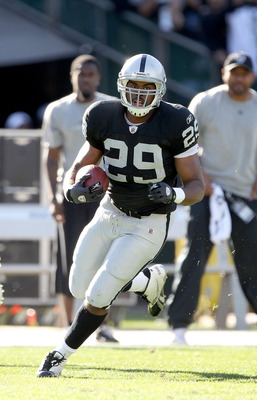 Bush was drafted in the fourth round of the 2007 draft by the Raiders even though they knew he was recovering from a broken leg and couldn't play until 2008.
Since 2008, Bush has shown exactly why Oakland selected him. He has increased his rushing attempts and yards each year, and he scored a career best eight times in 2010.
He offers the power back feature that compliments Darren McFadden's slashing running skills. Bush would start on many teams, but he has been forced to back up McFadden. Though the 2008 first round pick has battled injuries much of his career, Oakland seems committed to McFadden as the starter.
If a team wants a guy who would do anything to win, even if it means being a blocking back, Bush is worth a look. His being pulled over on suspicion of drunk driving a few months ago might force Oakland to part ways with the restricted free agent.
With recent rumors of the Raiders being interested in drafting Shane Vereen, Bush's days as a Raider could be ending. If this happens, there are a ton of teams that will vie for his services and possibly get a 1,000-yard rusher in return.
Joseph Addai
and
Tim Hightower
are a pair of running backs who are restricted free agents expected to re-sign with their teams.
Rocky McIntosh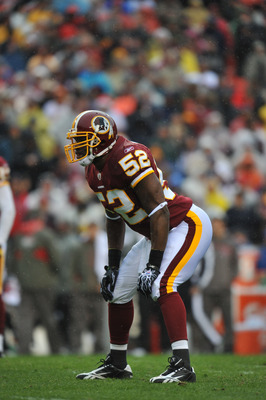 McIntosh is not flashy, but he is very productive. After spending the first four seasons of his career as an outside linebacker, the Washington Redskins moved him inside last year and got a career best 110 tackles.
But he also had 180 tackles as an OLB the previous two years, showing McIntosh can stop the run wherever you plug him in. While he has shown good blitzing ability, the Redskins did not ask that from him often.
He is not great in pass coverage, so McIntosh usually was replaced by extra defensive backs in obvious passing situations.
He has also shown durability and toughness, willing to play injured. Washington already has huge depth issues at linebacker, let alone much quality past Pro Bowlers London Fletcher and Brian Orakpo.
The free agency market does not appear to have anyone better than him right now, so re-signing McIntosh could be a Redskins priority once the lock out is resolved.
Graybeards
Mike Peterson, Julian Peterson, Mike Vrabel, Scott Shanle, Keith Bulluck
,and
Takeo Spikes
should all have no trouble finding a training camp because there are few linebackers out there whose production can be relied upon. None are what they once were, but they have the savvy to still do the job.
James Anderson
and
Prescott Burgess
are restricted free agents who will garner interest.
Anderson has the size and finally seemed to put it together in 2010 after four less-than-stellar seasons for Carolina. He had 126 tackles and 3.5 sacks. A SLB who certainly will help on run support.
If the term "restricted free agent" is dissolved in the new collective bargaining agreement, he possibly becomes the top outside linebacker available.
Burgess has played special teams for the Baltimore Ravens in his three seasons, something he does a good job at, but he also has learned under the wing of Ray Lewis. That alone should draw interest.
Dhani Jones, Barrett Ruud
, and
Paul Posluszny
are all veteran inside linebackers. The 32-year-old Jones is the only unrestricted free agent of the group.
After playing outside linebacker in his first seven seasons, the Cincinnati Bengals moved him inside and Jones has collected 352 tackles the past three years. His consistency and versatility will get him an offer, let alone the experience from being a starter in nine of his 10 seasons.
Ruud is said to be irked over his contract situation with the Tampa Bay Buccaneers, though many think he will stay because Ruud is one of the leaders on a young team.
Posluszny is coming off the best season of his four-year career. He had 151 tackles, despite missing two games, and has 371 in his last three years.
What scares teams about Posluszny is the fact he has missed games because of injury in three seasons. The 19 games missed in his career should make any offered contract laced with incentives, which is a bargain if he fulfills them.
Bruce Gradkowski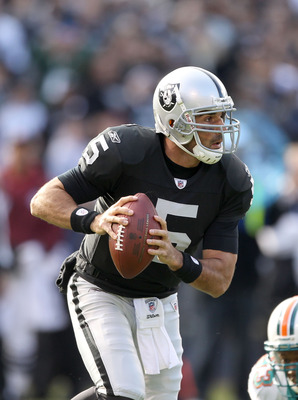 Gradkowski is a restricted free agent, but it remains to be seen if the Oakland Raiders bring him back now that Tom Cable is gone.
Oakland was the third team he played for in his five seasons, but Gradkowski developed a small fan following when 2007 first round pick JaMarcus Russell flopped and lost his starting job. Gradkowski took the starting job from a struggling Jason Campbell last year, but got hurt and was lost for the season.
Campbell seized the opportunity by helping Oakland have their best season in many years. Though he has plenty of starting experience, Gradkowski could be replaced for a backup who costs less.
If that happens, Gradkowski might soon be on the verge of starting again with the Arizona Cardinals, Tennessee Titans, Cincinnati Bengals, Seattle Seahawks, Washington Redskins, or Minnesota Vikings, all non-committal on who will handle the snaps in 2011.
A gritty but injury-prone player, he shows the leadership skills one likes from a quarterback.
With veterans like
Marc Bulger, Alex Smith
, and
Billy Volek
amongst a deep free agent pool of average quarterback with starters experience, Gradkowski could be the guy who is the most successful.