Johnny Unitas
Unitas was drafted by the Pittsburgh Steelers in the ninth round of the 1955 draft. He was cut in camp, as the Steelers decided to go with Jim Finks, Ted Marchibroda and Vic Eaton at quarterback.
Finks would later go on to be a legendary general manager who built the Minnesota Vikings, Chicago Bears and New Orleans Saints into winners. Marchibroda became an offensive guru who coached several teams. Eaton, drafted two rounds after Unitas, was out of football after 1955.
Unitas hitch-hiked back home to save money, then worked construction. He kept in shape by playing semipro football for $6 a game.
Weeb Ewbank, the Hall of Fame head coach, asked Unitas' semipro teammate Jim Deglau to try out for the Baltimore Colts. Hearing the Cleveland Browns were interested in Unitas, he asked Deglau to bring the quarterback with him.
Despite the objections of family members, Unitas went to Baltimore. He made the team, backing up George Shaw and Gary Kerkorian. He soon passed Kerkorian, now in his third year of backing up Shaw, on the depth chart.
During camp, Unitas would stay after practice was over and throw balls all night to a wide receiver, Raymond Berry, who had caught just 13 catches the year before after making the team as a 20th-round draft pick. This bond between Unitas and Berry would soon have a tremendous impact on the NFL.
Shaw, who was the Colts first-round draft pick in 1952, broke his leg in the fourth game of the year. Unitas was plugged in and showed some promise.
His next 10 years saw him go to the Pro Bowl and win the NFL MVP Award three times. Baltimore also won the championship twice with maybe the greatest quarterback to ever play the game.
The 1970 season was his last as a starter, where the 37-year old Unitas led the Colts to a Super Bowl win. He played until the 1973 season before retiring.
Unitas left with a ton of records. Many have been equaled or passed as quarterbacks play longer season with rules that help them succeed, but his 47-games streak of a touchdown pass in each game still survives.
College football hands the top senior quarterback of each year the Johnny Unitas Golden Arm Award. The name of the award is fitting, because Unitas is more than the greatest quarterback in Colts history.
He is the best free agent signing in NFL history.
Dick "Night Train" Lane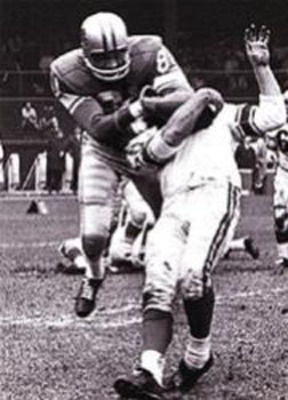 A story that the movie "The Natural" may have gotten inspiration from.
Lane was found as an abandoned infant in a dumpster, then raised by a kind-hearted lady. After going to a community college for one year, Lane joined the United States Army for four years and fought in both World War II and the Korean War.
After serving, he got a job at an aircraft factory. He disliked the job, so he walked onto the training camp of the Los Angeles Rams seeking a job.
He wanted to play wide receiver, but the Rams already had a set of Hall of Famers there named Elroy "Crazy Legs" Hirsch and Tom Fears. He was switched to cornerback and found his calling.
Lane was a monstrous hitter who could blanket any receiver in the game. In a matter of months, he came from nowhere and was the top defensive back in all of professional football.
Though just 12 games were played in his rookie year, Lane had 14 interceptions. This is a record that still stands today for the most interceptions in a single season.
Yet Lane was dangerous once he got the ball. He returned the interceptions for 298 yards and two touchdowns, while still finding time to record a safety. Despite such incredible numbers, he was somehow left off the Pro Bowl squad even though he had almost twice as many interceptions combined over the players that were chosen.
He did get to the first of his seven career Pro Bowls in 1954. After having been traded to the Chicago Cardinals that season, Lane had 10 interceptions for 181 yards.
After six years with the Cardinals, he was dealt to the Detroit Lions and took part in some of the greatest secondaries in NFL history. Lane played with Hall of Fame safety Yale Lary and Hall of Fame cornerback Dick LeBeau.
When he hung up his cleats in 1965, Lane had 68 interceptions in 14 seasons. It still ranks the fourth most in NFL history, but it is still the most ever by a cornerback. Rod Woodson, who had 71 career swipes, got 24 as a safety.
Lane had 1,207 yards returned off of interceptions, still the sixth most ever. Deion Sanders is the only cornerback who had more.
He loved to hit receivers and often sought out contact. His favorite way to tackle was a clothesline shot, which was legal in the NFL then. It was dubbed a "Night Train Necktie."
There may be no free agent signing on defense more special or important than the day Lane decided to try and play professional football.
Original Cleveland Browns
When the Browns were formed in 1946, head coach Paul Brown had a plan. The fledgling All-American Football Conference would soon get steamrolled by these plans.
Otto Graham, Marion Motley, Dante Lavelli, Lou Groza and Bill Willis are all Hall of Famers that Brown signed as free agents that year. Along with many other great players like Mac Speedie, Lin Houston, Horace Gillom, Frank Gatski and Lou Rymkus who were just a few others that helped Cleveland dominate.
After winning all of the AAFC titles, they jumped to the NFL in 1950 and promptly won a title. Graham, Groza, Gatski, Gillom and Lavelli were all on the 1954 and 1955 teams that won it all.
Several great coaches came from those Browns rosters. Rymkus and Lou Saban won American Football League titles as head coaches and Ara Parseghian won a title with Notre Dame University.
When it comes to free agent signings, the original Cleveland Browns are on a level all by themselves.
Willie Wood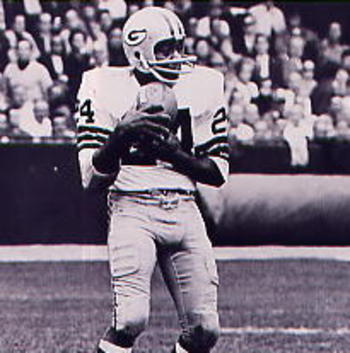 Wood went undrafted in 1960 after a collegiate career where he was the first African-American quarterback for the University of Southern California and the Pacific-10 Conference. He signed with the Green Bay Packers, who moved him to free safety.
While mainly returning punts, a duty he did much of his career, the rookie was mentored by Hall of Famer Emlen Tunnel. Tunnel retired at the end of the season, so Wood was named starter and held that spot the next 11 years.
He played on teams that went to the championship six times, winning five. Not only was he excellent at returning punts, he became a ball hawk. In 1961, he scored twice off of 14 punt returns.
He led the NFL with a 16.1 yards per return average. Wood led the NFL with nine interceptions in 1962, while becoming one of the best free safeties of his era. Green Bay relied on him as their last line of defense, and he seldom ever let them down.
When he retired after the 1971 season, Wood had intercepted 48 passes, scored four times, and went to eight Pro Bowls. Only Forrest Gregg and Brett Favre have gone more for the Packers.
After having been a finalist nine times, Wood was inducted into the Pro Football Hall of Fame in 1989.
He is easily the best free agent signing Green Bay ever made.
Dick LeBeau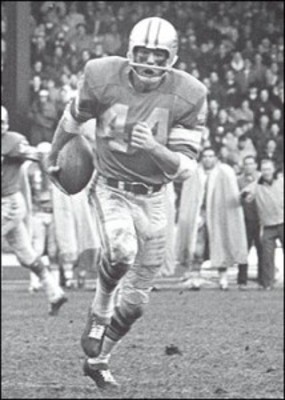 LeBeau was a fifth-round draft pick of the Cleveland Browns in the 1959 draft. He was the 58th player picked overall, but did not make the Browns team and was cut in training camp. He would then be picked up by the Detroit Lions as a free agent and played six games in his rookie year, mostly on special teams.
He did recover the first fumble of his career that season. In 1960, LeBeau earned the starting job at cornerback opposite newly acquired Hall of Famer Dick "Night Train" Lane.
The Lions defense also had Hall of Fame MLB Joe Schmidt, Hall of Fame Safety Yale Lary, Pro Bowl defensive tackle Alex Karras and Pro Bowl safety Terry Barr. LeBeau picked off four passes. The next three seasons, LeBeau and Lane formed the best cornerback tandem in the NFL.
LeBeau picked off three passes in 1961, then four in 1962. He scored the first two touchdowns of his career that year, by interception and fumble recovery. In 1963, LeBeau picked off five passes and returned them for 158 yards. He also returned one interception 70 yards for a touchdown.
LeBeau would then make his first of three consecutive Pro Bowl appearances in 1964. That season also marked Lary's last in the NFL, and Lane played only seven games. LeBeau still managed five interceptions that year. The 1965 season was the last year for both Lane and Schmidt. LeBeau picked off seven passes and returned one for the last touchdown of his career.
The 1966 season would be LeBeau's last Pro Bowl season, when he intercepted four passes. LeBeau stayed steady the next several years. He picked off four passes in 1967, opposite of Hall of Fame cornerback Lem Barney under new coach, and former teammate, Joe Schmidt.
LeBeau and Barney would then team up for the next three years as one of the best CB tandems in the league. LeBeau had 20 picks over that time. At 34-years old in 1971, LeBeau would intercept six passes.
The 1972 season would be the last year as a Detroit Lion for LeBeau and Schmidt. LeBeau was moved to free safety that year, and would not intercept a pass for the first time since his rookie season. He did recover the last fumble of his career that year.
LeBeau only retired from the NFL as a player after 1972. He went into coaching in 1973 for the Philadelphia Eagles as their secondary coach. He stayed with the team until 1975. He then held the same duties with the Green Bay Packers from 1976 to 1979.
In 1980, he moved to the Cincinnati Bengals. He served as a secondary coach, and as defensive coordinator with the Bengals until 1991. LeBeau then served as the defensive coordinator for the Pittsburgh Steelers from 1992 to 1996.
This is when LeBeau would gain notoriety for inventing the now commonly used "Zone Blitz" defense. The Steelers defense featured such greats as Hall of Fame cornerback Rod Woodson, Pro Bowl linebackers Greg Lloyd, Hardy Nickerson, Levon Kirkland, Chad Brown, Kevin Greene, Jason Gildon and strong safety Carnell Lake. They would go to the Super Bowl after the 1995 season.
In 1997, LeBeau returned to the Bengals as a defensive coordinator. He would then be named head coach of the Bengals in 2000 and held that job until 2002.
LeBeau then worked for the Buffalo Bills in 2003. He returned to the Steelers in 2004, and is still the defensive coordinator of the Steelers today. In 2005, the Steelers won Super Bowl XL. Pittsburgh also won Super Bow XLIII in 2008.
Dick LeBeau is one of the most respected coaches in NFL history, obviously, and is called "Coach Dad" by his players. He is a member of the Detroit Lions Legend and his 62 interceptions are the most in the history of the Lions.
He is the first player from the 1959 NFL Draft to be inducted into the Pro Football Hall of Fame. He is the best free agent signing the Lions ever had.
Don Maynard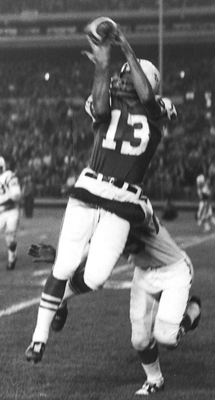 Maynard was drafted by the New York Giants in the ninth round of the 1957 draft, but did not make the team.
He tried again the next year and made it, mostly being used as a punt returner. The Giants cut him again, so he played in the Canadian Football League in 1959 for the Hamilton Tiger-Cats.
He left the CFL to become the first player signed by the expansion New York Titans of the fledgling American Football League. He caught a career best 72 balls his first year. Yet he also teamed up with Art Powell to be probably the best wide receiver duo in the AFL.
The tandem became the first professional football players to gain over 1,000 yards on receptions in a season. They duplicated that feat again in 1962. Despite this dynamic duo, the Titans attracted few fans and were struggling financially.
They changed their name to the Jets in 1963, but business did not pick up until 1965. That year saw them draft, then outbid the NFL for the services of a brash quarterback named Joe Namath.
The future Hall of Famer had a chip on his shoulder, but an arm to back it up. Maynard quickly bonded with Namath and the team started to get better each year.
New York reached the AFL title game in 1968, where Maynard would carry the Jets to victory. Facing the Oakland Raiders and Hall of Fame cornerback Willie Brown, Maynard caught six balls for 118 yards. He scored the Jets' first and last touchdowns, and the last one sealed a 27-23 win.
It capped off a wild series between the Jets and Raiders that year. Six weeks earlier, the teams made history in the infamous "Heidi Game" incident. The game was taken off the air by television executives with 65 seconds to play and the Jets leading 32-29. Oakland then stormed back and won 43-32.
The Jets went into Super Bowl III as tremendous underdogs. No one expected much from them outside of the Jets organization and fans. This led to Namath's now famous guarantee of victory.
Maynard was covered by Johnny Sample, an extremely tough player who knocked many men out of many games in his career. Maynard got shut out, but his bookend George Sauer caught eight balls for 133 yards.
That, along with a stingy defense and 121 rushing yards by Matt Snell, led the Jets to a 16-7 win over the heavily favored Baltimore Colts. It is the game that convinced the NFL to merge with the AFL. Maynard and Sauer both had 1,000-yards receiving together twice.
While a precision route-runner, Maynard was incredible at getting deep and stretching defenses. When he retired at the end of the 1973 season, he had an excellent career average of 18.7 yards per reception. His 88 touchdown receptions over 15 years show he was also a threat in the end zone.
Don Maynard, inducted into the Pro Football Hall of Fame in 1987, was the Jets first and best free agent signing.
Warren Moon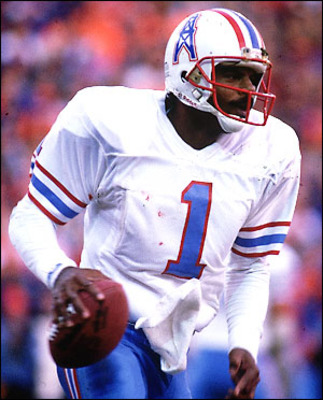 It still is an amazing fact that Moon went undrafted in 1978. Despite leading his college team to a Rose Bowl win the year before, some NFL teams wanted him to switch positions. His refusal was followed by an apparent blacklisting.
Instead, he joined the Canadian Football League and stayed there until 1983. He led his team to an unprecedented five titles and is now a member of the Canadian Football Hall of Fame.
The NFL couldn't keep on their blinders any longer, and a bidding war began for his services.
Bud Adams, the owner of the Houston Oilers, gained an upper hand by hiring Hugh Campbell as head coach. Campbell had coached Moon in the CFL.
Moon started setting team records for the Oilers almost as soon as he donned their uniform. Houston had an explosive offense, led by Moon, but always seemed to just fall short of reaching a Super Bowl.
After 10 years and six Pro Bowls, Moon was traded to the Minnesota Vikings before the 2004 season. He lasted three years there, making the Pro Bowl twice.
At 41-years old, Moon signed with the Seattle Seahawks as a free agent. He went to the Pro Bowl again. He joined the Kansas City Chiefs in 1999, retiring after two years at 44-years old.
Moon was inducted into the Pro Football Hall of Fame in 2006, making him the first Canadian Football Hall of Famer, first undrafted quarterback, and the first African-American quarterback to achieve this.
His free agency signing wasn't just great for the Oilers, NFL or football, but society as well.
John Randle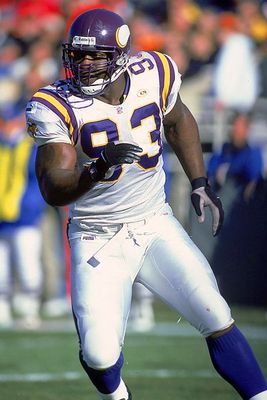 Randle went undrafted in 1990, so he tried to join the Tampa Bay Buccaneers because his brother Ervin was entering his fifth season with them. The Buccaneers though he was too small, so they declined. The Minnesota Vikings then gave him a try out and was impressed.
Randle made the team and earned a starting job midway into his second season. He was a quick player who was excellent at rushing the passer.
Starting in 1992, he had eight straight years of double-digit sacks. From 1993 to 1998, he went to the Pro Bowl.
His 1997 was probably his best. Randle led the NFL with 15.5 sacks and had a career high 58 tackles.
He became a free agent after the 2000 season, so he joined the Seattle Seahawks. He scored the only touchdown of his career, off a fumble recovery, in his first season in Seattle. He also had 11 sacks, but missed the first game of his career in what would be his final Pro Bowl season.
Randle missed four games the next year. His five games missed with Seattle were the only games he missed in a 14-year career. He would retire after the 2003 season.
His 137.5 sacks are the sixth most ever, and the most ever by a defensive tackle. Steve McMichael is second with 95.
For a player nobody wanted, the Vikings sure were lucky and blessed to sign this free agent that got inducted into the Pro Football Hall of Fame in 2010.
Gary Zimmerman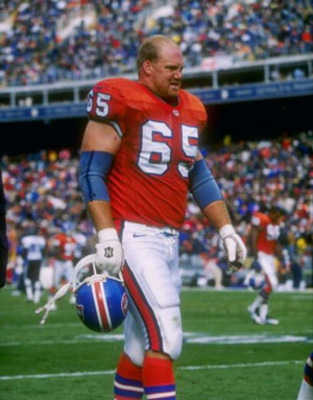 Zimmerman was selected in the first round of the 1984 Supplemental Draft by the New York Giants, but he chose to join the United States Football League instead. When the USFL folded two years later, he was a free agent.
The Minnesota Vikings signed him and plugged him in at left tackle right away. Zimmerman stayed with the Vikings for seven years, going to the Pro Bowl four times. At the end of the 1992 season, he became a free agent again.
He signed with the Denver Broncos, who needed someone to protect Hall of Fame quarterback John Elway's blind side. Though still mobile at 33-years old, Elway was slowing down some after years of hits.
Zimmerman was the glue of an excellent offensive line, and one of the most important pieces to the Broncos attack. In his five years with Denver, he was a Pro Bowler three times.
He made his last Pro Bowl in 1996 despite missing the first two games of his career. He missed two games again the next year, but Denver would go on and win Super Bowl XXXII. He retired after that.
Zimmerman is on both the 1980s and 1990s NFL All-Decade Team, one of just a few players to make two teams. He is also on the USFL All-Time Team.
Inducted into Canton in 2008, Zimmerman is one of the very best free agent signings for both the Vikings and Broncos.
Reggie White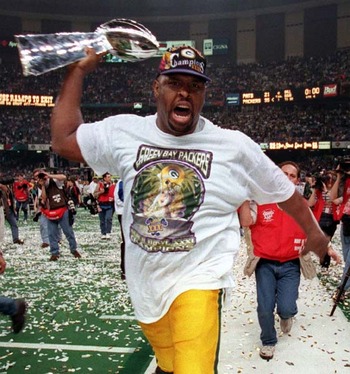 The Philadelphia Eagles made him their first draft pick in the 1984 Supplemental draft. Steve Young, Mike Rozier and Gary Zimmerman were selected ahead of him.
All decided to go play in the United States Football League. White was named the USFL Man of the Year in 1985, and he is a member of the USFL All-Time Team.
When the USFL folded after 1985, he joined the Eagles. He played eight seasons for them, going to the Pro Bowl each season except his first.
He was widely known as the best defensive end in all of football, and he was dubbed the "Minister of Defense" because he was also an Evangelical minister.
He became a free agent after the 1992 season, and a bidding war started to attain his services. The Green Bay Packers won by giving him an airplane to use whenever White desired.
In his six seasons as a Packer, White went to the Pro Bowl every year. He led them to Super Bowl XXXI, where the Packers defense and special teams carried them to victory.
After being named the NFL Defensive Player of the Year in 1998, he retired. But the Carolina Panthers coaxed him out of retirement in 2000, the only year of his career he was not a Pro Bowler except for his first year. He retired for good after that.
His 198 sacks are the second most ever since the stat started to get recorded in 1982. He retired as the Packers leader in sacks, but now ranks second. He still heads the Eagles list.
Not only was his free agent signing good for the USFL, but Green Bay's signing him won them a championship.
Inducted into Canton in 2006, almost two years after his unexpected death, White is one of the truly great free agent signings in NFL history.