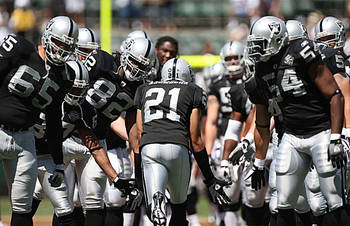 Nnamdi Asomugha is a free agent that any NFL team can try to sign whenever business resumes for the league.
It was a startling move when the Oakland Raiders decided to let the best defensive back in the NFL hit the market despite coming off his third Pro Bowl and second First Team All-Pro season in 2010.
Every team could certainly use a player of his caliber on their squad, but few will be able to afford him.
Plus the team interested should have Super Bowl dreams because most of Asomugha's years in the NFL have been with losing teams.
What sets him apart from most others is his philanthropy. He helps orphans and widows while trying to provide a higher education to students in need of extra help. He won the 2009 Byron "Whizzer" White Man of the Year Award for his work.
Whenever the lock out ends for the NFL, Asomugha will find his phone soon ringing off the hook with teams trying to recruit him. This probably will include the Raiders as well.
Here are 10 teams he might best fit for various reasons, though it is impossible to guess where he might be headed yet.
Dallas Cowboys
While the real problem of the Cowboys pass defense in 2010 was a subpar pass rush by anyone not named DeMarcus Ware and pretty mediocre safety play.
Adding Asomugha could allow Dallas to move Terence Newman to free safety and replace Alan Ball. Newman had a career best 79 tackles and five interceptions last year.
That is 34 more tackles than Ball, a converted cornerback, had last season. It is also 10 more tackles than what strong safety Gerald Sensabaugh provided.
Newman will turn 33-years old during the 2011 season, so Ball could battle Bruce McCann for a roster spot while Mike Jenkins handles the other cornerback and Orlando Scandrick mans the nickle back.
Asomugha also has free safety experience, having played there in college.
Asomugha's addition would allow Dallas concentrate on bolstering the trenches in the draft, an area of need.
They have three picks in the first 71 selections, so grabbing a defensive end, offensive tackle, and safety can be hit on with cornerback now taken care of.
Cowboy's owner Jerry Jones has never been shy at tossing extra money to get what he wants. Getting the best cornerback on the NFL is something he should want.
New York Jets
Imagine Asomugha and Darrelle Revis bookending each other.
OK, now wipe the drool from your chin Jets fans.
A combination that could potentially be the greatest cornerback duo in NFL history is a thought the Jets should think about.
It could possibly bring Rex Ryan that Super Bowl ring he keeps talking about.
With the pair of excellent young cornerbacks Dwight Lowery and Kyle Wilson in reserve, they could match any package a pass happy team tries to throw at them. It would force opponents to run the ball more, an area the Jets defense is very stout.
The Jets probably can't swing this signing because they have a lot of important free agents to sign. Receivers like Braylon Edward, Santonio Holmes, and Brad Smith are needed, so it may force them to re-sign cornerback Antonio Cromartie.
If they could coerce Asomugha to take less for the prospect of winning a Super Bowl, then the Jets would instantly become the favorites to win it all.
Any team attempting a pass on Asomugha and Revis would be near suicidal.
Oakland Raiders
Asomugha is said to like the recent direction of the Raiders and wants to see things through.
He has all of his business set up in Oakland, so uprooting might not be an option he wants to explore.
Still, it was odd to see the Raiders give six-year cornerback Stanford Routt $31 million, with $20 million guaranteed, while declining to pick up the option on Asomugha's contract despite the fact Routt has spent four seasons as a reserve and was coming off a pretty mediocre 2010 campaign.
Yet the Raiders are expected to continue their recent improvement after firing Tom Cable and replacing him with Hue Jackson as the head coach.
It is possible they sign Asomugha for less than expected to keep the NFL's top cornerback on a team he has spent the last eight years trying to turn into a winner.
Baltimore Ravens
This is not typically the type of signing Ravens general manager Ozze Newsome does, but the Hall of Famer always is looking to help his team get better.
Baltimore has had 2010 starting cornerbacks Josh Wilson and Chris Carr become free agents, as well as starting strong safety Dawon Landry. Domonique Foxworth is returning after missing the entire 2010 season because of a knee injury.
Newsome has a huge pile of free agents to sift through on his team alone. But the thought of Asomugha teamed with future Hall of Famers Ed Reed and Ray Lewis behind the immensely talented Haloti Ngata would certainly be a force to be reckoned with.
The Ravens haven't had a lot of stability at cornerback since Chris McAlister left after 2007 following a nine year run as a starter. McAlister's three Pro Bowls are the only time in Ravens history a cornerback has accomplished that feat.
Asomugha might end that drought, but he certainly would bring the team an immediate and much needed upgrade to their suddenly thin secondary.
San Francisco 49ers
Shawntae Spencer is a fine cornerback, but he doesn't exactly strike fear in opposing receivers.
Nate Clements is the Niners top cornerback and has had a fine career, but he will be 32-years old soon and might work best now as the second corner.
Going to San Francisco is a very short drive from Asomugha's home, so his lifestyle would go uninterrupted.
He and Clements would instantly become one of the best duos in the NFL, if not the very best.
The 49ers could upgrade other areas of the team with the addition of Asomugha while making them a favorite to win the NFC West. A pair of solid veteran cornerbacks could take them a long way.
San Diego Chargers
This move would infuriate Raiders fans because the Bolts have had a rivalry going with Oakland since 1960.
It intensified when Hall of Famer Al Davis left the Chargers to join the Raiders in 1963 and started a tradition of excellence that just won baby!
The Chargers offer Asomugha a reason to stay in California near his charities, friends, and family.
If the Chargers lose free safety Eric Weddle to free agency, they could move physical cornerback Quentin Jammer into his slot and have Asomugha bookend the up and coming Antoine Cason.
This is a very unlikely scenario since San Diego has a long list of free agents and we saw how they treated stars Vincent Jackson and Marcus McNeill much of 2010.
Arizona Cardinals
Cardinals owner Bill Bidwell is famous for having a tight wallet, yet he sometimes shocks people.
Arizona has a ton of free agents to re-sign, but their cornerback situation needs help.
Dominique Rogers-Cromartie is their top cornerback and a 2009 Pro Bowler. The other corner is Greg Toler, who could move to nickle back status if Arizona grabs Asomugha.
Signing him also gives them the opportunity to draft linebacker Von Miller to help with the pass rush.
A duo of Asomugha and Rogers-Cromartie would be downright scary for the rest of the NFC West. Their ability to blanket receivers will also help the pass rush, an undervalued aspect.
Some expect the Cardinals to struggle on offense in 2011, so a big time defense could lead them to a division title.
It would also allow Asomugha to stay relatively close to his home base to monitor his charities.
New England Patriots
An unlikely scenario to some who expect the team to use at least one of their nine draft picks on a cornerback, six of which come in the first three rounds.
Yet their needs are in other areas and head coach Bill Belichick has never been adverse to adding a proven veteran to his roster.
What New England is adverse to, for the most part, is giving huge contracts to players.
Devin McCourty is coming off a great 2010 rookie campaign, but the other cornerback slot was a defensive weakness most of the year. Darius Butler has been a disappointment and the other cornerbacks on the roster are nothing worth mentioning.
Asomugha would immediately cure that woe for the Patriots while getting to mentor a young secondary.
Getting the ball in the hands of quarterback Tom Brady as often as possible is the Patriots best path to success.
Asomugha's addition to the New England roster would certainly give Brady more opportunities to win his fourth Super Bowl, an area for quarterbacks that only Terry Bradshaw and Joe Montana have reached.
Chicago Bears
"Da Bears" were one win away from the Super Bowl last year.
They head into 2011 in pretty good shape as far as free agency goes.
They do have four starters on defense to re-sign. Defensive tackle Anthony Adams, strong safety Danieal Manning, linebackers Nick Roach and Pia Tinoisomoa are all unrestricted free agents Chicago will have to consider bringing back.
The team could use an upgrade in the secondary. Asomugha could replace an average Tim Jennings in the starting lineup, forming a very nice tandem with Charles Tillman.
The Bears are stout against the run and have maybe the best pair of passing rushing defensive ends in the league. Asomgha and Tillman would force opponents to run the ball more and give Julius Peppers and Israel Adonije even more time to hit the quarterback.
When you get so close to winning it all, sometimes you need just a little extra push to reach the pinnacle of success.
Asomugha would make an already excellent Bears defense even better.
The one question is if he would go to the Windy City. He has played under the warm California sun most of his life, so a move to Chicago would be more than just a culture shock.
Washington Redskins
With the Redskins set to lose Carlos Rogers and Patrick Buchanon to free agency, as well as already being thin in a secondary that was picked on much of 2010, this would seem a good signing on paper.
DeAngelo Hall is now Washington's top cornerback, and he actually played with Asomugha in 2008.
Hall got $8 million for eight games before being cut because he struggled in the Raiders man-to-man coverage schemes.
While the Redskins ran a zone scheme in 2010 that Asomugha can easily play, he may prefer to play in man coverage to best accentuate his abilities.
He will also cost a lot to sign, and Washington's roster just has too many holes to fill.
Being with the Redskins means Asomugha could rub elbows with politicians as he runs his charities. Yet he does this anyways, so that angle seems less enticing.
Asomugha wants to be on a winner and the Redskins are rebuilding. This is the big money signing Redskins owner Dan Snyder has been known to make, but "The Dan" may want to let this one go.